Kellyanne Conway Says Russian Collusion Claims Are 'Wishful Thinking' Despite Donald Trump Jr.'s Meeting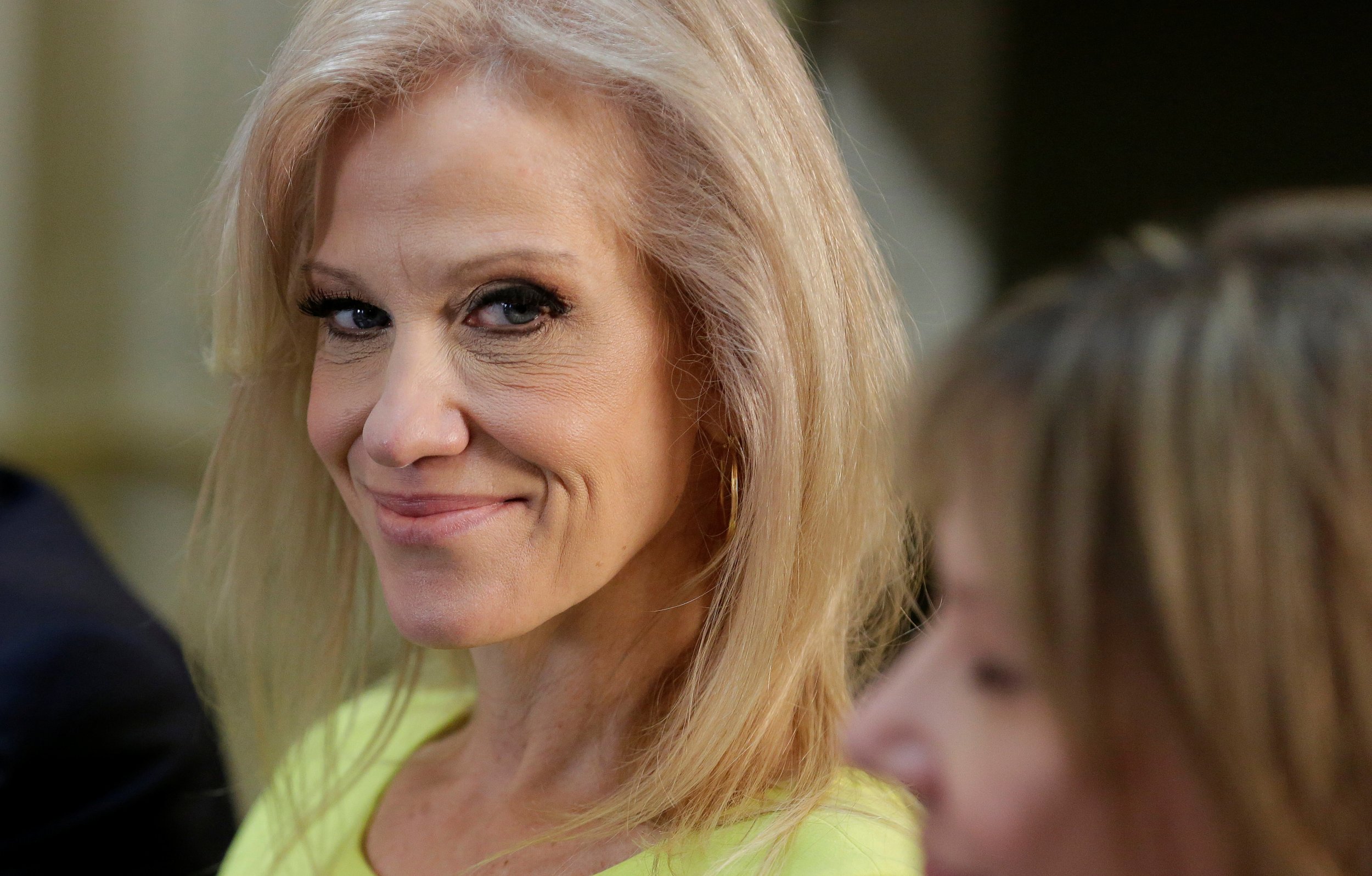 Kellyanne Conway embarked on a brief morning-show tour Monday in response to a New York Times report claiming first son Donald Trump Jr. met with a Russia-linked lawyer last year in order to get damaging information about Hillary Clinton.
Conway, whose formal title is counselor to the president, sparred with CNN host Chris Cuomo and ABC News anchor George Stephanopoulos on Monday when pressed about the latest development connecting President Donald Trump's campaign to the Kremlin. First appearing on Good Morning America, Conway insisted there was "no evidence of collusion" despite the story, which included a statement from Trump Jr. admitting to attending the meeting alongside the president's son-in-law Jared Kushner and then-campaign chairman Paul Manafort.
"Are you saying there's evidence of collusion?" Conway asked Stephanopoulos. "Because everybody is trying to convert wishful thinking into hard evidence and haven't been able to do that."
Stephanopoulos reminded Conway that, back in December, she told Face the Nation that it was "absolutely not" true that Trump aides were in contact with Russian officials trying to influence the presidential election, saying flatly "those conversations never happened." On Monday, he asked Conway who misled her all those months ago.
"As I understand it, George, some of the disclosure forms have been amended since that time and to reflect other meetings including this one," Conway said.
Conway also appeared on CNN, where she summarized a few points from Trump Jr.'s statement: that he didn't know the name of the person he was meeting, that the discussion quickly pivoted to adoption and that the information given on Clinton was vague. Cuomo labeled much of that a credibility issue, telling Conway that "there are huge legal and ethical implications" to Trump Jr.'s choice to speak with a Russian in hopes of getting opposition research.
"I'm not going to agree with you on that," Conway said. "You keep on saying 'opposition research' the way you guys constantly vomit words like 'collusion' and 'Russian interference' and 'affecting the election,' for all of which you have no evidence."
Conway went on to criticize Cuomo and, more broadly, CNN, which Trump has called "fraud news" and recently targeted in a tweet that included a GIF of himself beating up the outlet's logo.
"You wanted to produce something because you're invested in, months now, as a network, for something that doesn't exist," she said. "Here's the unfair premise: that we are talking about this yet again. You talk about Russia more than you talk about America."
Conway's remarks went viral and were trending on Twitter Monday morning. But it remained unclear when voters would hear from the president about the Times story: He didn't have any public events scheduled for Monday.