Kellyanne Conway Says Anti-Trump Op-Ed Is Illegal, But That She Has 'No Idea' Why
Kellyanne Conway has said that a controversial anonymous New York Times op-ed is illegal, but she has "no idea" why.
The counselor to President Donald Trump spoke to CNN's Jake Tapper during the State of the Union program on Sunday about the article, which was published last week by an unknown top administration official. During her interview, Conway called for a probe into the article, saying the justice department should look to see if there was any "criminal activity."
Tapper pushed back, saying it didn't appear that anything illegal had been done.
"I don't know that and I don't think you know that," Conway responded, Mediaite reported. But she remained vague when pressed about what crime was possibly committed.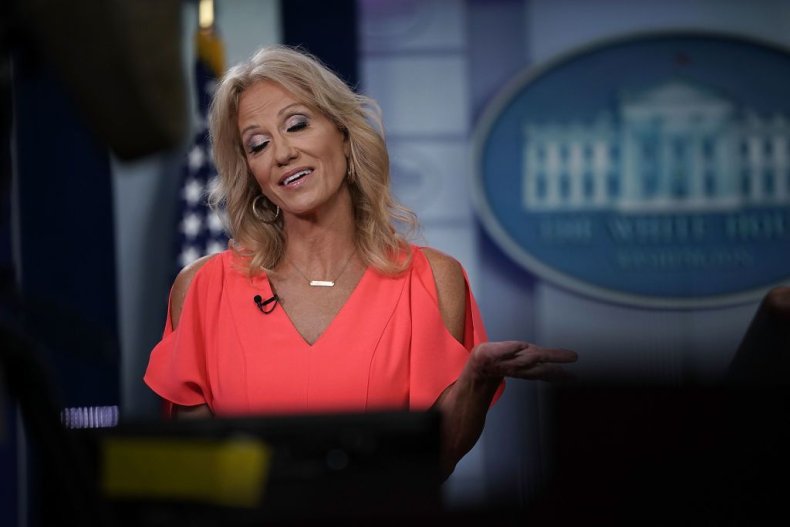 "Anybody who would do this you don't know what else they're saying," Conway argued. "But there is a difference between administrative action as I understand it and criminal action."
When pushed by Tapper to explain precisely what criminal action could be investigated, Conway said: "I have no idea."
"Let's not look at the four corners of the op-ed or the four corners of someone's book to say this is everything we know. That's the entire point," she said.
The controversial op-ed described how members of the administration work routinely to minimize the damage of the president's "instability." The writer also detailed Trump's "petty and ineffective" leadership style, as well as his tendency toward erratic behavior.
"There is a quiet resistance within the administration of people choosing to put country first," the anonymous administration official wrote.
Numerous top administration members have denied penning the article, with politicians and pundits speculating over who the source could possibly be. An analysis by WikiLeaks suggested that the author was most likely an older conservative male. Bookies have also published betting odds regarding which official it could have been. Former White House chief strategist Steve Bannon said Sunday that the op-ed reveals that a "coup" is underway within the administration.
Angrily responding to the article, Trump has suggested The New York Times used a "phony source," questioning whether the anonymous author even exists. The president also argued that the newspaper should reveal who the individual was, saying it is a matter of national security.
"Turn him/her over to the government at once!" he tweeted.
Asked directly by NBC last week whether she wrote the op-ed, Conway denied doing so immediately, saying: "of course not."