Kellyanne Conway: Joe Biden's 'Dark,' 'Spooky' Launch Video Smeared President Trump Over Charlottesville Remarks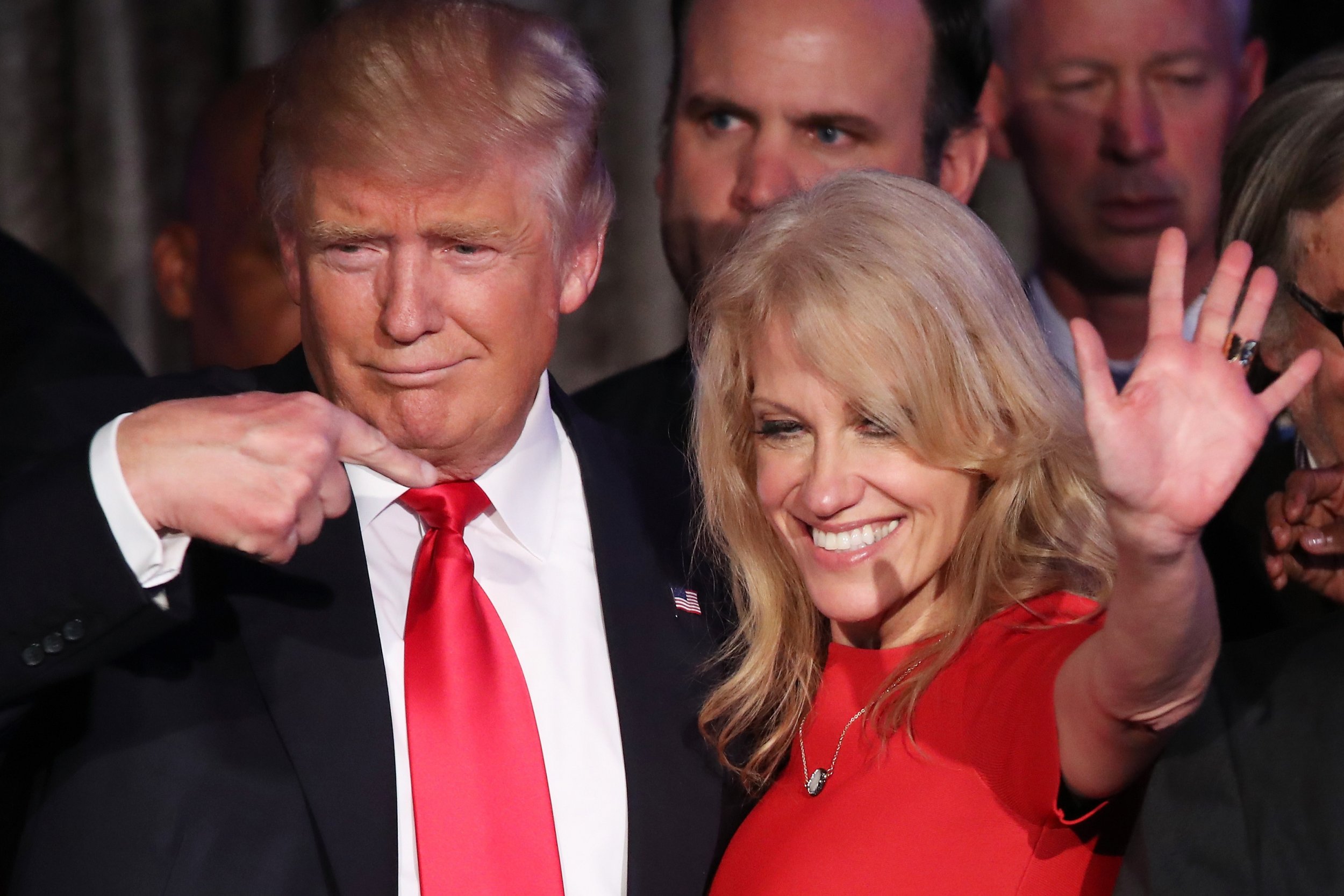 Kellyanne Conway, counselor to President Donald Trump, ridiculed Joe Biden's campaign announcement video during a Saturday CNN interview, telling host Michael Smerconish that the three-minute clip was "dark," "spooky" and "smeared" President Trump by taking his words out of context.
"He doesn't have a vision for the future," Conway said of Biden, adding that the video was a "missed opportunity."
Released Friday morning, Biden's formal announcement put an end to months-long speculation about when the former vice president would officially launch his not-so-secret campaign for the Democratic ticket. The video in question centers largely on Trump, honing in on statements the president made following the deadly clash between protesters and white nationalists at the August 2017 Unite the Right rally in Charlottesville, Virginia.
"You also had people that were very fine people, on both sides," Trump infamously remarked in the wake of the events. Although Trump condemned white nationalists in his full statements, many interpreted his comment as promoting a false equivalence between the two camps—a lingering impression referenced by Biden in the video.
"With those words, the President of the United States assigned a moral equivalence between those spreading hate and those with the courage to stand against it," Biden said. "And at that moment, I knew the threat to this nation was unlike any I'd ever seen in my lifetime."
Trump has since said he felt he "responded perfectly" during the fracas. Conway appeared to agree, defending the remarks to Smerconish.
"...Biden wants to revisit the remark because he doesn't want to be held to account for his record or lack thereof," Conway said about the two-term vice president and six-term Senator from Delaware. "I found his announcement video to be unfortunate."
Smerconish continued pressing Conway on the statements, though she ultimately refused to criticize the president's remarks. Instead, she accused the press and Biden of willfully removing context to suit a political agenda.
When Smerconish slammed the president for framing his response as "perfect," Conway still didn't budge.
"No fine person would stand alongside torchbearers who are chanting, 'Jews will not replace us,'" Smerconish told Conway, referring to a chant repeatedly heard from white nationalists during the weekend of the Charlottesville rally. "It was not the perfect answer because the perfect answer would have left no room for ambiguity or interpretation."
Conway quipped back: "There is no room for ambiguity and interpretation. What the president said is condemning violence, bigotry, hatred, and he specifically called out KKK, neo-nationalists, white supremacists."
Despite that claim, advocacy groups have repeatedly released reports noting a rise in hate groups in the aftermath of the election. Earlier this year, The Southern Poverty Law Center released a report that found a 30 percent rise coinciding with Trump's campaign and subsequent presidency
"Rather than trying to tamp down hate, as presidents of both parties have done, President Trump elevates it – with both his rhetoric and his policies. In doing so, he's given people across America the go-ahead to act on their worst instincts," said Heidi Beirich, director of the SPLC's Intelligence Project, in a statement.