Kellyanne Conway Says "Fix Was In" Against Trump In Fox News Interview That Alleged FBI Texts Evidence Of Coup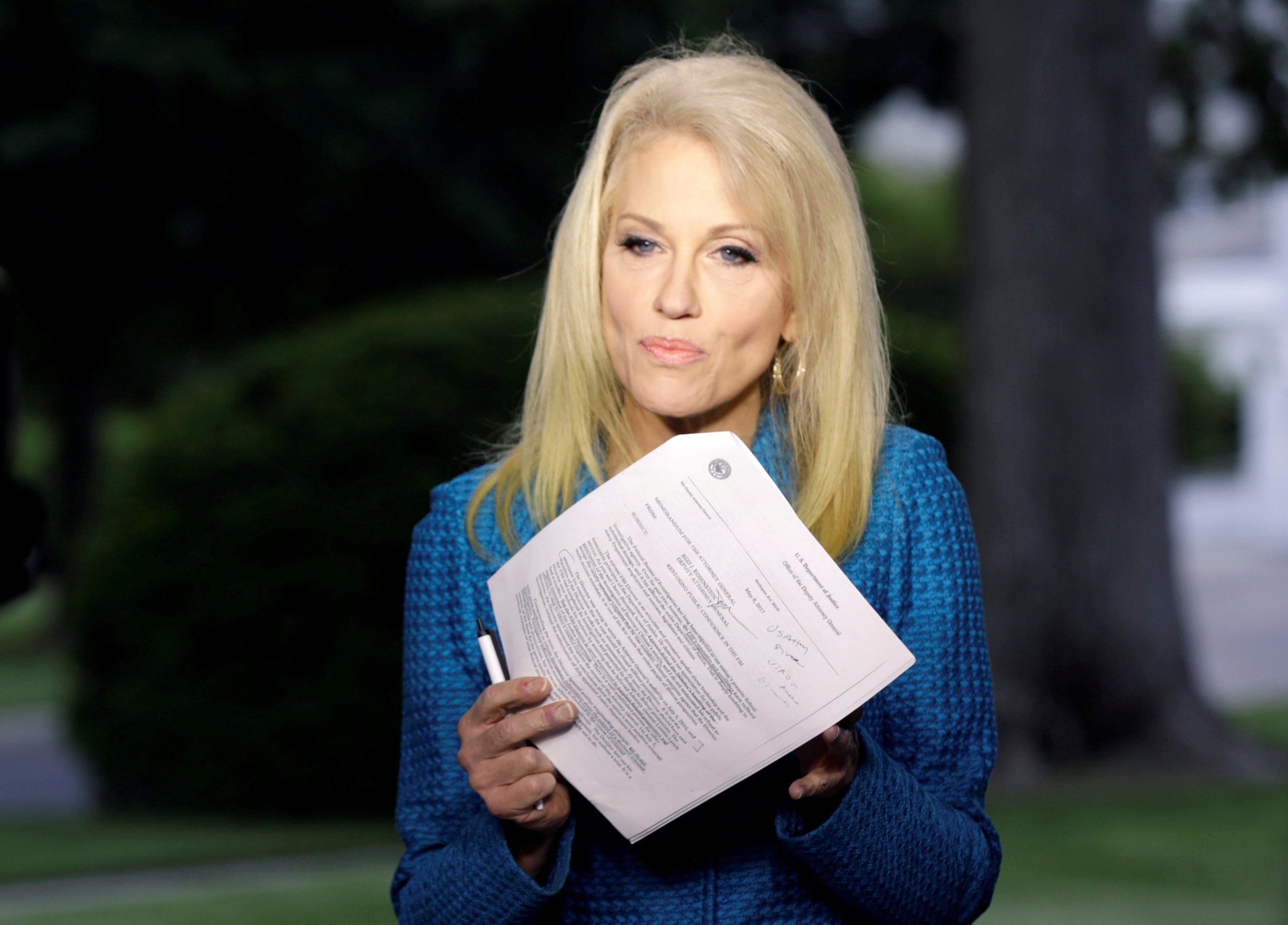 White House senior adviser Kellyanne Conway charged that the FBI's investigation into the Trump campaign's alleged collusion with Russia during the 2016 election was unfairly stacked against the president since before he moved into the Oval Office in a Saturday Fox News interview during which the show's host suggested that there might be an anti-Trump "coup on our hands."
Conway appeared on Jesse Watters program, Watters' World, to talk about the newly revealed content of text messages sent between FBI officials Peter Strzok and Lisa Page.
When asked what she thought they meant when they said "they need to protect America from Trump and need to have an insurance policy against his presidency," Conway tore into the investigation's credibility.
"The fix was in against Donald Trump from the beginning, and they were pro-Hillary. We understand that people have political views but they are expressing theirs with such animus and such venom towards the now president of the United States they can't possibly be seen as objective or transparent or even-handed or fair," she said.
As she spoke, the banner below Conway and Watters screamed "A COUP IN AMERICA?"
Watters proceeded to ask "how dangerous" Conway thought it was that people were "plotting what appears to be some sort of subversion campaign" against Trump.
"It's toxic, it's lethal, and it may be fatal to the continuation of people arguing that that matter is since behind us, he won he's the president, and the Mueller investigation is something separate," she answered.
Conway then slammed critics for defending the integrity of the probe by alleging that Trump is against the FBI, repeating the claim that he isn't under investigation, "we're told."
Released on Tuesday, Strzok and Page's messages referred to Trump as an "idiot" and "douche. At one point, Strzok told Page he was considering "an insurance policy" if Trump were elected. Page had also told Strzok that maybe he was meant to "protect the country from that menace," according to records reviewed by Politico.
Mueller immediately dismissed Strzok from the probe after learning of the messages in late July. Page had stopped working for Mueller's office before the messages came out.
Watters assessed the texts as evidence of a coup, or sudden, violent, and illegal seizure of power from the government, in America.
"The investigation into Donald Trump's campaign has been crooked from the jump. But the scary part is we may now have proof the investigation was weaponized to destroy his presidency for partisan political purposes and to disenfranchise millions of American voters. Now, if that's true, we have a coup on our hands in America," he said.
But critics said Watters' statement was in ill-taste, charging he was getting into dangerous territory by bringing the word "coup" into the conversation.
"I'm an academic studying coups. This is embarrassing and dangerous. There is no coup in America, but there is a de-facto state propaganda outlet named Fox News," wrote political scientist Marcel Dirsus.
"I've interviewed coup plotters, torture victims, generals, politicians they toppled & dozens whose lives were destroyed by actual coups & coup attempts. This language is so dangerous for democracy—and it's precisely what you see before purges (which Fox News hosts are advocating)," tweeted Brian Klaas, a fellow in comparative politics at the London School of Economics.