Kellyanne Conway Says Trump Isn't to Blame When Masks Aren't Worn, It's Up to Local Officials
White House counselor Kellyanne Conway does not believe President Donald Trump is responsible for citizens neglecting face mask recommendations, she said Wednesday.
Discussing the Trump administration's response to the coronavirus outbreak during a press briefing outside the White House, Conway told reporters that a lack of mask mandates from local officials is more influential in terms of whether individuals decide to wear them.
"People are not wearing masks," Conway acknowledged, referencing photos that have circulated recently of people not wearing them while socializing in public settings. "And I don't think they're not wearing masks because the president of the United States is not wearing a mask. They're not wearing a mask because nobody's saying put the mask on."
The White House had no comment when Newsweek reached out for its reaction to Conway's statement.
Despite advice from experts and long-standing guidelines from the U.S. Centers for Disease Control and Prevention that recommend face coverings to curb virus transmission, Trump frequently appears in public settings without wearing one. He voiced support for face mask use during a Wednesday interview with Fox Business, amid a resurgence of virus cases and subsequent hospitalizations in multiple U.S. states since the beginning of June.
"I'm all for masks. I think masks are good," Trump told Fox. "I've had a mask on, and I sort of liked the way I looked." He added, "If I were in a tight situation with people, I would absolutely wear one."
In May, the president was pictured wearing a mask while touring a ventilator manufacturing plant but removed it before the tour's public portion, even though the facility's security personnel were present. At the time, Trump told reporters he "didn't want to give the press the pleasure" of seeing him wear a face covering, multiple news outlets reported.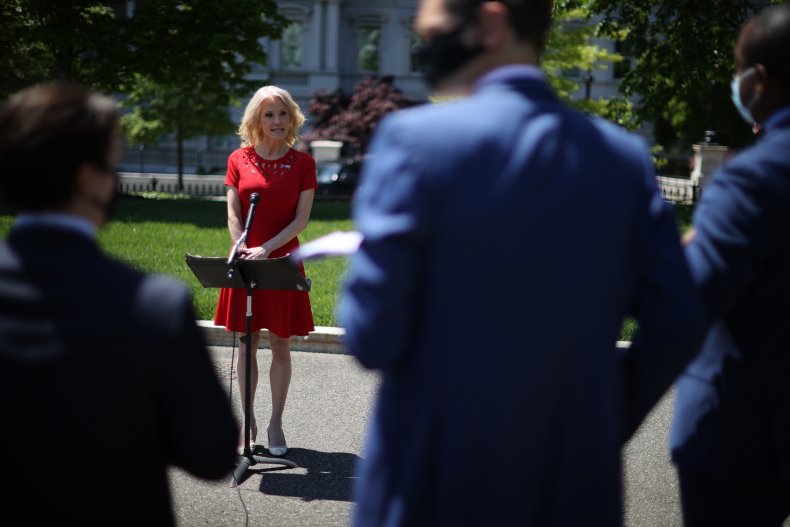 Trump's Wednesday comments regarding face masks followed a wave of recommendations and requirements from state and local officials in areas where virus cases are spiking. Governors of California, Washington and Nevada implemented statewide mask orders near the end of June, joining 15 other states where mask requirements were already issued, in addition to Washington, D.C. Oregon has since passed a statewide order requiring residents to wear masks in all indoor public spaces.
Although Arizona Governor Doug Ducey and Texas Governor Greg Abbott have yet to implement mask requirements for all state residents, local officials in both states have passed directives that apply to their individual jurisdictions. Health officials in Arizona and Texas have reported two of the most significant upticks in virus cases and hospitalizations throughout June.