Kellyanne Conway Says White House Health Experts 'Should Be Listening' to Trump About Coronavirus
White House counselor Kellyanne Conway said that public health officials should listen to President Donald Trump when he talks about the novel coronavirus, despite the president repeatedly pushing misinformation about the pandemic.
Conway made the remark during an interview with Fox News' America's Newsroom on Thursday morning, in which she was repeatedly pressed to address criticism of Trump sharing inaccurate and false claims about COVID-19 and the U.S. outbreak. Fox News anchor Sandra Smith, pointing out that comments by Trump have gone against the guidance of administration officials Dr. Deborah Birx and Dr. Anthony Fauci, asked if the president is "listening to the advice of health experts that he has at his side?"
"He is and they should be listening to him as well," Conway responded. The Trump adviser suggested that the administration's health officials have said things to the media that were not said in White House coronavirus task force meetings. She said she and other White House officials sometimes "hear things for the first time on tv," but added this wasn't "specific to any one individual."
During the interview, Smith repeatedly confronted Conway with data countering a controversial claim made by Trump during an interview with Fox & Friends. In those remarks, which were censored by Facebook and Twitter, Trump said "children are almost—and I would almost say definitely—but almost immune from this disease [COVID-19]."
That statement is false, as many children in the country and around the world have contracted and spread the virus. Although children and younger people generally have milder symptoms, many children in the U.S. have died due to COVID-19.
Conway repeatedly dodged Smith's questions, however, instead suggesting that social media companies are biased against the president and conservatives. The White House official said she believed that the tech giants were engaging in "election interference" and suppressing Trump's posts.
"Why do we have the tech overlords telling us what is and isn't legitimate on health matters?" she asked.
Newsweek reached out to the White House for further comment, but it did not respond by the time of publication.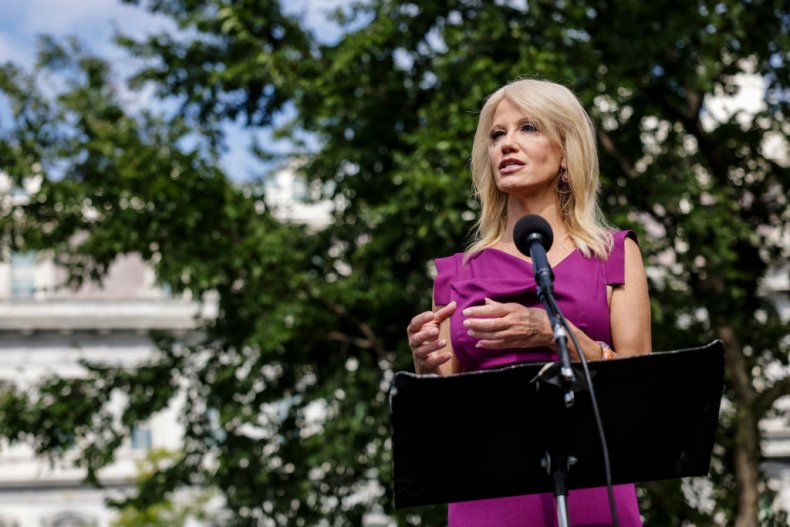 Facebook on Wednesday removed a post from Trump's official account that shared a clip of his remarks on Fox & Friends.
"This video includes false claims that a group of people is immune from COVID-19 which is a violation of our policies around harmful COVID misinformation," Facebook spokesman Andy Stone said.
Twitter hid a post of the same clip tweeted by Trump's reelection campaign's account. The company said that the account would not be allowed to retweet again until the video was taken down.
A spokesperson for Twitter said the post was "in violation of the Twitter Rules on COVID-19 misinformation." The account was active again later Wednesday after the video was removed.