Kellyanne Conway Says Women 'Looked Up' at Brett Kavanaugh and Saw Their Husbands, Sons, Brothers
Counselor to the president Kellyanne Conway on Sunday denied that Brett Kavanaugh, who was narrowly confirmed as a Supreme Court justice the previous day, would be seen as tainted following the heated debate around him, and said women saw their husbands, sons and brothers in him.
ABC News chief White House correspondent Jonathan Karl asked Conway how concerned she was about the matter on This Week.
"Justice Kavanaugh should not be seen as tainted," Conway replied, firmly.
"He should be seen as somebody that went through seven FBI investigations, including just in this last week, another that was completed this past July, had answered 1,200 written questions, had produced about a million pages of documents, submitted himself to about 33 or 35 hours of sworn testimony to the Senate, including denying the allegations that were put before him," she continued.
Conway added that Americans should look at Kavanaugh's entire record the way that Republican Senator Susan Collins, a crucial swing vote who supported Kavanaugh, did. Conway said that Collins relayed she read all of Kavanaugh's opinions and was briefed by 19 attorneys.
"She said she's very concerned that we're giving up on basic principles that make America so wonderful, including fairness and due process and the presumption of innocence," Conway said.
Kavanaugh was confirmed after senators voted 50-48 in his favor. In the weeks leading up to Saturday's vote, Kavanaugh faced multiple allegations, from Christine Blasey Ford accusing him of sexual assault when they were teengaers, to reports that he threw a beer and ice after a concert in his younger years. Kavanaugh in an emotionally charged testimony denied the allegations.
Conway said that the Supreme Court, thankfully, is a "sacrosanct institution" that "will withstand the fact that there were a lot of political machinations."
The counselor to the president bashed politicians she said were raising money for their presidential campaigns in the midst of the Supreme Court confirmation process.
"This has been a very low point for many people whose job it was to advise ... the president on judicial nominations," Conway said.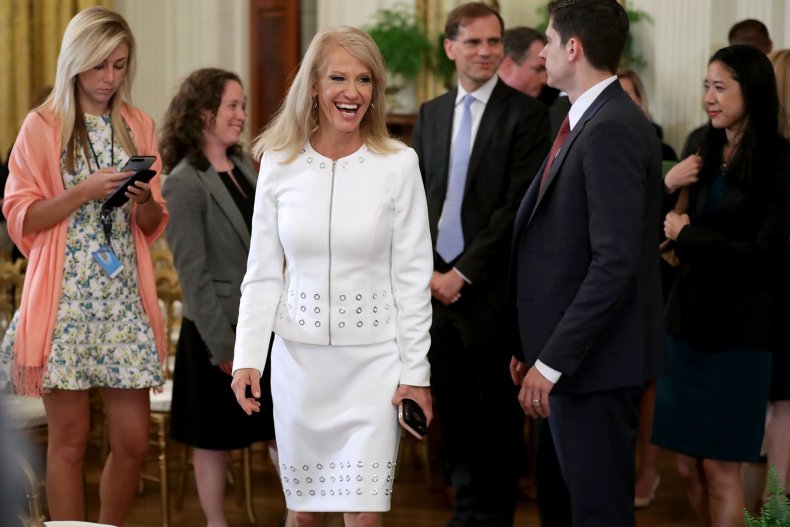 She then suggested that Kavanaugh was a victim of the Me Too movement and that such character defamation could have happened to others in his position.
"They wanted America to look up and see Brett Kavanuagh as a gang rapist," Conway said. "And a lot of women including me in America looked up and saw a man who was a political, political character assassination, and also we looked up at him and saw possibly our husbands, our sons, our cousins, our coworkers, our brothers."