Kellyanne Conway, Sean Spicer, Other Trump Appointees Refuse To Resign From Military Boards
The Biden administration has called on 11 Trump appointees to military service academy advisory boards to leave their positions or be dismissed, yet many have said they will refuse to resign.
Former senior counselor to the president Kellyanne Conway, former press secretary Sean Spicer, former national security adviser H.R. McMaster, and former cabinet member Russ Vought were among those asked to leave on Wednesday.
In a letter to the appointees dated September 8, 2021, assistant to the president Catherine Russell informed the recipients that their resignation was requested by the end of the business day or their position with the board would be terminated by 6 p.m. that evening.
Conway posted her own letter to the president on Twitter in response and said that the resignation request seemed "petty and political, if not personal."
She went on to speculate that Biden was using the decision to distract from reports of rising COVID-19 cases, plummeting poll numbers and a "deadly" withdrawal from Afghanistan. Conway added that it is an honor to serve on the Board of Visitors to the United States Air Force Academy.
"It was also a privilege to serve a President whose actions resulted in the deaths of terrorists like al-Baghdadi and Qasem Soleimani, rather than a President whose actions resulted in the deaths of 13 U.S. service members," she concluded. "I'm not resigning, but you should."
Vought also took his response to Twitter, simply sharing an image of the letter with the caption "No. It's a three year term."
Spicer responded to the request for his resignation during his show, Newsmax, and said he will not be resigning and he will be joining a lawsuit to fight the dismissal. The former press secretary also criticized Biden's comments on Inauguration Day about being a president for all people including Trump supporters.
"Where'd that go? Pretty much out the window," he said.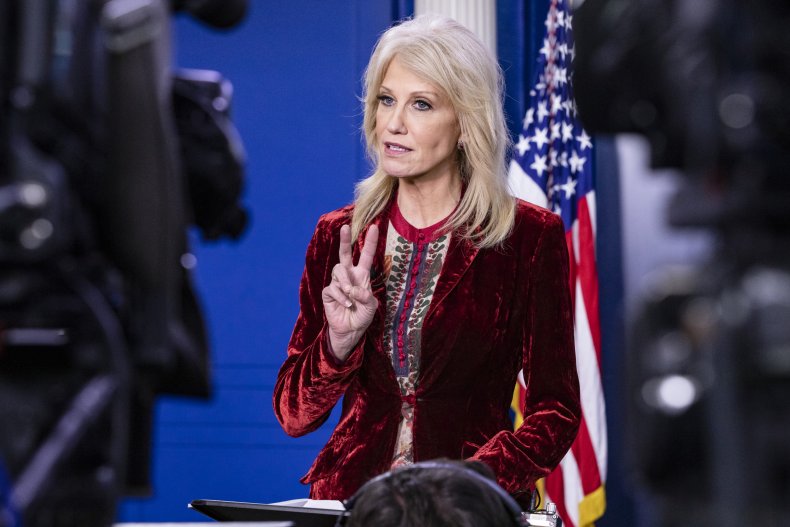 On Wednesday afternoon, White House press secretary Jen Psaki confirmed the requests had been made and said they were to ensure the people serving on the board were qualified and that their values aligned with the president's objectives.
Psaki said: "I will let others evaluate whether they think Kellyanne Conway and Sean Spicer and others were qualified, or not political, to serve on these boards, but the President's qualification requirements are not your party registration, they are whether you're qualified to serve and whether you're aligned with the values of this administration."
The White House directed Newsweek to Psaki's comments in response to a request for comment.
In total, 18 members of military service advisory boards were asked to resign including the 11 officials appointed by Trump.
The boards of the Military Academy at West Point, the Naval Academy in Annapolis and the Air Force Academy in Colorado Springs are made up of lawmakers, retired officers, alumni and appointees who "inquire into the state of morale and discipline, the curriculum, instruction, physical equipment, fiscal affairs, academic methods, and other matters relating to the academy."