Kellyanne Conway Calls Democratic Senator Mazie Hirono 'Sexist' During Brett Kavanaugh Hearing
Amid Brett Kavanaugh testifying before the Senate Judiciary Committee about sexual assault allegations Thursday, Kellyanne Conway, counselor to President Donald Trump, hit out at Democratic Senator Mazie Hirono, calling her a "sexist" on Twitter.
Conway was likely referring to Hirono's speech to the media last week where she sent an impassioned message to men. "I just want to say to the men in this country: Just shut up and step up. Do the right thing, for a change," she said.
Sexism is defined as prejudice or discrimination based on sex and has generally been used to describe discrimination against women who have historically been subjected to unequal treatment.
Conway made the accusation against the sitting senator in response to a Twitter comment by Fox News correspondent Lisa Boothe. "It will be hard for Judge Kavanaugh to answer Mazie Hirono's questions if she thinks he should just shut up because he is a man," wrote Boothe.
Hirono did question Kavanaugh during Thursday Senate hearing on accusations that the judge had sexually assaulted Christine Blasey Ford. The Hawaii senator asked whether temperament was an important quality to consider when confirming a Supreme Court nominee. Kavanaugh, who was visibly angry during much of the hearing answered "yes."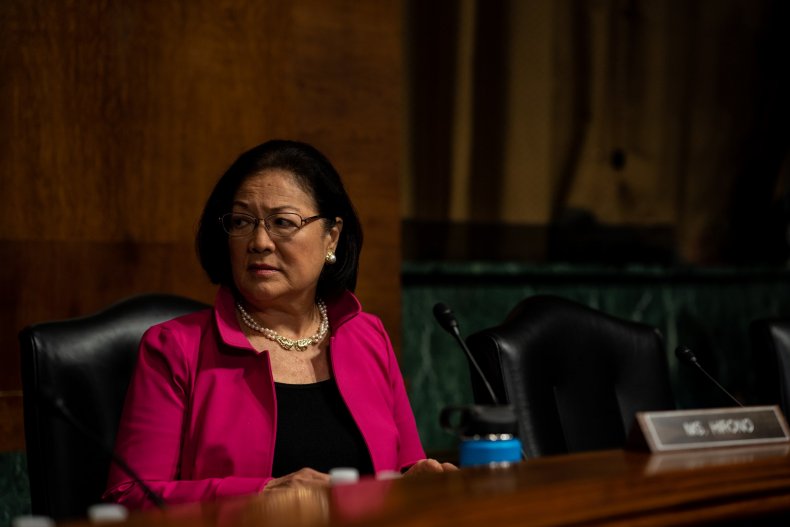 Hirono also asked if Kavanaugh was a heavy drinker in high school and college. Kavanaugh responded by saying that he was accepted into Yale Law School "with no connections."
The accusation against Hirono by Conway came at the end of an explosive and emotional eight-hour hearing that had Americans and senators on edge.
On Thursday morning, Ford testified about Kavanaugh's alleged sexual assault. In an emotional moment, she described her most vivid memories of the incident. She recalled "the uproarious laughter between the two, and their having fun at my expense. I was underneath one of them as they laughed, two friends having a really good time with one another," she said.
At the conclusion of the trial, Trump tweeted out his support of Kavanaugh. "Judge Kavanaugh showed America exactly why I nominated him. His testimony was powerful, honest, and riveting," he wrote. "Democrats' search and destroy strategy is disgraceful and this process has been a total sham and effort to delay, obstruct, and resist. The Senate must vote!"
Earlier in the day, Conway joined CBS' This Morning to defend Kavanaugh. "I know there's pent-up demand for women to get their day, women who have been sexually harassed and assaulted, and I personally am very aggrieved for all of them," she said. "But are we going to put decades of pent-up demand for women to feel whole on one man's shoulders?"