Kellyanne Conway: 'I'm A Victim of Sexual Assault'
Counselor to the President Kellyanne Conway said Sunday morning that she is a victim of sexual assault.
Conway responded to the intense exchanges during the past week's testimonies from Supreme Court nominee, Judge Brett Kavanaugh, and accuser, Dr. Christine Blasey Ford. In response, Conway emotionally declared she herself is a victim of sexual assault in the past and defended Kavanaugh to host Jake Tapper, saying she believes sexual assault accusations against him were "cherry-picked."
"I feel very empathetic, frankly, for victims of sexual assault and sexual harassment and rape. I'm a victim of sexual assault," Conway told CNN's "State of the Union" program Sunday. "I'm a victim of sexual assault, I don't expect Judge Kavanaugh or Take Tapper or Jeff Flake or anybody to be held responsible for that. You have to be responsible for your own conduct."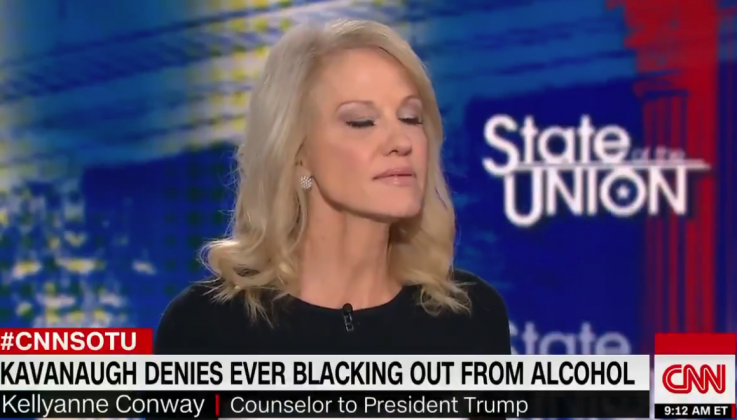 Conway blasted the network as a "disgrace" for comparing the accusations made against Kavanaugh to those directed at Bill Cosby, who was sentenced to three to ten years in Pennsylvania state prison last week.
Conway also railed against the Senate Judiciary Committee's inability to remove former President Bill Clinton from office despite having oral sex in the Oval Office and "lying about it" directly to the American people.