Kellyanne Conway Appears on Fox News, Tells Media to "Shut Up and Pray" For Christchurch Shooting Victims
While defending President Donald Trump during an appearance on Fox News, White House Counselor Kellyanne Conway opined that news media should "shut up and pray for people" killed and injured in the New Zealand terrorist attack.
Host Jesse Watters and Conway were referring to news reports that found links between Trump's rhetoric and the gunman's manifesto, a document rife with white nationalist positions and references to online, alt-right subculture. Clearly created with the intention of being shared online, the 74-page screed has become the focus of debate over assigning motive to the killings at two Christchurch mosques.
"He's a racist who thinks immigrants are overpopulating the Earth and causing global warming," Watters said. "This is who this guy is. He's not a Donald Trump acolyte. Yet, the media is putting all the blame on the right and the president's supporters."
Conway agreed.
"[The media] must insert themselves. I must speak. I must say something," she said, referring to journalists and pundits. "No, you don't. You can actually shut up and pray for people and wait for the authorities to make their judgments."
The manifesto, which includes contradictory statements and attempts to "troll" its readers, includes one mention of Trump. The alleged killer, an Australian man, wrote that he somewhat supported the U.S. president: "As a symbol of renewed white identity and common purpose? Sure. As a policy maker and leader? Dear god no."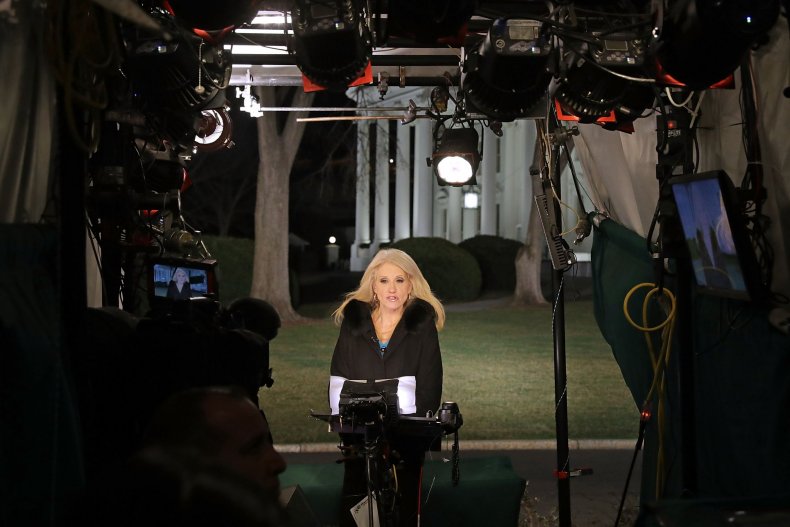 Trump, who in the past has been criticized for his delayed condemnations of white nationalists, gave his "sympathy" and "best wishes" to the people of New Zealand.
"My warmest sympathy and best wishes goes out to the people of New Zealand after the horrible massacre in the Mosques," he tweeted Friday morning. "49 innocent people have so senselessly died, with so many more seriously injured. The U.S. stands by New Zealand for anything we can do. God bless all!"
Although her relationship with Fox News continues to be friendly, Conway has long held a contentious relationship with news media. She has been barred from appearing on certain cable shows for repeatedly releasing false or misleading information. Earlier this week, CNN host Don Lemon sparred with network colleague Chris Cuomo over allowing Trump's counselor on air.
"She never answers a question. She berates you. She is condescending. She uses our network to give her talking points," Lemon told Cuomo earlier this week. "For me, it feels beneath the dignity of this network to have someone on who just constantly lies and misconstrues things. I feel like having someone on like that is giving them a platform that they have not earned," Lemon said.