Kellyanne Conway Had More Hatch Act Violation Reports Filed Against Her Than Anyone Else in 30 Years
The House Committee on Oversight and Reform voted 25-16, largely along party lines, to issue a subpoena for Counselor to the President Kellyanne Conway after she failed to appear for a hearing Wednesday on charges she violated the Hatch Act dozens of times.
During the hearing, Special Counsel Henry Kerner, who recommended that Conway be removed from federal service, said that the Office of Special Counsel (OSC) had "never issued two reports on the same person" in the 30 years it has been independent, before Conway. No one before Conway had repeated violations of the law prohibiting executive branch employees from using their official position to influence an election, Kerner said.
The House Oversight Committee hearing continued more than two hours after the subpoena vote, with Democrats calling for consequences for Conway and Republicans challenging Kerner on the OSC's assessment and claiming it is a distraction from issues that really matter to Americans.
"We have one standard for Kellyanne Conway and another standard for everyone else," Republican Senator Mark Meadows said, adding that the committee should subpoena former U.S. Ambassador to the United Nations Samantha Power for apparently going after President Donald Trump while working for the government.
"What we have here is a political spectacle," Meadows said, raising his voice. "We are better than this, Mr. chairman!"
House Oversight Committee Chairman Elijah Cummings replied: "We have gotten to a point, sadly, where disobeying the law is okay."
Kerner insisted that the office has considered every Hatch Act violation complaint in a non-partisan way.
"It's very important to let everyone know that the Office of Special Counsel is going to treat everyone equally," Kerner said.
The Office of Special Counsel found Conway guilty of 11 Hatch Act violations in its recent report, and two violations in a 2018 report.
Democratic Representative Harley Rouda asked Kerner how many Hatch Act violations were found during the eight years of the Obama administration. Kerner responded there were two total, on two different officials. Rouda then asked if it was fair to conclude that Conway does not seem to care about the violations.
"I think that's fair," Kerner said.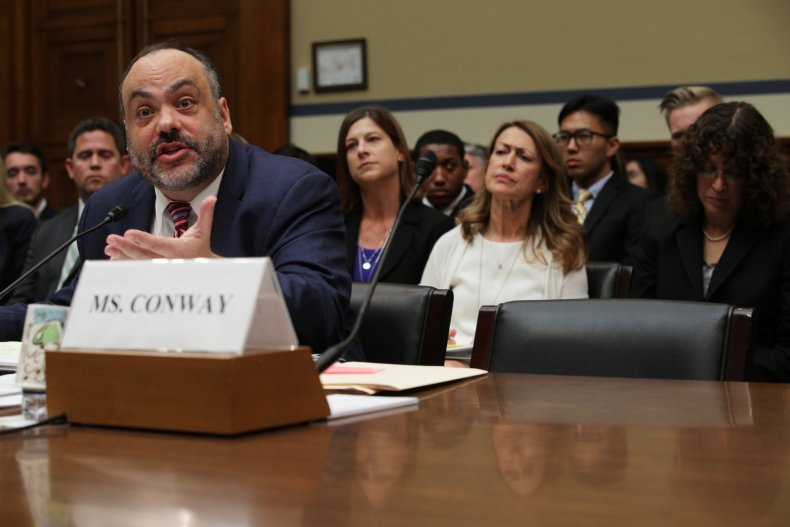 Republican Representative Justin Amash, who has been calling for Trump's impeachment since May, voted in favor of subpoenaing Conway.
Conway did not appear at the hearing Wednesday after the White House rejected the committee's request on Monday. The watchdog Citizens for Ethics and Responsibility in Washington (CREW) filed multiple complaints to the OSC citing media interviews Conway did in which she slammed Democratic candidates, among other offenses.