Kellyanne Conway Tells Fox News She's 'Sick' of 'Hero Worship' of Iran's Soleimani by People Who Can't Accept Trump Made 'An Important Call'
Kellyanne Conway told hosts of the morning show Fox & Friends that she was tired of people criticizing President Donald Trump's decision to order a fatal drone strike against Iranian Major General Qassem Soleimani, whom Trump said was planning to kill more Americans.
"We've got Americans who have buried their sons and daughters because Soleimani had them executed," Conway told hosts Steve Doocy, Ainsley Earhardt and Brian Kilmeade. "We have thousands of other Americans who are maimed and injured, some of them devastatingly...because of Soleimani. So I'm a little sick, already, of the hero worship, it seems, of Soleimani from some people who just can't get over the fact that this was an important call by our commander in chief."
Newsweek reached out to the White House for comment from Conway but did not receive a reply before publication.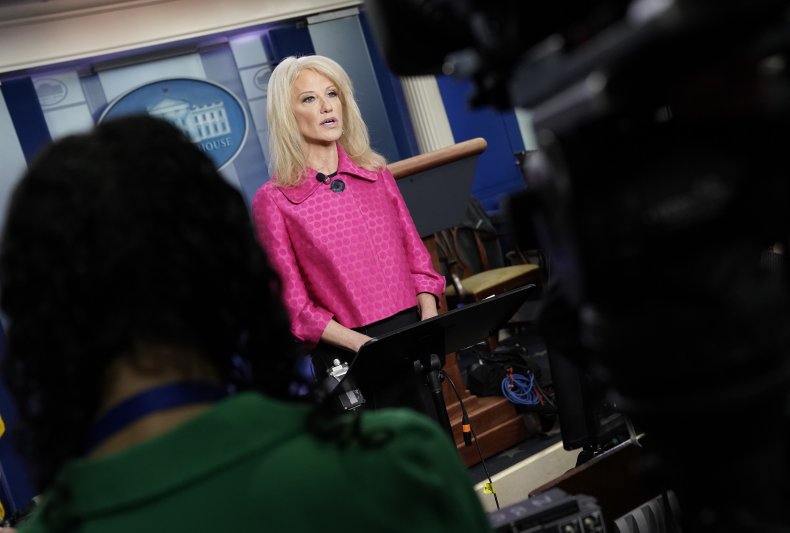 Conway, who has served as senior counselor to the president since February 2018, referred to last Friday's strike that killed Soleimani at an airport in Baghdad.
The president has consistently defended the drone strike, claiming that Soleimani had been planning to kill more U.S. military service members as well as civilians operating in Iraq.
"Soleimani was plotting imminent and sinister attacks on American diplomats and military personnel, but we caught him in the act and terminated him," Trump said in a Friday address at Mar-a-Lago, his Florida estate. "Under my leadership, America's policy is unambiguous: To terrorists who harm or intend to harm any American, we will find you; we will eliminate you."
However, some politicians and commentators—presumably those whom Conway termed "hero worshippers" of Soleimani—have criticized the strike, claiming that it will not save lives but rather exacerbate the enmity between the U.S. and Iran. This, they argue, could lead to a conflict similar to the Iraq War in terms of scale and duration.
Senator Bernie Sanders, for example, issued a statement that called the killing of Soleimani an "assassination" that would ultimately do more harm than good.
"Trump's dangerous escalation brings us closer to another disastrous war in the Middle East that could cost countless lives and trillions more dollars," Sanders said in a statement that his presidential campaign shared with Newsweek. "Trump has promised to end endless wars, but this action puts us on the path to another one."
Soleimani's funeral on Monday reportedly drew millions of mourners. There, both Soleimani's daughter and the man expected to replace him warned that the United States would face retaliation for the killing.