Kellyanne Conway Tells Reporters to Stop Asking Kamala Harris 'Sexist' Questions
Counselor to the President Kellyanne Conway told reporters that they shouldn't be asking Senator Kamala Harris "sexist" questions, especially now that Harris has been named Democratic nominee Joe Biden's running mate.
Speaking to the press outside the White House on Wednesday, without offering a specific example, Conway said the media should be asking Harris about defunding the police, "instead of saying, 'You look nice in this jacket.' How embarrassing and by the way, how sexist."
Conway went on to tell the reporter to relay the messages to his colleagues.
However, Conway has previously defended President Donald Trump over sexist remarks he has made in the past.
"It's very disheartening to watch—and I think some of them should recuse themselves—people excited about what jacket she's going to buy and just giggling some girl time in a dressing room," she said.
"I really hope that we're going to see fair coverage because America deserves that. They're trying to get information, not opinion when it comes to who these folks are," Conway added.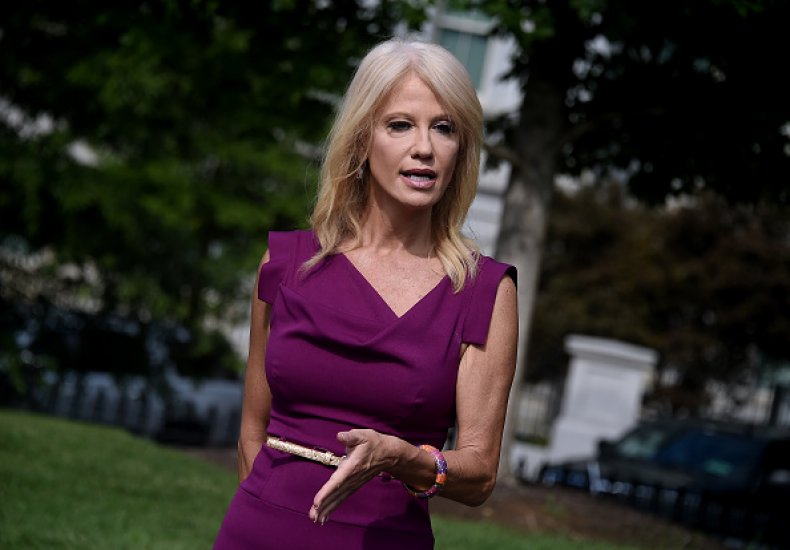 Media coverage of female politicians gendered often focuses on their appearance or personal lives rather than their policies.
In 2016 when she was the first female from a major political party to run for president, Hillary Clinton faced an onslaught of coverage of topics that included her pantsuits, her smile and her haircut. Conway also said the American public would have been wiling to vote for a woman over Trump had it not been Clinton's name on the ballot.
"Was this country in 2016 ready for a female president? Absolutely," Conway said. "Just not the one that was running."
Biden announced that he had selected Harris to be his running mate on Tuesday. He had previously vowed to pick a woman as his veep, which Trump said was a decision that offended men.
Prior to the announcement, Trump told Outkick host Clay Travis that, "some people would say that men are insulted" by Biden's choice to choose from a pool of only female candidates.
On Wednesday, Conway also congratulated Harris for being the first Black woman to secure her name on the presidential ticket, but argued that she did not receive the same praise four years ago when she was "the first woman to ever run a Republican presidential campaign."
"We don't treat all women the same, especially women who were the first to make history but that's alright. I'll have my say one day," she added.
Newsweek reached out to Biden's campaign for comment but did not hear back before publication.