Kellyanne Conway, former counselor to President Donald Trump, tweeted Friday that she received a positive test for COVID-19.
Conway announced her intention to leave the Trump administration at the end of August. However, Conway was in attendance at a news conference at the White House in September as Trump presented Judge Amy Coney Barrett as his third nominee to the U.S. Supreme Court.
"Tonight I tested positive for COVID-19," Conway tweeted. "My symptoms are mild (light cough) and I'm feeling fine. I have begun a quarantine process in consultation with physicians. As always, my heart is with everyone affected by this global pandemic."
During her time in Trump's administration, Conway was a vocal supporter of Trump's policies. In an August statement, Conway said she chose to leave the Trump administration to spend more time with her children. "This is completely my choice and my voice," Conway wrote.
Along with Conway and Trump, First Lady Melania Trump and Utah Senator Mike Lee were also present at the Barrett event. Lee and the Trumps have all reported positive coronavirus tests. Donald Trump was flown to Walter Reed National Military Medical Center on Friday after he was diagnosed with COVID-19.
White House Chief of Staff Mark Meadows told reporters Friday that there could be more cases of the coronavirus within the ranks of lawmakers. "I fully expect as this virus continues to go on," Meadows said, "other people in the White House certainly will have a positive test result."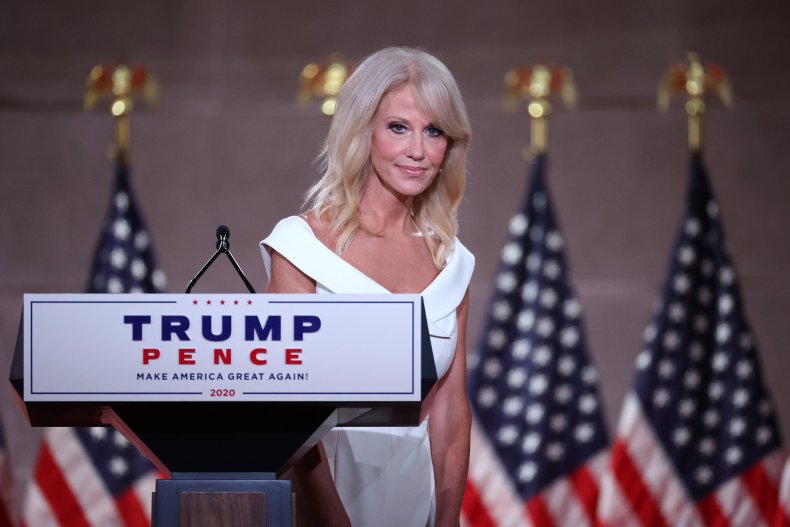 Several cases of COVID-19 could potentially be traceable to the Amy Coney Barrett nomination event. Utah Senator Mike Lee, who was observed at the Barrett news conference not wearing a mask, said in a Friday statement that he tested positive after "experiencing symptoms consistent with longtime allergies."
"On advice of the Senate attending physician, I will remain isolated for the next 10 days," Lee added.
North Carolina Senator Thom Tillis also issued a statement about his coronavirus status on Friday. Tillis said that although his previous tests had come back negative, "tonight my rapid antigen test came back positive. I will be following the recommendations of my doctor and will be self-isolating at home for 10 days and notifying those I've been in close contact with."
Tillis added that he was exhibiting no symptoms of the coronavirus.
Despite the illness of Tillis and Lee, both of whom are on the Senate Judiciary Committee, the confirmation hearing for Barrett is still expected to occur in October. While some Democrats have said the hearing should be postponed because of the spread of coronavirus, Republican Senator Lindsey Graham said Friday that "any Senator who wants to participate virtually will be allowed to do so."
Senate Minority Leader Chuck Schumer disagreed with Graham, saying that there could be more positive coronavirus tests on the Senate Judiciary Committee. "It is irresponsible and dangerous to move forward with a hearing," Schumer tweeted Friday, "and there is absolutely no good reason to do so."
Newsweek reached out to the Senate Judiciary Committee for comment.