Kellyanne Conway Hits Tom Steyer With 'Money Can't Buy You Love' After He Fails to Qualify for Democratic Debate
Counselor to the President Kellyanne Conway on Wednesday took aim at 2020 Democratic candidate Tom Steyer, a billionaire who started a nationwide campaign to impeach President Donald Trump, with a song.
"Money Can't Buy You Love," Conway tweeted along with emojis of a music note and a violin.
The top Trump aide quote tweeted The Daily Beast reporter Gideon Resnick's post highlighting a line in a story about a USA Today/Suffolk University Poll that found that Americans dread the 2020 presidential election. The poll conducted August 20 to 25 with 424 registered voters planning to participate in the Democratic caucus or primary found that former Vice President Joe Biden maintained a substantial lead and that several candidates had less than 1 percent support, including Steyer.
"Steyer was supported by one person, or .24% of those Democratic voters surveyed, below the 2% threshold he needed to be assured a place at the next Democratic debate in two weeks," Resnick quoted from the story.
Conway did not specify which song she was referring to in her tweet. R&B singer Ralph Tresvant sang the song "Money Can't Buy You Love" for the 1992 film Mo' Money. The Grammy-nominated trio The Hamiltones released a song titled "Money Can't Buy You Love" in 2018 and The Beatles released the song "Can't Buy Me Love" in 1964.
Steyer, a hedge fund manager who launched the Need to Impeach campaign which calls on Congress to begin impeachment proceedings on Trump, appears to have failed to qualify for the third Democratic presidential debate in September.
The billionaire entered the crowded Democratic field in early July and received less than 1 percent support in the USA Today/Suffolk University and Quinnipiac University polls released Wednesday morning, hours before the debate qualification deadline. Steyer needed one more national poll with at least 2 percent support in order to make the debate stage.
He has been accused of attempting to buy his way onto the upcoming debate. Steyer spent close to $12 million — more than six times the amount his closest competitor spent — on television and digital advertisements in the past month, according to Advertising Analytics data obtained by NBC News.
Conway did not tag Steyer on Twitter and while he did not address her tweet directly, he wrote on the social media website shortly after Conway's post: "As a billionaire, I'm entitled under current @GOP law to pay less on my taxes than most Americans" and "As a former investor, I can tell you: none of that actually works."
Steyer added that he believes "it's time for a new wealth tax in this country: 1% annually on the wealthiest 0.1% of Americans."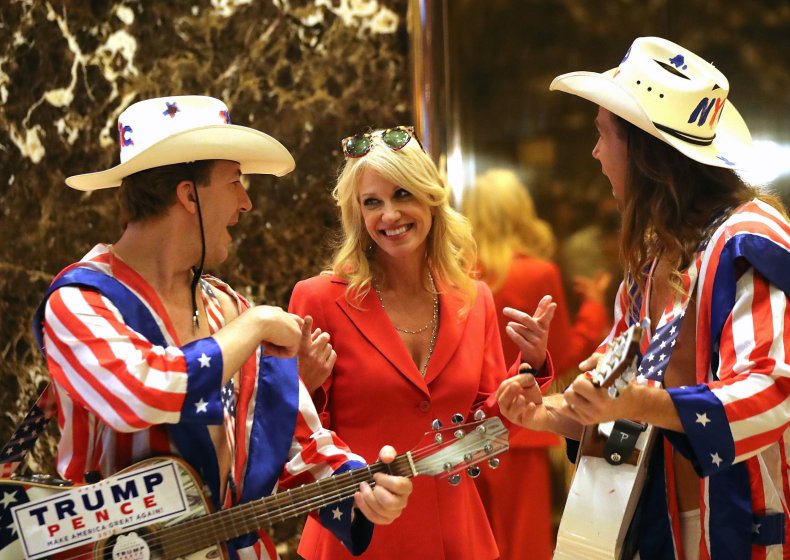 Steyer's net worth as of Wednesday was $1.6 billion, while Trump's was $3.1 billion, according to Forbes.
While Trump was a wealthy 2016 presidential candidate, he also had name recognition as a real estate mogul and the star of The Apprentice.
As rumors circulated that Steyer was considering a presidential bid, Trump called him a "crazed & stumbling lunatic who should be running out of money pretty soon."
"As bad as their field is," Trump tweeted in October 2018, "If he is running for President, the Dems will eat him alive!"