Kellyanne Conway Suggests Trump Is Better Because He Doesn't 'Study' Situations Before Making Decisions
Senior White House counselor Kellyanne Conway said on Sunday that it was "important" to have a president like Donald Trump because he and his administration officials don't "study" or form "commissions" in order to inform decisions before they're made.
"This is why it's so important to have a president who isn't a typical politician, because he and his team don't sit around and say, 'well, let's study it, let's have a commission about it,'" Conway said during an interview with Fox News Sunday as she discussed the Trump administration's response to a drone attack on Saudi oil fields that disrupted 5 percent of the global oil supply over the weekend.
"Secretary [of State Mike] Pompeo went right out there and pointed the finger at the aggressor here, the Iranian regime," she continued.
The attack targeting Saudi Arabia's state oil company Aramco was claimed by the Houthis, a Yemeni group, which is allied with Iran. Yemen's Houthis overthrew their government back in 2015 and have been fighting against a Saudi-led coalition supported by the U.S. The coalition has reportedly killed large numbers of civilians in the conflict and has helped create a large-scale humanitarian crisis in the country.
On Saturday, Pompeo tweeted: "Amid all the calls for de-escalation, Iran has now launched an unprecedented attack on the world's energy supply. There is no evidence the attacks came from Yemen."
Iran's Foreign Ministry dismissed the accusation in an official statement on Sunday.
"In international relations, even 'hostility' [should have] a minimum degree of credibility and logical frameworks, but the U.S. officials have ignored even such minimum principles," foreign ministry spokesperson Abbas Mousavi said, according to Iran's Tasnim News Agency.
Iranian Foreign Minister Javad Zarif followed that statement with a tweet of his own, calling out Pompeo specifically.
"Having failed at 'max pressure', @SecPompeo's turning to 'max deceit'. US & its clients are stuck in Yemen because of illusion that weapon superiority will lead to military victory," Zarif wrote.
Despite Pompeo's accusation, Conway suggested that Trump would still consider meeting with Iran's President Hassan Rouhani during the United Nations General Assembly later this month. "He said he'll consider it, and the conditions always must be right with this president," the Trump adviser said.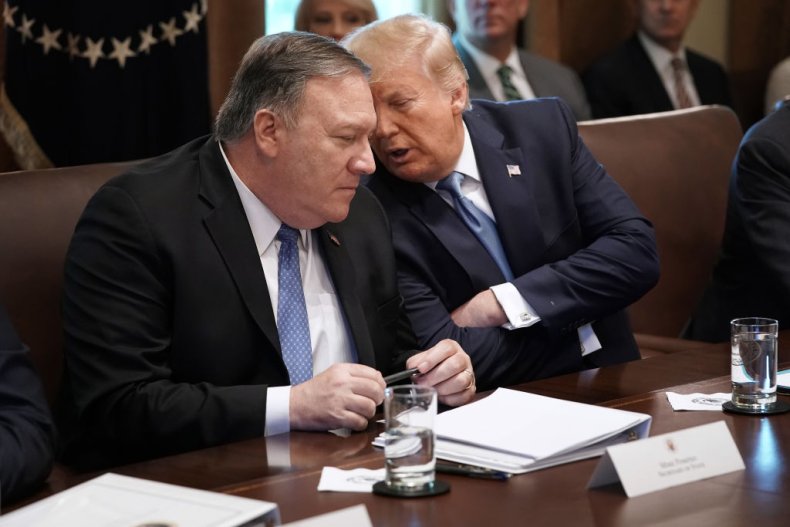 George Friedman, founder and chairman of Geopolitical Futures, told Newsweek that Iran was definitely behind the attack on Aramco.
"There is no doubt that the Houthis launched the drones, that they don't have the ability to build and deploy drones on their own and that Iran is their closest ally," Friedman explained. "Iran had to have done this."
Friedman said he did not expect a U.S. military retaliation against Iran for now, although he asserted that there could be a "small strike" in response.
"The issue on retaliation I think waits until we have intelligence on how many other drones are deployed in Yemen," he explained. "I think a small strike on Iran is possible, but at this point, everyone is gathering intelligence on which to base their next move."
Jamal Abdi, president of the National Iranian American Council, voiced skepticism in regards to Pompeo's accusation. He also suggested the secretary of state may be attempting to convince Trump to take a harder line stance against the Persian Gulf nation, instead of pursuing dialogue.
"One can't also help but wonder if the audience for Pompeo's breathless but also oddly substanceless accusation is Trump himself," Abdi told Newsweek.
"The notion that Pompeo is building a case to scuttle talks isn't far fetched," he added.