Kellyanne Conway Tweets 'Gotcha' About Schneiderman Abuse Claims, Appears to Forget Trump's Accusers
White House Counselor Kellyanne Conway appeared to delight in the accusations made against former New York Attorney General Eric Schneiderman, tweeting "gotcha" as she shared an old tweet of his.
Schneiderman has been accused of abuse and violence by four women, two of whom spoke on the record to The New Yorker. Michelle Manning Barish and Tanya Selvaratnam detailed their experiences in an article published on Monday, shortly after which Schneiderman resigned, despite denying the claims.
Posting a message in which Schneiderman said "no one is above the law," Conway and President Donald Trump's eldest son, Donald Jr., both appeared to comment on the allegations. Yet both seemed to ignore accusations against the president.
While Conway threw subtle shade at Schneiderman, Donald Jr. went to town, addressing the allegations in a series of tweets—including one retweet of a message from his father in which Trump pondered whether "lightweight" Schneiderman was "a crook."
Conway has previously suggested Trump's accusers have "had their day" because they appeared on television, also pushing back on the idea that there should be Congressional hearings regarding accusations made by 19 women of sexual misconduct against the president.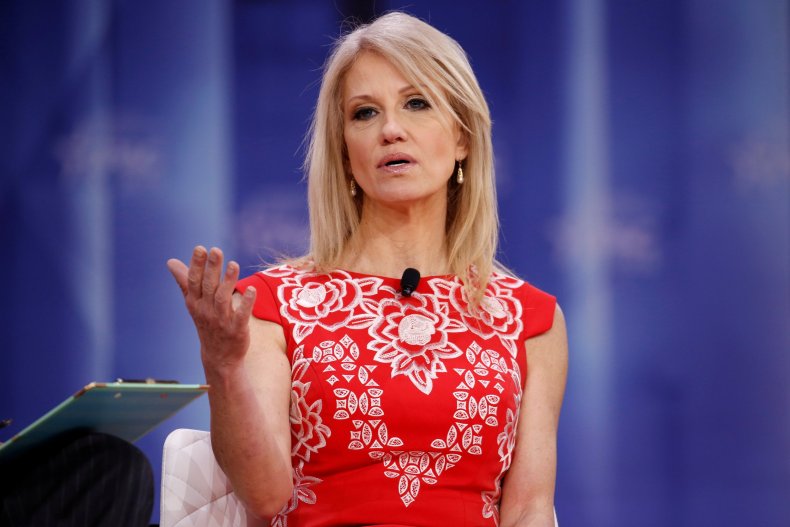 "Those accusers have had their day on your network and elsewhere for a long time. They were tried out again late last year," Conway said in a February interview with ABC's This Week.
Meanwhile, Donald Jr. appeared to largely ignore the women who made the allegations and linked to old tweets from the former attorney general slamming sexual harassers, The Hill reported.
In a statement reported by The New York Times, Schneiderman said, "It's been my great honor and privilege to serve as attorney general for the people of the State of New York. In the last several hours, serious allegations, which I strongly contest, have been made against me.
"While these allegations are unrelated to my professional conduct or the operations of the office, they will effectively prevent me from leading the office's work at this critical time. I therefore resign my office, effective at the close of business on May 8, 2018," the statement added.