Kellyanne Conway Says U.S. Hopes for 'Peaceful Transition of Power' In Venezuela as It Backs Military Uprising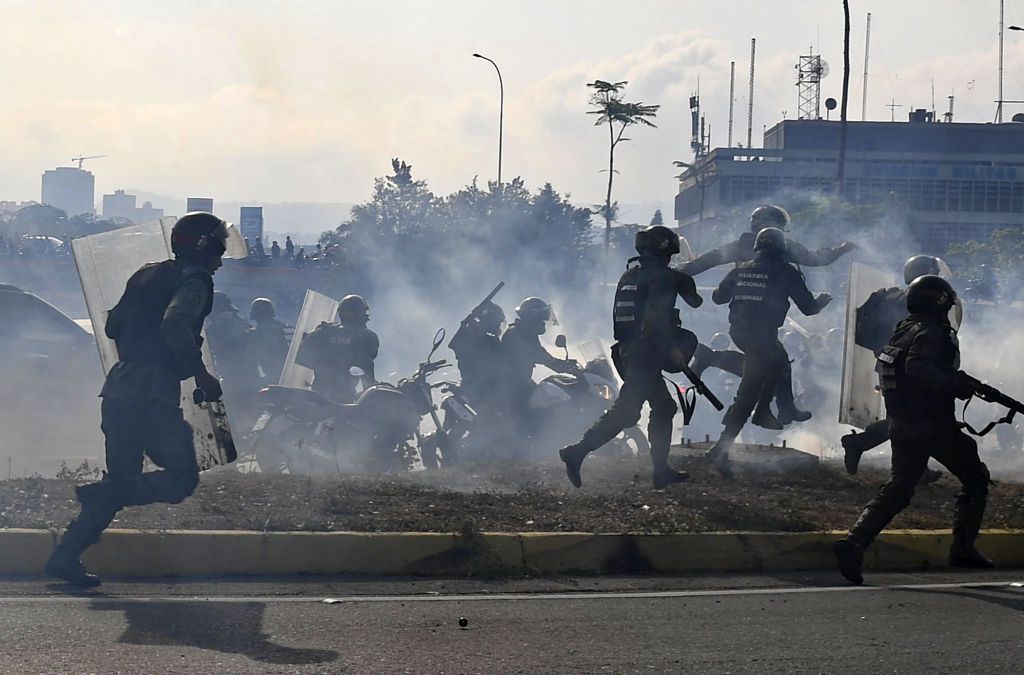 Counselor to President Donald Trump Kellyanne Conway said that the administration hoped for a "peaceful transition of power" in Venezuela as it backed a military uprising in the South American nation.
"We believe that there can be a peaceful transition of power," Conway told Fox News' America's Newsroom on Tuesday morning. "You have seen the Maduros around the world who just cling to their power, no matter how they treated their own people. And it's just time for him to go," she said.
The close Trump aide's comment came after Juan Guaidó, who declared himself interim president in January, claimed on Tuesday morning that he now had military support and called for a final end to President Nicolás Maduro's control of the country.
Secretary of State Mike Pompeo reiterated U.S. support for Guaidó in a tweet, saying: "Today interim President Juan Guaido announced [the] start of Operación Libertad. The U.S. Government fully supports the Venezuelan people in their quest for freedom and democracy. Democracy cannot be defeated."
National Security Adviser John Bolton, meanwhile, tweeted support for Guaidó and those taking to the streets to remove Maduro, writing that "America will stand with you until freedom & democracy are restored."
Trump officially recognized Guaidó as Venezuela's interim president in January, as did many other nations in the Americas and Europe. Russia, China, Iran and Turkey have continued to back and support the government of Maduro. Although Maduro was re-elected last year, the polls were condemned and boycotted by the political opposition—now led by Guaidó.
Since assuming office in 2013, Maduro has overseen the worst economic crisis in Venezuela's modern history. The formerly oil-rich nation has seen inflation soar while ordinary Venezuelans struggle to purchase the most basic of necessities. Millions have fled the country as a result, largely to nearby South American countries such as Colombia, Ecuador and Brazil. While Maduro's critics blame corruption and mismanagement for the economic crisis, supporters argue that international sanctions have crippled the economy.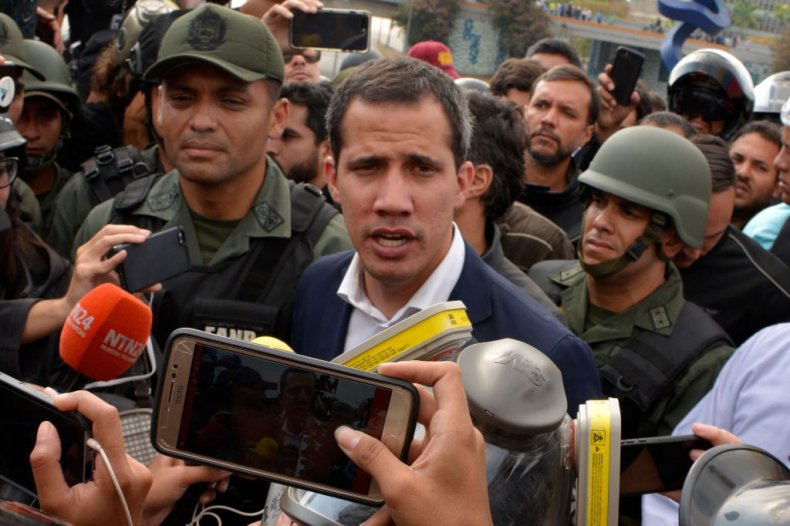 "I want to tell the Venezuelan people: This is the moment to take to the streets and accompany these patriotic soldiers," Venezuelan activist Leopoldo Lopez, who had been detained since 2014 for leading anti-government protests and supports Guaidó, said on Tuesday, according to The Associated Press. "Everyone should come to the streets, in peace." But Venezuela's Defense Minister Vladimir Padrino rejected the opposition effort, calling it a "subversive movement" aimed at creating "panic and terror."
Conway told America's Newsroom that the U.S. had welcomed opposition figures to the White House and supported "freedom fighters, if you will." She said: "We're watching, and we're waiting and we hope the result is democracy and freedom for the people."
Kellyanne Conway Says U.S. Hopes for 'Peaceful Transition of Power' In Venezuela as It Backs Military Uprising | World