Kellyanne Conway and Wolf Blitzer Spar About George Conway on CNN: 'He Happens To Be Married To Me?'
Counselor to the president Kellyanne Conway sparred with CNN host Wolf Blitzer over his request for her reaction to her husband, George Conway's, comments about her boss, President Donald Trump.
She appeared on CNN on Thursday morning to discuss the impeachment hearings against Trump. Almost two months after Democrats in the House of Representatives launched an inquiry, public hearings began on Wednesday and were expected to continue through Friday.
In his final and admittedly "sensitive" question during the interview Blitzer asked Conway to share her thoughts on her husband's Wednesday night comments on MSNBC. He prefaced the question by characterizing it as political and substantive and noted he didn't want to get into her marriage, which he said he knew "has issues."
The White House aide questioned why she was being asked to comment on her husband's opinions, to which Blitzer responded that George Conway is a legal scholar who was publicly going after the president. The Trump administration official then pushed for the reason she thought was really behind the question, which was that George Conway was married to her. Blitzer acknowledged that they "happened" to be married, a phrasing that struck her as odd.
"He happens to be married to me? That's bizarre," Kellyanne said.
She later added that Blitzer shouldn't have told the audience that her marriage had "issues," and asked what he knew that she didn't. Blitzer repeatedly asserted that he didn't want to discuss her marriage, but wanted her reaction to the "substance" of George's comments.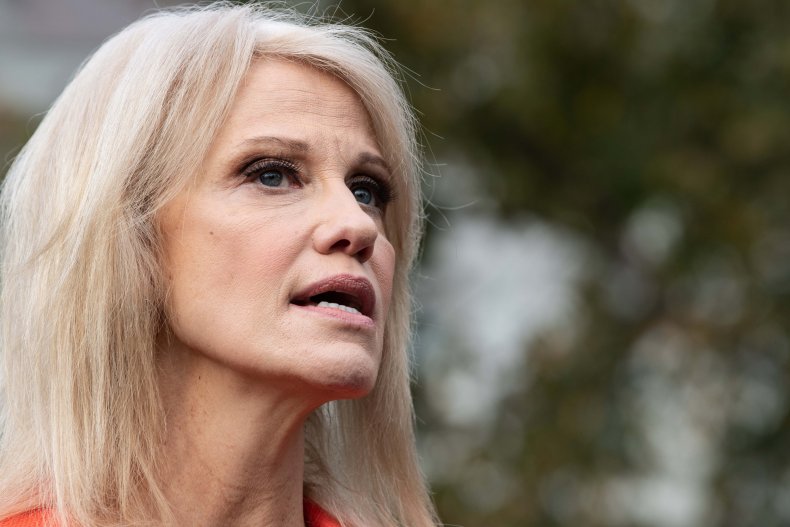 On Wednesday night, George Conway appeared on MSNBC and said the problem with Trump was that he always "sees himself first." Therefore, the lawyer said, it was inevitable he would find himself in impeachment hearings because he was allegedly using the "power of the presidency" to advance his personal interests.
Kellyanne Conway, who claimed she hadn't seen the clip until Blitzer played it for her, responded that it was "his opinion."
This wasn't the first time Conway showed she was uninterested in discussing her husband's comments. In October, the Washington Examiner released audio of a call between Conway and a reporter, during which she claimed her husband's tweets about the president were irrelevant to an article that focused on her possibly being tapped for the job of chief of staff.
Instead of including her husband's feelings about Trump in an article, Conway argued people should focus their attention on her credentials as a mother of four and the first woman to run a successful presidential campaign.
During her interview with Blitzer, she criticized MSNBC for tapping her husband for comment when they weren't lacking in "anti-Trump voices."