Kellyanne Conway Comes Out in Support of U.S. Women's Soccer Team's Equal Pay Fight
Counselor to the President Kellyanne Conway weighed in on a debate over whether the United States women's national soccer team should receive equal pay to their male counterparts, seemingly siding with the women who scored a record 13-0 victory over Thailand in the 2019 FIFA Women's World Cup opening game.
After the USWNT on Tuesday scored the most goals in a single game in World Cup history—for men or women—they received massive support on Twitter for their fight for pay equity. Conway was asked to comment on the matter in a press briefing Wednesday.
"I believe as a general principle that equal pay for equal work is the way to go," Conway replied, according to CNBC Washington correspondent Eamon Javers.
Javers earlier had tweeted that bringing the women's game closer to market par with the men's game could bring billions of dollars to FIFA and that there is a huge audience who would embrace a Serena Williams or a Lindsey Vonn-type soccer player in the World Cup each year.
"I've been watching everyone's reaction to this, and here's the thing: FIFA, which is known for its business acumen if not it's high ethical standards, is missing a huge financial opportunity by not investing in the women's game," Javers tweeted.
The White House did not immediately respond to a Newsweek's request for additional comment from Conway, or a request for comment from first daughter Ivanka Trump, who as a senior White House adviser advocated for equal pay in the past. A lawyer for Trump also did not respond.
Neither Conway nor Trump had tweeted about the USWNT as of early afternoon Wednesday.
More than two dozen members of the USWNT, which has three World Cup titles, in March filed a gender discrimination lawsuit over pay equity and working conditions against the country's soccer federation. The suit, with plaintiffs including stars Alex Morgan and Megan Rapinoe, alleges that years of "institutionalized gender discrimination" affect their pay, coaching, medical treatment and where and how often they play.
Senator Kirsten Gillibrand, a Democratic 2020 presidential candidate, tweeted in favor of equal pay for the women players on Tuesday.
"Here's an idea: If you win 13-0—the most goals for a single game in World Cup history—you should be paid at least equally to the men's team," the senator tweeted. "Congratulations, #USWNT!"
The National Women's Law Center pointed out that the USWNT scored more goals in a single game than the men's team did in their last three World Cups combined, and that their point stands that "it's time they're paid equally."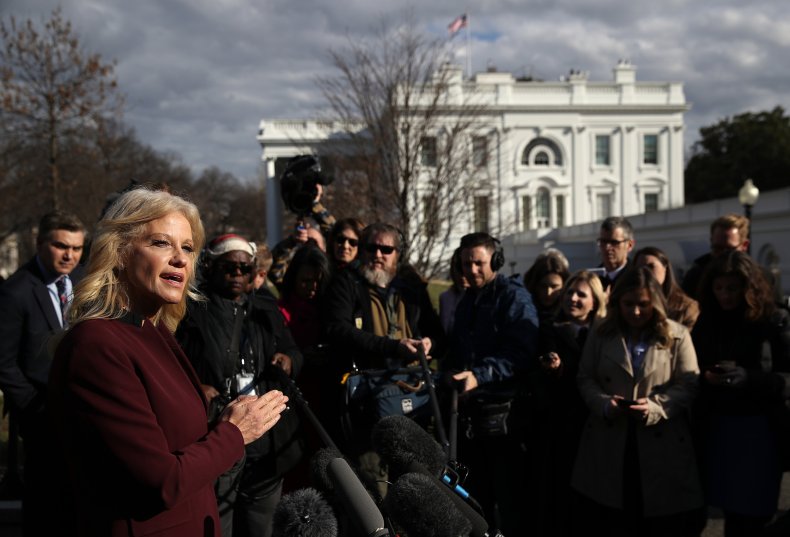 Conway has often remarked on different women's issues. Last week, she asked on Twitter what Laurene Powell Jobs, the widow of Apple founder Steve Jobs who is buying a stake in The Atlantic, thought of the magazine's editor-in-chief Jeffrey Goldberg saying it's hard to write a 10,000-word cover story and "the journalists in America who do it are almost exclusively white males."