Kellyanne Conway's Repeated Hatch Act Violations Would 'End the Career of Any Career Government Official': Watchdog
Counselor to the President Kellyanne Conway's continued violations of the Hatch Act "would most likely end the career of any career government official," according to a watchdog that filed a complaint Wednesday calling for an investigation on her.
In the complaint filed to the Office of Special Counsel, Citizens for Responsibility and Ethics in Washington (CREW) cites four recent instances in which Conway appears to have violated the federal law, which prohibits executive branch employees from using their official positions to influence or interfere with the outcome of an election.
Conway's four alleged violations are in addition to two television appearances that the Office of Special Counsel in March 2018 determined had violated the act, and a complaint by CREW last October that is still under investigation by the office.
"I can't think of anyone else who appears to have violated the Hatch Act so many times," CREW spokesman Jordan Libowitz told Newsweek on Wednesday morning.
"Don't want to make a call before the judgement of the OSC, but it would most likely end the career of any career government official," he said.
Libowitz said it would depend on the severity and number of violations, "but usually people don't violate more than one time."
"You don't see a lot of multiple offenders, so if she is found to have continued to violate it, that's a pretty serious issue, especially in an administration that doesn't seem to care about ethics violations," Libowitz said. "So were hoping that if OSC finds a violation, action will be taken."
The Hatch Act violations CREW accuses Conway of committing took place this year. The complaint details Conway's CNN interview on April 27, in which she, unprompted, commented in her official capacity that 2020 Democratic candidate Joe Biden "doesn't want to be held to account for his record or lack thereof" and "doesn't have a vision for the future."
In a Fox News interview on April 24, Conway in her official capacity said that 2020 Democratic candidate Bernie Sanders's "ideas are terrible for America" and that President Donald Trump is "a much better candidate." In another Fox News interview on April 22, Conway said 2020 Democratic candidate Seth Moulton's message was "a big zero" and suggesting he was not well known.
The fourth violation CREW alleges is Conway's February 1 Fox News interview in which she took aim at 2020 Democratic candidate Cory Booker by saying, "What exactly have you accomplished that qualifies you to be the commander-in-chief and President of the United States?"
CREW's complaint states that those were "by no means exhaustive," and, "in short, Ms. Conway is a repeat offender and it seems clear that neither prior guidance by the White House Counsel's office nor prior admonition by OSC have deterred her from breaking the law."
"Time and time again, we've seen members of this administration act as though they are above the law," CREW executive director Noah Bookbinder stated. "It is beyond time to hold officials accountable for their actions.
The White House did not immediately respond to a request for comment by Newsweek on Wednesday.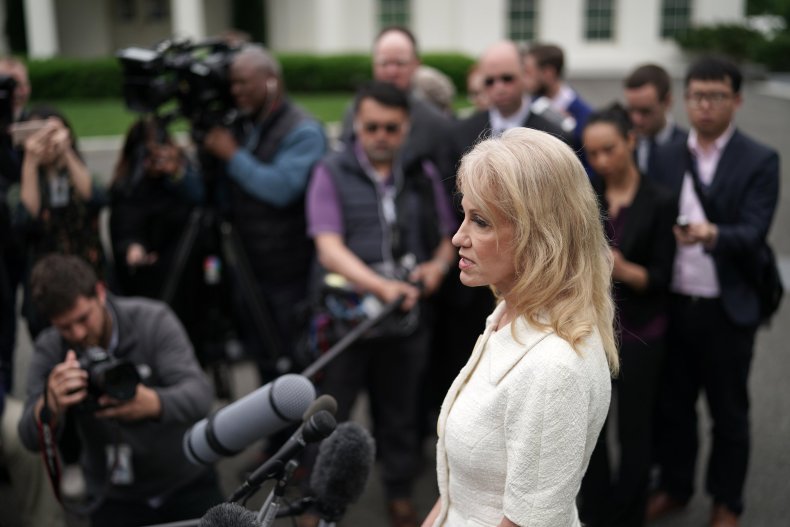 Richard Painter, a chief ethics lawyer under President George W. Bush and former CREW board member, flagged a more recent attack Conway made against Biden on the White House driveway as "a slam dunk Hatch Act violation."
"The presumptive punishment is firing. They should have fired her the first time," Painter told Newsweek at the time. "If President Trump will not remove White House officials who are clearly violating the law, he's not doing his job and this would be yet another grounds for Congress considering impeaching and removing the president."