Kelsea Ballerini to Perform With Reba McEntire at CMA Music Awards, Talks About New Album and Taylor Swift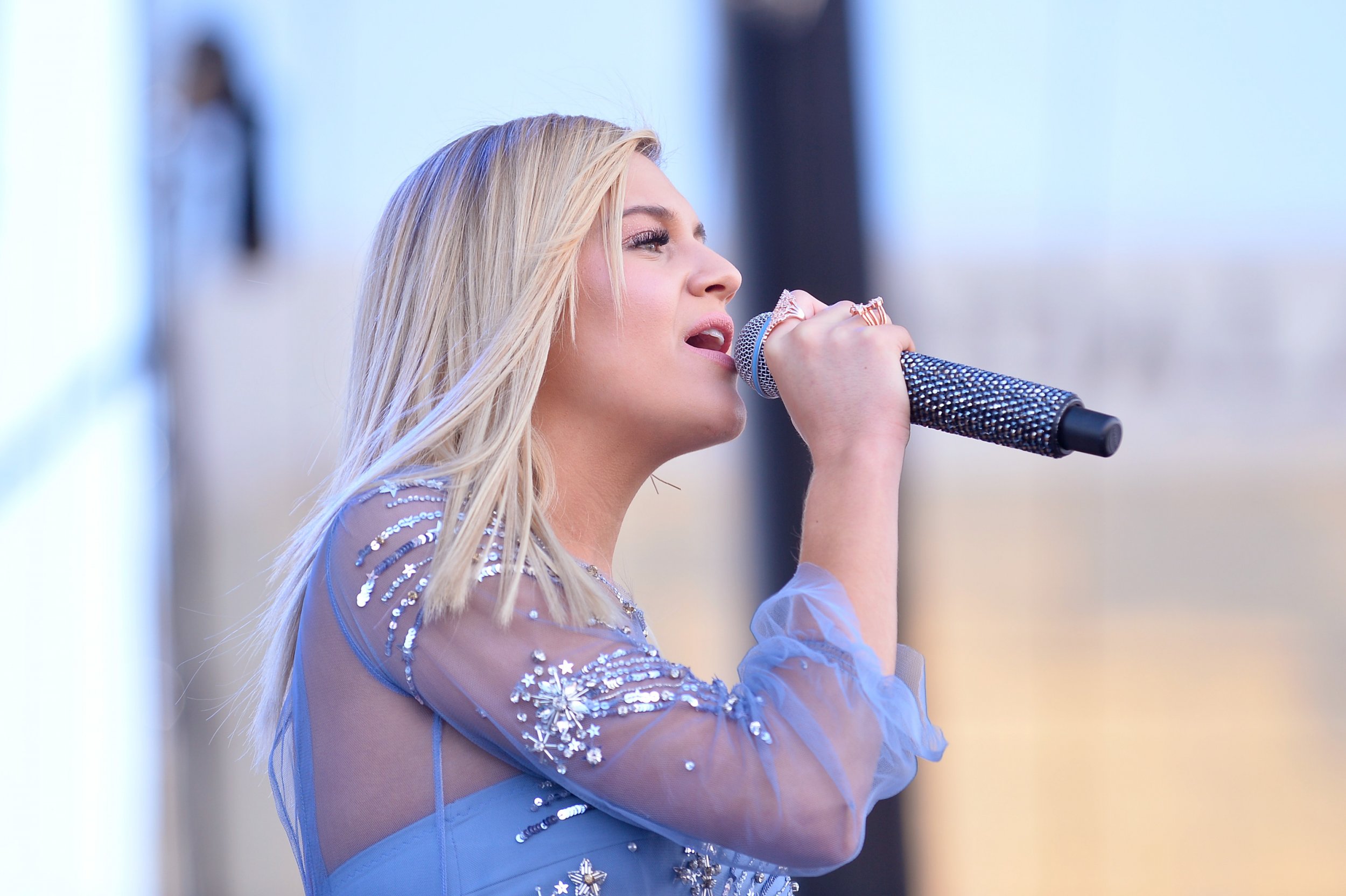 Decisions, decisions. Country star Kelsea Ballerini initially wrote 200 songs when she started working on her recently released second album, Unapologetically.
"So the way that I narrowed them down was I decided I wanted to make a chronological story of my life the last two years," Ballerini told Newsweek. "So if you listen to the record, track one to track 12, it's in order of how it all happened."
Ballerini, 24, began writing music when she was 13 and started playing guitar a year later.
And at the age of 19, thanks especially to her strong songwriting skills, she scored a publishing deal with the Black River Publishing, and then a recording deal with Black River Entertainment. I had never heard of Ballerini, until my eight-year-old daughter reported back to me after witnessing her perform "Square Pegs," from her 2015 debut album, The First Time, on the Disney Channel. Soon, there was singing and humming, from both of us, as well as from my wife. What also appealed to us—well, especially me—were these lyrics: "What if we were all the same? Same rules, same game / And we weren't allowed to change anything about anything / That anybody's ever done before? Wouldn't that be boring, yeah." Yeah, right?
Ballerini broadens her country/pop approach on Unapologetically (somewhat similar to the way Taylor Swift expanded her sonic style on recent albums) with crafty keyboards, gleaming electronics and other contemporary pop elements—without sacrificing her rootsy, country cred.
Get ready for some of that cred on Thursday, when Ballerini performs her hit single "Legends" with the legendary Reba McEntire at the 51st annual CMA Music Awards in Nashville, Tennessee. Ballerini has performed at a slew of awards shows in the past few years, and has taken home a bunch of awards, including: the Gene Weed Milestone Award at the ACM Awards this year; Best New Country Artist at iHeartRadio Music Awards, Country Favorite Artist and Country Favorite Song ("Peter Pan") at Radio Disney Music Awards, and New Female Vocalist of the Year at the ACM Awards, all in 2016—and Rising Star at Billboard's Women in Music in 2015.
How does Unapologetically compare with The First Time?
I really wanted the underlying heart and message of both albums to be empowering. So even if you're listening to one of the sadder, more vulnerable songs on the record, it's written with this bit of positivity at the end. I just wanted people to listen to it and feel things, but also feel uplifted and empowered.
How does the new record progress from the previous one as far as songwriting goes?
It's different and the same. Different because it was me at 23, not me at 19.
And so I think as a young woman now, not a teenager. I have a different perspective on the world and of love and all of that, and I think that that's really shown on this next record. But I wrote it about my life, and my life's also not that different than it was a few years ago.
Can you elaborate on how Unapologetically is a chronological story of your life?
It goes from a breakup to growing up to falling in love. That's kind of the three parts of "Legends." Depending on how you listen to it, it can be a love song, it can be a breakup song or it can be a life song.
Have you written and recorded music knowing that you would eventually play it live?
I love performing. But I had never done a full band show when I made my first album. So how is this gonna go over live was never something I considered when I made my first album. just never thought about it. And then I toured the album for almost three years, and so I really learned what songs went over well and which songs did not go over well. And so I think in making the next record, I was very conscious of putting together a record that would go over really well live.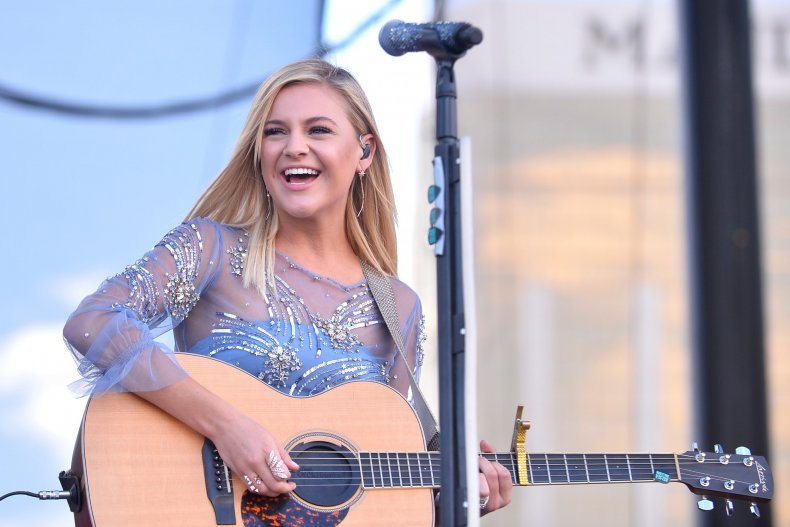 Looking back on how you started playing music, any major influences to discuss?
I've always been drawn to really bold progressive females, because that's always what I wanted to be. And so in country, specifically, Shania [Twain] was my number one. But also Faith [Hill], also Taylor [Swift], also Trisha [Yearwood], also Jo Dee Messina, you know?
But Shania's was always my number one because I feel like she was so boldly herself that she literally expanded the genre. I just watched her in awe. Also, Kelly Clarkson! Outside of country, Britney [Spears] is a huge one for me.
How has your guitar playing progressed over the years?
I mean, I feel like I understand the art of music better now. But I will never call myself a guitar player. I'm not. I can play basic chords in a very basic fashion. I play well enough to write songs, and I play well enough to play along with my very great band that covers up the sound of my guitar. [laughs].
What do you think is especially impressive about your band?
The guys who produced my album, Forest Glen Whitehead and Jesse Lee, are so specific about the sounds and the feel that they put on my songs. And I feel like their production style's a lot of the reason that my songs sounded different enough to be played on the radio. And so my band has had this really fun job of finding those sounds and those elements that are in the production and mimicking them live, but with their own style, which has been really cool.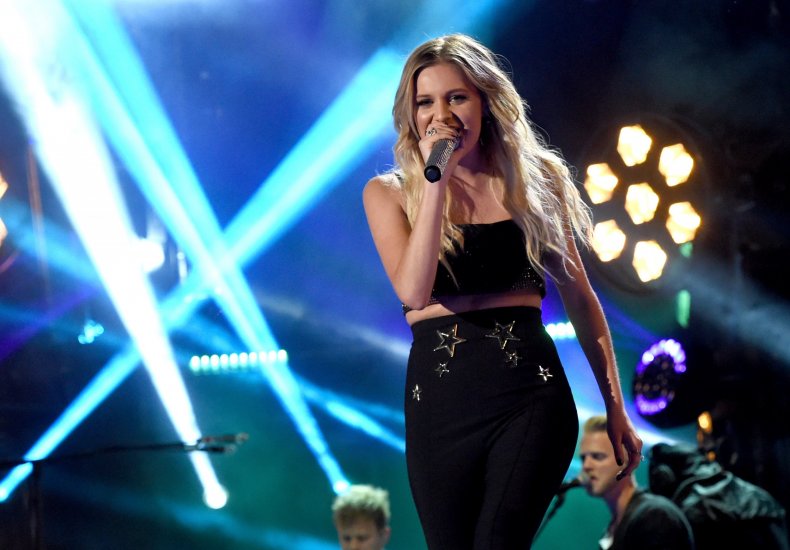 My family and I were listening to "Peter Pan" this morning. What is special about that song in particular? It's certainly very inspiring when we hear you sing, "You're always gonna fly away, just because you know you can."
I think we knew that that was our special song on the first record. I remember we were sitting down to pick the first single. We listened to "Love Me Like You Mean It." We listened to "Dibs," and we listened to "Peter Pan," because we always knew that those were our three singles. But I remember specifically in that meeting, all of us being like, "Peter Pan," that's our song." I think we knew that we needed to be really mindful and protective of it, and that we put it out at the perfect time. That song changed my life. I feel like it was the first one that people were like, "Oh, there's some depth in this."
You won the Rising Star honor at Billboard's Women in Music event in 2015.
It was awesome. There was this big conversation about the lack of women in country music, and I think that it's starting to turn around. I think you see a lot of women coming up right now, and it's exciting to see that change. But at the time it was really nice and very humbling to be honored as a new woman in music in general. At the time, there were a lot of men on the radio. A big trend at the time was "bro country," and naturally women don't fit into that. But I think the trend is now kind of gone.
You have a fan base of all ages. My 8-year-old daughter is one of your biggest fans.
I remember being seven, eight, nine, 10, 11, and looking up to Taylor Swift and Miley Cyrus and all those people and watching everything that they did, to learn. And so I'm very mindful of the music I make and who I am and how I act.