Kelsey Minato Is the Best Service Academy 'Baller Since David Robinson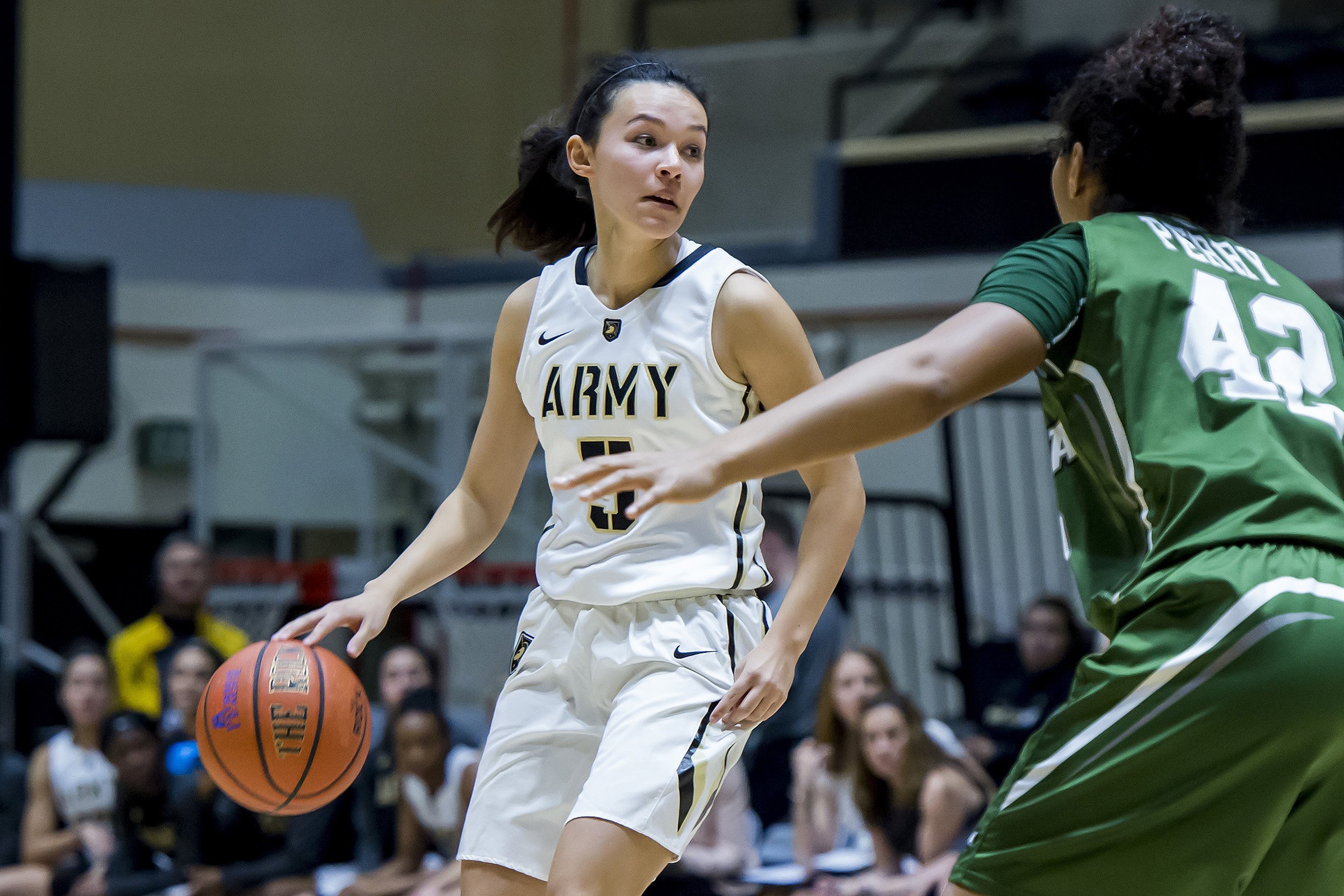 Updated | Despite the Army-Navy women's basketball game taking place on its floor, Madison Square Garden is a ghost town. It is shortly before noon on Saturday, January 23. Outside a blizzard is howling, dumping nearly 27 inches of snow on New York City in one day. Inside the "world's most famous arena," 200 or so intrepid souls have gathered to see a lissome college sharpshooter who is relatively anonymous.
Kelsey Minato, No. 5 for the Army Black Knights, dribbles above the arc to the left of the basket. Averaging 23.3 points per game, the senior from Huntington Beach, California, is always a threat to pull the trigger—Minato has twice made eight three-pointers in one game—but instead she spots a teammate drifting toward the basket along the opposite baseline. With drone-like precision, the all-time leading scorer at West Point drops in a pass that leads to an uncontested layup.
Not since midshipman David Robinson has a service academy produced as prodigious a hoops talent as the 5-foot-7-inch Minato. Like the Admiral, she is in the midst of her third consecutive season of averaging at least 22 points per game. Unlike the NBA Hall of Famer, she is not headed to a pro basketball career. "We learn where we will be posted later this week," says Minato, who will be specializing in field artillery. "That's when it will really hit home that I won't be playing basketball any more."
Within the confines of the Patriot League, Minato long ceased being Army's secret weapon. She is a two-time conference player of the year and is within striking distance (2,233 points) of breaking the career scoring record of Bucknell's Molly Creamer (2,462). "When she arrived for her plebe year, I told her that she should work on improving and on getting playing time," says her father, Rick. "She wound up leading the league in minutes played."
In 2003 Creamer became the first Patriot League player to be drafted into the WNBA. Minato, despite having once scored 49 points in a game against Holy Cross, a contest in which she also set the NCAA Division I record for most free throws attempted without a miss (26 for 26), is not headed to a women's professional league. In the coming months she will go from being captain of the Black Knights to being commissioned as a second lieutenant in the United States Army, where a five-year commitment awaits.
"The whole West Point experience was so attractive to me," says Minato. "I didn't want a typical college experience. I wanted to be surrounded by competitive people, by disciplined people, by intelligent people."
With her slight frame and soft smile, Minato does not exude a GI Jane vibe. During Beast Barracks, the seven-week basic training all incoming cadets undergo in the summer before plebe year, she drew rebukes from upperclassmen for smiling too much. To wean Minato of this tendency, her instructor duct-taped a smiley face to a wall and ordered her to converse with it without cracking a grin.
"I actually had to carry on a conversation with it," says Minato, who is unmistakably—to borrow a naval term—even-keeled. "That was the hardest part, pretending to listen to a piece of tape."
Fast forward from the summer of Beast, 2012, to the summer of 2014. Minato, who had not sought a typical college experience, found herself on the court at Christl Arena, the United States Military Academy's on-post basketball venue. A noted West Point alumnus, Mike Krzyzewski, invited her onto the floor and told her that he wanted her to participate in a shooting contest. Minato's opponent? Stephen Curry.
"Team USA was practicing here and Coach K approached and told me, 'I'm going to challenge you to a three-point shooting contest,'" says Minato. "The gym was full. It was an open practice."
With Kyrie Irving feeding her passes, Minato failed to beat the man who has led the NBA in three-point field goals each of the past four seasons. But she did make 10 to Curry's 15. "Coach K. declared me the winner because he said Steph stepped over the line five time," says Minato with a smile.
Minato's mother, Dorothy, is from Malaysia. On her father's side, however, the family's U.S. Army lineage extends back three generations, nearly a full century. Her great grandfather, Anselmo Minato, emigrated from the mountainous northern Italian town of Asolo in 1916. One year later he was a Private in the 32nd Infantry, battling in the trenches in both France and Germany in World War I. "My grandfather survived being shot, a bayonet wound and mustard gas," says Rick Minato. "Then he returned to Italy, gathered the rest of his family and moved to Oregon to work in the logging industry."
Less than 20 years later, Alfeo Minato—Anselmo's son and Rick's father—lied about his age to enlist with the Army Air Corps during World War II. "He wanted to be a pilot, but he didn't qualify" says Dorothy. "So he asked, 'What can I do?'"
The Army Air Corps, the precursor to the Air Force, put Alfeo Minato into a B-24 bomber and made him a top-turret gunner. In 1944 and 1945, Alfeo flew missions over northern Italy. "We looked at it on a map once and spoke to our relatives," says Rick. "My dad most likely flew bombing missions directly over Asolo, his father's home town."
Ain't that America?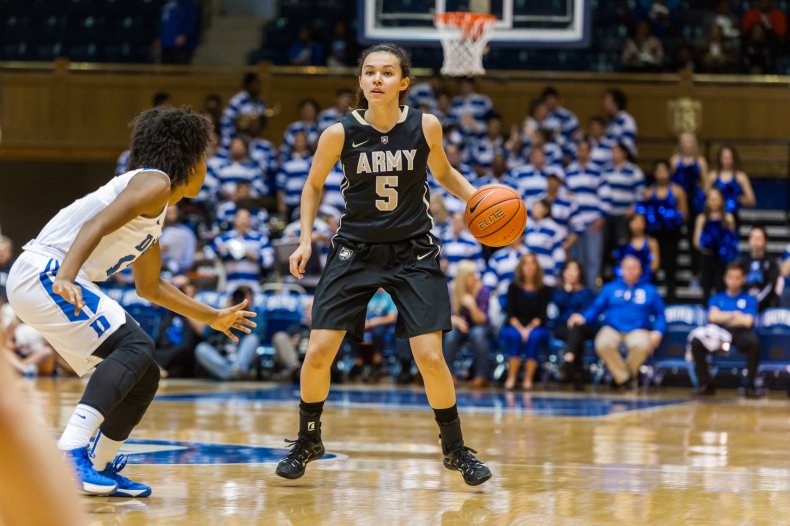 Kelsey's own path to military service did not involve global conflict. She did not give West Point much thought until her senior year at Huntington Beach High School. She had always been a sniper on the hardwood, but because of her height and slight frame she was lightly recruited. Army associate head coach Colleen Mullen had seen her play at a tournament in December of her senior year and urged head coach Dave Magarity to make the cross-country trek to visit her. "I went to see her play one game and then realized that my flight on the following day was leaving late enough that I could see her again," Magarity recalls. "But Kelsey's team was playing San Diego High, which had two future Division I players."
Rick and Dorothy Minato, fearful that their daughter might struggle against the heightened competition, attempted to dissuade him from attending. He did, though. "In the first half, Kelsey hits one, two, three, four three-pointers." says Magarity. "I think she had seven in the first half. I began looking around the gym to see if any other college coaches were there. At that point I was ready to move in with Kelsey's family and walk her back to West Point."
Not necessary. Oddly enough, the women's coaches at both Air Force Academy and Navy, respectively, Chris Gobrecht and Stefanie Pemper, are alumnae of Huntington Beach High School. Neither had Minato on their radar, which leads one to question the fitness of U.S. military reconnaissance. "I don't try to make sense of it," says Magarity. "I'm just happy it worked out this way."
Heading into Saturday's game against undefeated Bucknell, the Black Knights are 16-2. Their lone losses were at 14th-ranked Duke in November and at Bucknell in the beginning of January. Minato, who has scored in double figures in 97 consecutive games, is hoping to lead the Black Knights to the NCAA tournament for the second time in three years (they lost in the opening round to fourth-seeded Maryland in 2014, but Minato poured in 27 points).
Before her arrival, the women of West Point had only been to the NCAA tourney once (2005), while the men's team has never crashed that party. "This is the most diverse, most fun team I've ever played on," says Minato. "I want it to continue for as long as possible."
In four months Minato will be an officer in the United States Army. But she's not quite ready to see her current tour of duty end.
This story has been updated to reflect that the Black Knights lost in the opening round to Maryland in 2014. The original report stated 2015.​