Ken Burns Is Trying to Save Hampshire College, a School Without Grades That Primed Him for Success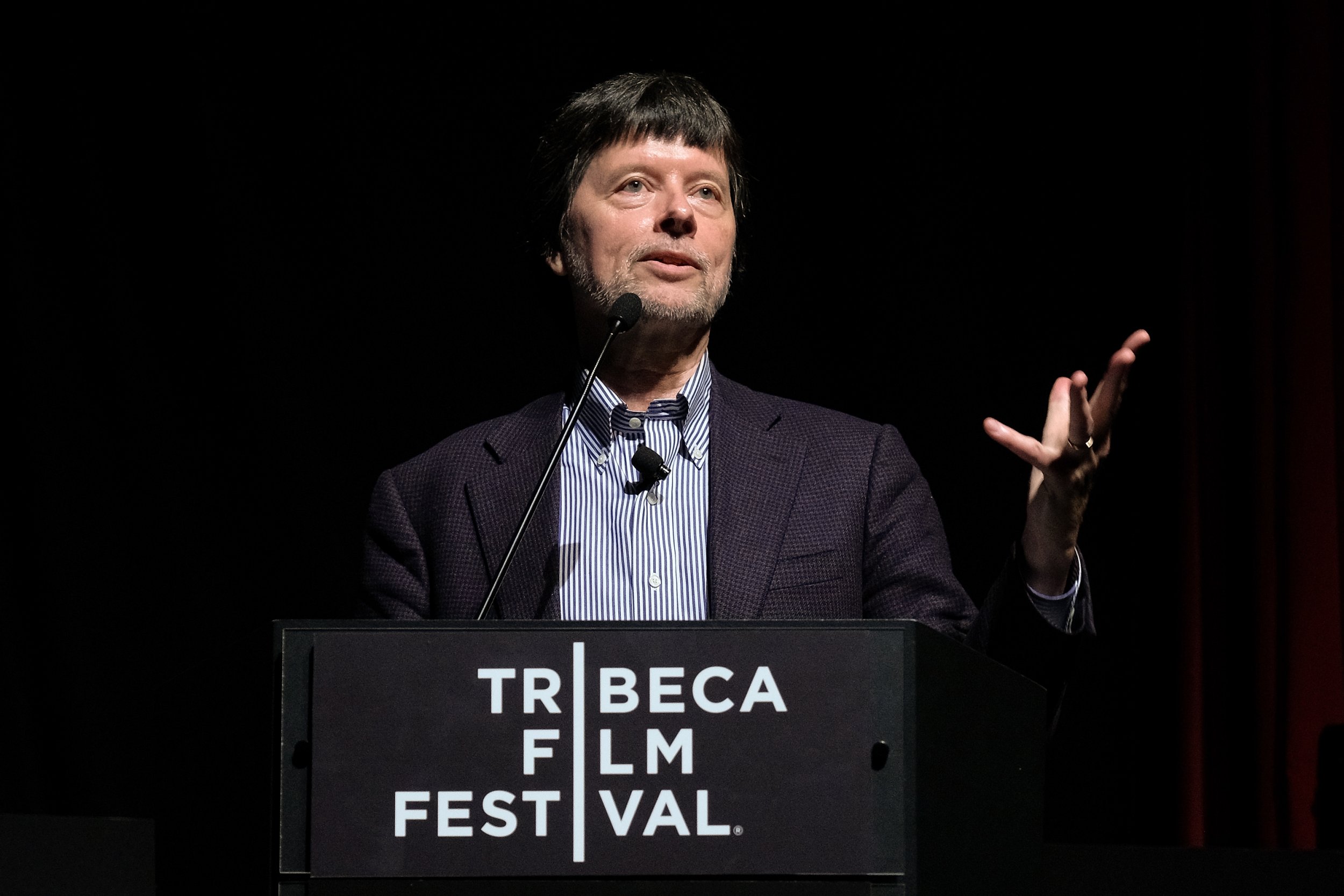 Award-winning filmmaker Ken Burns is carrying a torch in the fight to save Hampshire College, which hit a financial rough patch in recent years. The filmmaker's college experience differed from many others': There were no grades and no fixed curriculum at Hampshire, and students blazed their own paths. They still do today.
Located alongside more traditional counterparts such as Amherst College and the University of Massachusetts-Amherst, Hampshire, a private liberal arts college, opened its doors in 1970. An experiment in undergraduate teaching, Hampshire had its students take responsibility for their own education, customize their own curriculum and demonstrate their knowledge.
Nearly 50 years after its inaugural class, Hampshire now faces a budget crisis which has already led to staff cuts, a reduced freshman class and a goal of raising $20 million this year. The college's alumni are answering its call to help.
Burns told Newsweek that without Hampshire College's unique education model and "special sauce," no one would know his name.
"It made me interested in not being a cog in something else but to design my own way. We see that the word 'career' itself essentially suggests that the path ahead has been well trodden," he said. "Hampshire suggests that your own unique combination of interests and experience that comes into Hampshire gets transformed into something, and you find your own way, you forge your own path."
A logical next step for many college graduates looking to make their own film might be to move to New York City or Los Angeles and secure an internship with a film production company. Burns said that had he done that, it would have been 20 years before he could have made a film, and it would have been on someone else's dime and under their control.
After blazing his own path at Hampshire, Burns decided that route was "unacceptable" for him. Instead, he went straight to public broadcasting and spent more than 40 years making the films he wanted to make. The three or four filmmakers he graduated with are all still making films.
"[Hampshire College] armed us not just with the stuff of the trade but also how to negotiate a larger world," Burns said.
The son of a University of Michigan professor, Burns assumed he'd attend the Ann Arbor school, and practically for free. As is often the case, fate had other plans, and a friend of the 17-year-old Burns showed him an article in Newsweek. Burns' own family subscribed to Time, and he'd never heard of Newsweek.
"He said, 'Look at this,' and he showed me a one-page article towards the back of the magazine that was about the opening of Hampshire College that September of 1970, and how different it was … And I read this thing about Hampshire, and every bell and whistle went off because of this Newsweek article," Burns said.
The article, which appeared in the September 28, 1970, issue, described Hampshire College as a "collegiate jewel in the rough"; and Franklin Patterson, Hampshire's first president, called the moment a "turning point in education." While other schools focused on SAT scores and GPAs, Hampshire applicants demonstrated their extracurricular accomplishments through film, sculpture, poetry and light shows.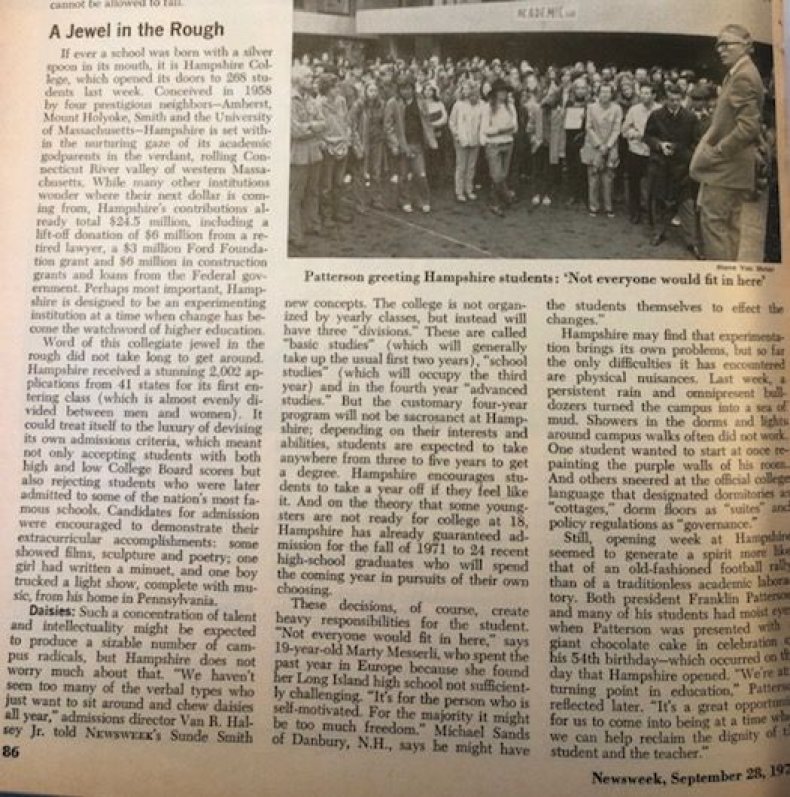 Burns' mother died when he was 17, and despite a "mountain" of cancer bills, he applied to only one school—and it wasn't the University of Michigan. That decision, he said, made all the difference.
"I don't recognize the person who went into Hampshire College and the person that came out," said Burns. "So it's all your fault. If I hadn't read that Newsweek article, I wouldn't be there."
Other Hampshire alumni include actors Lupita Nyong'o and Liev Schrieber, NASA senior scientist Lucy-Ann McFadden and Into the Wild author John Krakauer. In light of the recent college admission scandal that involved several wealthy parents paying exorbitant sums to aid their child's acceptance into college, Burns said Hampshire must continue to be an "island of authenticity."
"This admissions scandal is the epitome of the horrific sense that all of higher education has become transactional," he said. "Hampshire has always been, and remains to this day, transformational. That's the difference here."
Hampshire isn't just for those pursuing the arts; its students also study to become doctors and lawyers. Nancy Nylen, who was in Hampshire's first class and is now a member of the fundraising group A Campaign for Hampshire College, told Newsweek that her undergraduate experience impacted her graduate school studies.
"It really taught us to set our goals and then go after them," Nylen said. "I wanted to get into a [graduate] program that I didn't necessarily have the prerequisites for, and it caused me to just kind of talk my way into each class: 'Oh no, really, I can do this.'"
As one of the college's very first students, Nylen thought her class owned the excitement of being innovative, but said the passion from various classes of alumni confirmed that Hampshire College still had a place in higher education.
"It's this best-kept secret," Nylen said. "Once people know about it, I think it will unlock quite a bit of interest."
Nylen applauded everyone working on the fund-raising campaign for being committed to putting time, energy and love into it. While it isn't what she initially thought she'd be doing in her semiretirement, she said it was "rewarding" to "give back something to Hampshire for all that Hampshire has given to me."
Right on the college's homepage, donors can choose from a number of giving options. Burns' own strategy and recommendation: Identify a numerical amount that would "hurt," and then donate that amount, times four. Now, he said, is the time to put "a value on an invaluable education."
"It's not about the 'good old days,' it is the good old days," he said.