Ken Cuccinelli Forced To Leave Thanksgiving Eve Bash After Martin O'Malley Publicly Shames Him For Putting 'Immigrant Kids In Cages'
Ken Cuccinelli, the acting deputy secretary of the Department of Homeland Security, was reportedly forced to retreat from a Thanksgiving Eve bash on Wednesday after former Maryland governor Martin O'Malley tore into him over his role in enforcing the Trump administration's hardline immigration policies.
According to one witness, Siobhan Houton Arnold, who tweeted about the incident, O'Malley "drove" Cuccinelli out of the Dubliner, a Capitol Hill pub meant to be popular among Gonzaga High School graduates, a school both men had attended, graduating five years apart in the 1980s, according to The Washington Post.
"Martin O'Malley just drove Ken Cuccinelli out of the Dubliner in DC w/ a passion-laced and shame-invoking tirade on behalf of immigrant refugee children!!!" Arnold said in her tweet.
Speaking to the Post after the event unfolded, Arnold said O'Malley had been "shouting" at Cuccinelli, who, she said, only responded that it was "time to go" before taking leave of the festivities.
"He pretty much retreated," Arnold, who works in media relations for Villanova University, said.
Speaking to the Post over text message, O'Malley, who served as Maryland governor from 2006 to 2014 and made an unsuccessful bid for the Democratic presidential nomination in 2016, confirmed the incident, but said he did not believe he had shouted at Cuccinelli, but had simply raised his voice "just to be heard" in the popular venue.
The former governor said he also was not the only one to air his grievances with Cuccinelli, who he described as "the son of immigrant parents who cages children for a fascist president," that evening.
"We all let him know how we felt about him putting refugee immigrant kids in cages," O'Malley said, adding that such practices were "certainly not what we were taught by the Jesuits at Gonzaga."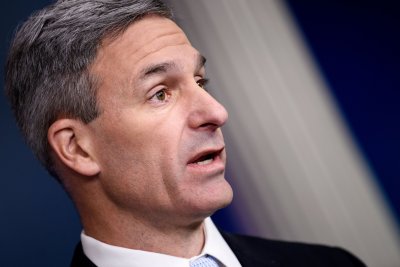 While O'Malley and Cuccinelli may have attended the same high school, their two paths appear to have diverged greatly in the years since then, with the former known as a liberal politician, while the latter has made a name for himself as a conservative immigration hardliner.
Cuccinelli, who only recently became acting deputy secretary of the DHS, faced backlash in September after agreeing to speak at an event organized by the Center for Immigration Studies, which the Southern Poverty Law Center has branded an "anti-immigrant hate group."
"The president's doing a lot of good things right now in the immigration space," Cuccinelli said in the speech, according to the SPLC.
Newsweek has contacted Arnold, O'Malley, the DHS and the Dubliner for comment.