Ken Jennings Praises Amy Schneider As She Qualifies for 'Jeopardy!' Tournament
Ken Jennings is counting himself among the many Jeopardy! fans who are impressed with current champ Amy Schneider, as her win streak continues.
On Wednesday night's installment of the show, the California-based engineering manager landed her sixth consecutive victory, increasing her winnings to $207,800.
The Ohio native's formidable form saw her secure a place in next year's Tournament of Champions following her fifth win—prompting current host Jennings to predict that the spin-off contest promises to be "an all-timer."
Taking to Twitter after Schneider's fifth show, Jennings responded to the official Jeopardy! account's post about her achievement, as he wrote: "This season has been nuts. ANOTHER strong contender for what is shaping up to be an all-timer of a Tournament of Champions."
Being branded a "strong contender" by Jennings comes as high praise, given his standing as the greatest Jeopardy! contestant of all time with 74 wins.
Matt Amodio took the show by storm over the summer and into fall, when he enjoyed the show's second longest win streak with 38 games in total, besting the record of 2019 contestant James Holzhauer, who achieved 32 victories.
Yale Ph.D. candidate Amodio was eventually defeated by Jonathan Fisher, who went on to win 11 games, meaning he has also qualified for the Tournament of Champions. In Schneider's debut episode she unseated five-time champion Andrew He.
In an essay for Newsweek, Schneider said of her experience on the show: "Ken Jennings was very congratulatory and I've absolutely loved all my interactions with him. He's been a really good host and when I won my fifth game he was just chatting with us about the Final Jeopardy! clue as he usually does.
"He's a trivia person and he likes to talk about why we went in a certain direction with our answers. He always shares how he did too. I believe he looks at the clues during the game and sees how long it takes him to figure it out. But he was very supportive about my win."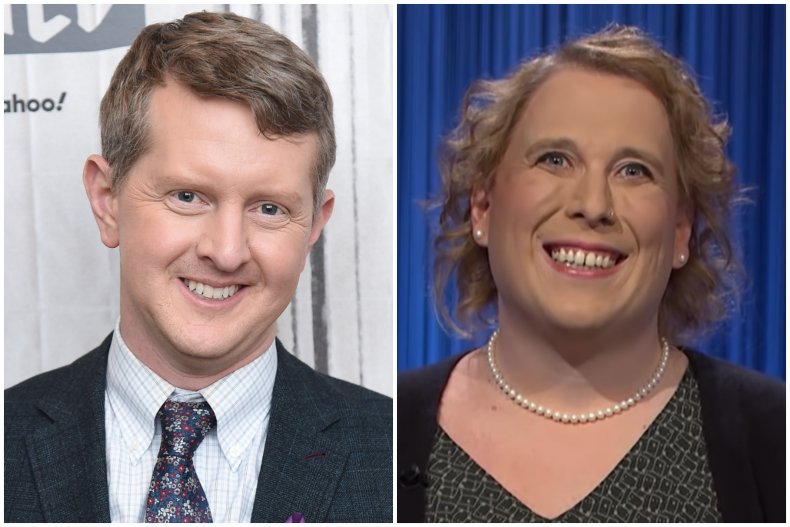 "It's a strange thing to think that I have made history as the first trans person to qualify for the Jeopardy! Tournament of Champions," she said. "It was inspirational for me to see transgender contestants on the show before I became a contestant and I hope that I am now doing that same thing for all the other trans Jeopardy! fans out there.
"I hope I have given them the opportunity to see a trans person succeed. Until very recently trans people didn't see themselves doing much out in the world, so to actually see something like this happen really opens your mind up to possibilities."
Days earlier, Schneider also revealed to Newsweek that her TV success had been a long time coming, as she had tried to get on the show for more than a decade.
She said: "I'm not sure quite how long [ago I first applied], but I remember trying out when I still lived in Ohio, and I've lived in Oakland since 2009, so it has to have been at least that amount of time."
Listing the "few things" at play in her struggle to become a contestant, she explained: "One is that when you take the first online test, no matter how good you do it's a random chance whether they look at you to go any further. So that's part of it.
"The reality is that for the first few years of that, when I was trying out, I was, as far as any of us knew, a standard white guy. And there's just more competition for those slots on Jeopardy!
"They're making a TV show, they don't want everybody to look the same, and looked a lot like many of the other contestants, and I think that definitely made it a little tougher for me at that time. I would have got on eventually—I was never gonna stop trying!"
Jennings is currently splitting Jeopardy! hosting duties with Mayim Bialik, ahead of producers naming a new permanent presenter.