Ken Jennings Mocks Standing Ovation for 'Top Gun: Maverick' at the Oscars
Jeopardy! co-host Ken Jennings mocked hit Hollywood film Top Gun: Maverick after it received a standing ovation at Sunday's Oscar ceremony.
Top Gun: Maverick was up for best film, along with another five awards, and ended up winning for the Academy Awards for Achievement in Sound.
The crowd at the Dolby Theatre in Los Angeles jumped to its feet when the film was called out as winner in the sound category.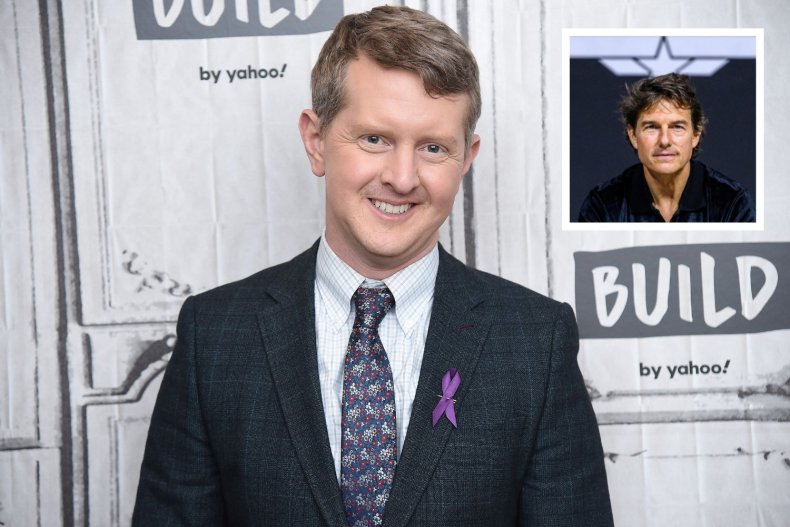 But Jennings was left scratching his head at why everyone was so happy when the Top Gun sequel won.
"Is… is that a standing O for the Top Gun: Maverick sound mixers?" the quiz master joked on Twitter. "You used to have to be, like, Audrey Hepburn."
Many on Twitter joined him in making fun of the standing ovation and shared Jennings' incredulity.
"Ironically, today Audrey Hepburn is considered an average sound mixer at best," joked one fan.
Another added: "Careful, there KJ…you're about to ride into the danger zone."
And Samit Sarkar, managing editor of entertainment news website, Polygon, riffed on one of the ongoing jokes by Oscars' host Jimmy Kimmel: "but they SAVED THEATRICAL MOVIES, Ken."
Top Gun: Maverick was the highest grossing domestic release in 2022 and has made $1.4 billion worldwide.
It was widely credited as bringing movie lovers back to the cinema after the COVID pandemic during which people became accustomed to watching films on streaming services.
Hollywood heavyweight Stephen Spielberg praised the film's efforts to get people back to movie theaters.
"You saved Hollywood's a** and you might have saved theatrical distribution," the legendary director told the movie's star, Tom Cruise, at the Oscar nominees' luncheon in February. "Seriously, 'Top Gun: Maverick' might have saved the entire theatrical industry."
Top Gun: Maverick became the second film to gross $1 billion after the COVID pandemic following in the footsteps of Marvel action film Spider-Man: No Way Home.
Big winners at this year's Oscars included Everything Everywhere All at Once, which was nominated for 11 awards and won seven, including best director and best picture.
Its Malaysian-born star, Michelle Yeoh, made history as the first Asian woman to win the best actress award, while Ke Huy Quan became the first Asian man in 38 years to claim the best supporting actor Oscar.
Jamie Lee Curtis won her first ever Academy Award, taking the supporting actress award for her role in Everything Everywhere All at Once.