Ken Jennings vs James Holzhauer: How Much Each 'Jeopardy!' Champion Has Won Throughout Their Career
Ken Jennings and James Holzhauer will face off again Tuesday night on Jeopardy! The Greatest of All Time. This marks the fourth match of the series, which concludes when one player has won three rounds.
Jennings has already won two, with Holzhauer winning one. Another competitor, Brad Rutter, hasn't won any in the series yet.
The tournament format is different from a standard Jeopardy! game. Each night, the three contestants play two Jeopardy! rounds, but rather than earning cash for correct answers they are awarded points. At the end of the two games, the players' point totals are combined and the person with the most points wins that tournament round.
Though Jennings and Holzhauer's fate is still undecided, they're both champions in terms of Jeopardy! respect and earnings. Both are listed on the game show's Hall of Fame for a number of reasons.
Jennings leads a few of the categories, including Highest Winnings (Regular-Season Play). The website states Jennings has won a whopping $2,520,700 on Jeopardy! He holds another spot on the leaderboard as the all-time player with most consecutive games won. In 2004, Jennings concluded a streak of 74 games.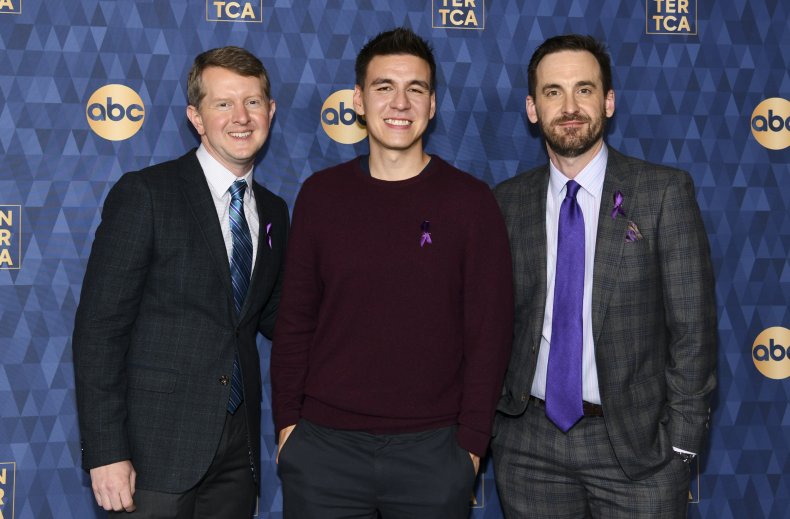 In both categories, he's followed by Holzhauer. Holzhauer isn't far behind Jennings in Jeopardy! earnings. He's won $2,462,216. As for consecutive games won, Holzhauer is second behind Jennings after winning 32 games in a row in 2019.
Holzhauer does hold his own record for the biggest earnings in a single game. In April 2019, he won $131,127 from a single Jeopardy! episode. Just as impressive, Holzhauer holds all 10 top spots for the highest earnings in single Jeopardy! games. You can see the full list here.
Rutter also has a record of his own. In all, Rutter holds the first place spot for highest All-Time Winnings (Including Tournaments.) Nearly doubling Jenning's earnings for highest winnings, Rutter has won a whopping $4,688,436.
The winner of Jeopardy! The Greatest of All Time will be awarded $1 million. The other two contestants will bring home $250,000 each, according to the Jeopardy! website.
Jeopardy! The Greatest of All Time will air Tuesday at 8 p.m. ET on ABC. A regular episode of Jeopardy! will air Tuesday, too, during its normal time slot. The January 14 regular episode will feature Alissa McKinney, Marlan Badgett and Veronica Vichit-Vadakan. Vichit-Vadakan is a returning champion, who won just under $22,000 in her first time on the show.
Those who want to try their hand at the game can apply for the show now through Jeopardy!'s online test. Fans who think they're capable can register now for upcoming test slots on the Jeopardy! website.