Is Ken Jennings Married? 'Jeopardy!' Host Asked Out Wife Mindy in College
Ken Jennings became a household name when he spent six months as a returning champion on Jeopardy! in 2004, becoming the longest-running champion ever.
After his 74-game victory streak he went on to appear in several special Jeopardy! tournaments until 2022, when he was named as the new host of the quiz show, a duty he shares with Mayim Bialik after the death of veteran host, Alex Trebek.
They had been temporary hosts since 2021 and eventually named permanent hosts last year which sees them split the job and film alternating blocks of episodes.
Despite being a relative newlywed and dad to a baby son, Jennings was able to spend so long training to become Jeopardy! champion, thanks to the support of his wife, Mindy.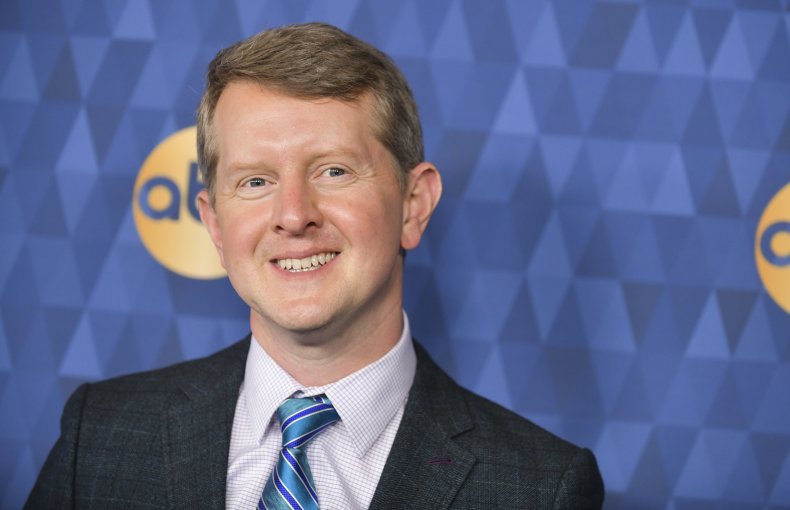 "My wife was all right with it," he told Vulture in 2020. "We had been married for about four years at that point, my son had just been born, and we had recently moved into our starter home."
Jennings married Mindy in 2000 after meeting her Brigham Young University in 1996 where she was studying drama and he was getting a double major in English and computer science.
It took him nine months to pluck up the courage to ask Mindy out, but once they started dating there was no turning back for the pair.
"He mostly wanted people to know he was funny," Mindy said of her husband in an interview with The Week magazine in 2005. "He's not the type of person who wants you to know he knows everything."
Does Ken Jennings Have Kids?
Jennings and Mindy welcomed their first child, a son named Dylan, in 2002.
Their daughter Caitlin was born in 2006.
While Jennings is very private about his family life, he occasionally posts pictures of his kids to his Twitter and revealed that Dylan was in his sophomore year of college this year.
Where Is Ken Jennings From?
The TV host was born just outside of Seattle on May 23, 1974, but spent 15 years growing up overseas, mainly in Seoul, South Korea and Singapore thanks to his dad's work as a lawyer.
It was during his 11 years in Seoul that Jennings discovered his passion for Jeopardy!.
"His only lifeline to American pop culture during those years was TV on the Armed Forces Network, where he watched Jeopardy! religiously after school every afternoon," according to Jennings' biography on his official website.
Jennings and Mindy moved to Salt Lake City where he worked as a software engineer for a health care staffing company when he got the call to appear on Jeopardy! in 2004.
The family has since relocated back to his native Seattle.
How Much Does Ken Jennings Make?
Jennings won a whopping $2.52 million during his record-breaking stint on Jeopardy! in 2004.
Since then he has become a best-selling author of four books including, Brainiac, about the phenomenon of trivia in American culture; Ken Jennings's Trivia Almanac; Maphead, about his love of geography; and Because I Said So!, debunking parenting cliches.
He has also written a series of Junior Genius Guides for children.
Jennings estimated net worth is $4 million, according to the Celebrity Net Worth website, which also listed his other prize winnings.
After his first winning streak on Jeopardy!, Jennings won $500,000 for finishing second in the Jeopardy! Ultimate Tournament of Champions, $300,000 in the 2011 IBM Challenge, $100,000 for coming second in the Battle of the Decades and $100,000 for his second place finish in the 2019 Jeopardy! All-Star Games.
Jennings then won $1 million after finishing first in the Jeopardy! Greatest of all Time special.
Other big game show wins include $500,000 on Are You Smarter than a 5th Grader? and $100,000 during each of his appearances on Who Wants to be a Millionaire and Grand Slam.
Other than winning big on quiz shows, Jennings has made his fortune for hosting shows such as Stump the Master and Clued In on GSN Live.
He has also appeared in ads for FedEx, Microsoft, Allstate, Cingular, IBM and H&R Block.