Ken Jeong's Puppy Mocha Steals the Spotlight During His 'Late Late Show' Appearance
Nobody is more excited to be a dog dad than Ken Jeong.
The actor appeared on The Late Late Show with James Corden on Wednesday and brought out the newest member of his family, a Golden Doodle named Mocha, while playing a game of show-and-tell.
"I'd actually like to bring out our puppy Mocha. We just got her a few months ago before we all started staying at home," Jeong said.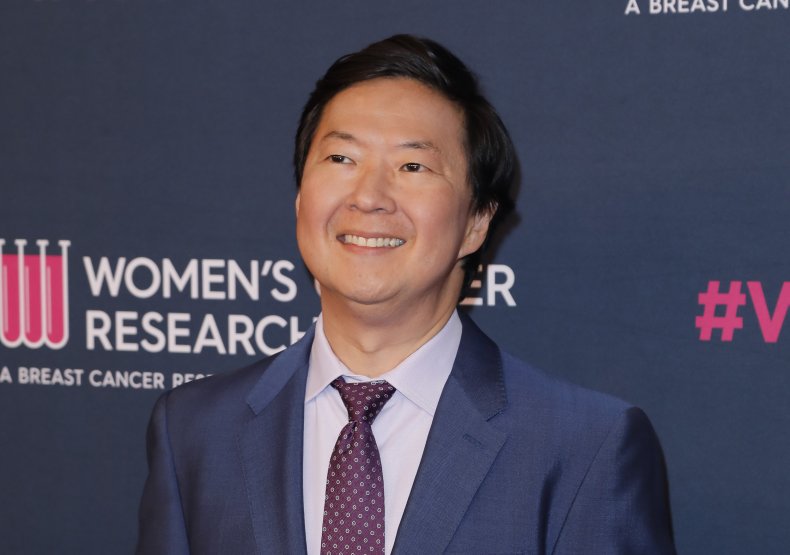 The Masked Singer judge said Mocha was the first dog he ever owned. Although he and his wife Tran bought the adorable doggie for their two children—13-year-old twins Zooey and Alexa—the actor said the curly-haired pup was mores his pet than theirs.
"This is the first time I've ever had a dog, and we got it for our kids. But this is now more for me. This is Mocha's live debut," Jeong said.
The late-night show's host couldn't help but to fawn over the beautiful dog, and he wasn't alone. Viewers at home raved over how beautiful Jeong's new animal was as well. Many of them flooded social media with comments about Mocha.
"Awwww. Mocha is sooooo beautiful," one Twitter user wrote.
Another thought the puppy was just what the doctor ordered.
"I need more like Mocha cheering up my days," another person wrote on Twitter.
Although Mocha totally stole the show, Jeong did manage to perform the task he came on Corden's program for. The 50-year-old was scheduled to give a commencement address at his alma mater Duke University. However, that was nixed in the wake of the coronavirus pandemic. So the doctor-turned-comedian offered some words of wisdom to Late Late Show viewers instead.
"I was honored to be chosen as a commencement speaker for Duke because I went there for college and university, and that's where I discovered my love of acting. I'd never done theater in high school. So I cultivated this love of acting at Duke, and I wouldn't be talking to you right now if I didn't go to Duke. It's a big honor for me to be chosen," Jeong explained. "And anyone—not just at Duke, but anyone watching this—[my advice] is don't deny your potential."
He continued: "Now more than ever, we need bright minds. We need fresh minds, people who think outside the box, people who can creatively problem solve. And also just believe in you. Invest in you. You are the best investment right now in these unprecedented times. And I'm living proof someone who didn't deny their potential. I had no ambition to be in theater, or comedy or acting before I went to Duke. I went to Duke so I could become a doctor. And so I really believe if I can do it, you can."