Comedian Ken Jeong Endorses Andrew Yang for President, Jokes 'He's Offering Me a Thousand Bucks a Month to Say This'
Andrew Yang, the dark horse Democratic candidate running on a tech-forward platform that includes universal basic income for all U.S. citizens, has received another celebrity endorsement, this one from Community and The Hangover star Ken Jeong.
In a statement, Jeong stated "I love Andrew Yang and am proud to be endorsing him. He's offering me a thousand bucks a month to say this. Andrew is a visionary whose humanity is boundless. I'm honored to be part of the #YangGang."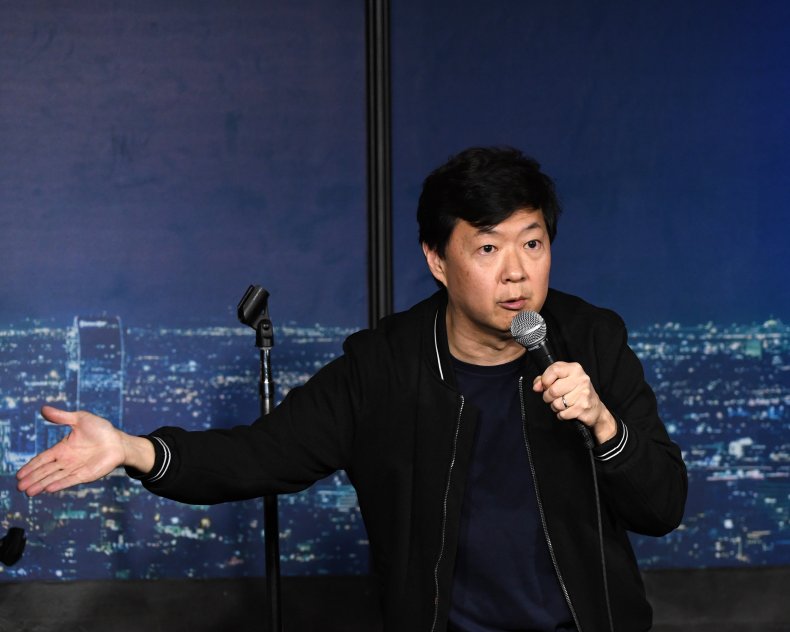 Jeong's joke about a thousand dollars a month refers to the Freedom Dividend, Yang's campaign name for his universal basic income proposal. The plan would distribute a cash payment of $1000 a month to every citizen above the age of 18, no strings attached.
Newsweek subscription offers >
The Freedom Dividend is estimated to cost $2.8 trillion a year, and would be funded by a number of new taxes, including a value-added tax on business transactions, a carbon tax and the removal of the wage cap on Social Security taxes.
Newsweek subscription offers >
Earlier in the month, Jeong's fellow Community alum Donald Glover both endorsed Yang and joined the campaign as a creative consultant. On December 19, Glover and Yang held a pop-up event in Los Angeles where they debuted a line of shirts, posters and other merchandise in support of the presidential candidate.
Jeong is a licensed physician who gave up his medical career after a breakthrough role in 2007's Knocked Up. In 2016, he starred in the ABC sitcom Dr. Ken, which lasted two seasons. He currently appears as a panelist on Fox's The Masked Singer.
Yang launched his presidential campaign in November 2017 and although he has found success with small-donor fundraising, he has struggled to break double-digit support in polling.
Yang's most high-profile endorsement is Tesla CEO Elon Musk, who publicly backed the candidate in August. Other names in the Yang Gang include actor Nicolas Cage and former NFL player Antonio Bryant.
Yang was the only candidate of color to make the polling cutoff for December's Democratic debate. His engaged online supporters, dubbed the "Yang Gang," has proven effective at harnessing social media to get the candidate's message out.
Yang is also having a solid fundraising quarter, with a campaign spokesperson announcing that they expect to break $12.5 million in donations by the end of 2019.
If elected, Andrew Yang will be the first Asian American president. He has yet to qualify for the upcoming Democratic debate in Des Moines on January 14. Earlier in December, he proposed that the Democratic National Committee commission early state qualifying polls to give them a clearer picture of the field.
Comedian Ken Jeong Endorses Andrew Yang for President, Jokes 'He's Offering Me a Thousand Bucks a Month to Say This' | News