Ken Starr, the Investigator Who Pushed for Clinton's Removal, Laments 'Age of Impeachment' During Trump Trial
Kenneth Starr, the investigator who once pushed for President Bill Clinton's removal, is now defending President Donald Trump from what he described Monday as a dangerous "age of impeachment."
"In this particular juncture in America's history, the Senate is being called to sit as the high court of impeachment all too frequently," Starr, a member of the president's defense team, said Monday during the trial. "Indeed, we are living in what I think can aptly be described as the age of impeachment."
He added: "How did we get here, with presidential impeachment invoked frequently in its inherently destabilizing as well as acrimonious way?"
Starr's argument that impeachment has become a political tool was met with backlash by many Twitter users, who deemed his reversal on the subject "deeply ironic."
"This speech about how impeachment proceedings have become a partisan tool that's used too often would have been less laughable if it had been given by literally anyone other than Ken Starr," historian Kevin M. Kruse tweeted.
Political commentator and MSNBC host Joy Reid wrote: "It is so deeply ironic to hear Ken Starr ... KEN STARR!!! ... argue that removing a president through impeachment is too grave a disruption without a bipartisan consensus. Bill Clinton won a popular vote AND EC vote TWICE; he was popular, and his impeachment was purely political."
Starr played a key role in Clinton's impeachment in the late 1990s. His four-year investigation led to the Starr Report that detailed Clinton's extramarital affair with intern Monica Lewinsky and culminated in the president's impeachment, although Clinton was later acquitted in a Senate trial.
John Dean, the White House counsel for former President Richard Nixon, tweeted that if the country is in an "age of impeachment" it's because of Starr's action in the Clinton case over two decades ago.
Starr was added to Trump's defense team just days before the trial started along with famed Harvard Law professor Alan Dershowitz. Starr is a former federal appeals court judge and was the president of Baylor University until he was fired in 2016 amid claims that the school had botched its handling of sexual assault cases.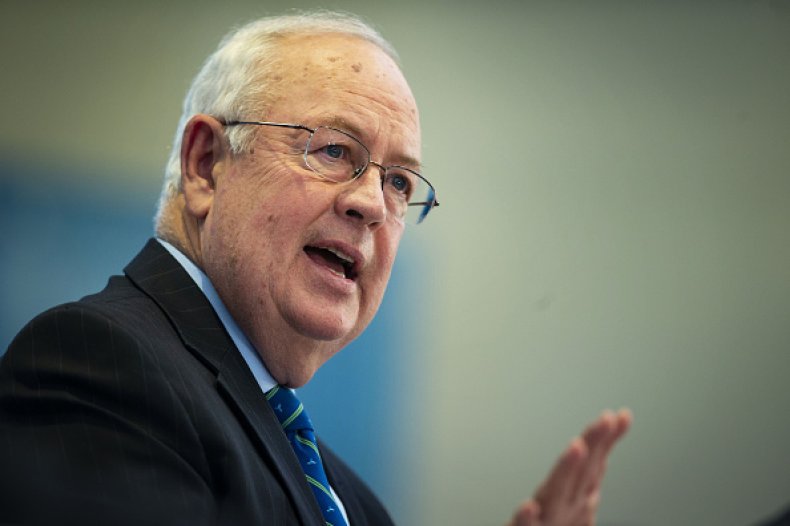 Starr focused his opening statements Monday on the historical context of impeachment. He argued that the removal of a sitting president should only be used as a last resort and should be a bipartisan decision.
He also seemed to accuse Democrats of using impeachment as a political tool. He noted that no Republicans in the House of Representatives voted to impeach Trump, which he alleged meant there wasn't a real "consensus" that Trump should be ousted from the White House.
"Instead of a once-in-a-century phenomenon, which it had been, presidential impeachment has become a weapon to be wielded against one's political opponent," Starr said.