Kenan and Kel Reunited for a 'Good Burger' Sketch with Jimmy Fallon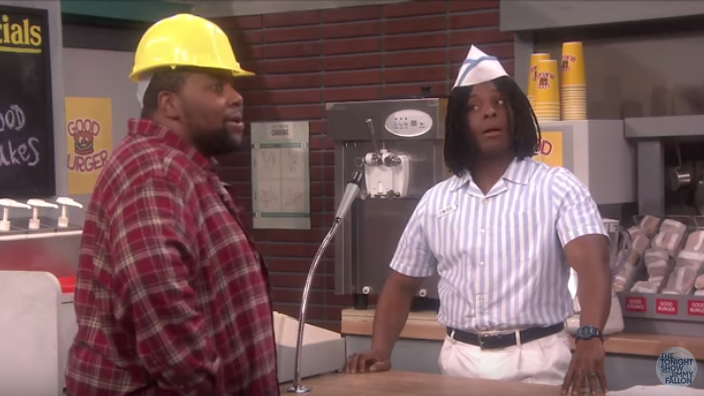 Further proving that every nugget of pop culture nostalgia will one day be resurrected by either the Internet or Jimmy Fallon, Kenan Thompson and Kel Mitchell reunited for a very long-awaited return to "Good Burger" on Wednesday night.
Nineties kids (and, yes, other people with an affection for golden-era Nickelodeon) will recognize "Good Burger" from the beloved recurring sketch on Nickelodeon's show All That, as well as the 1997 film starring Mitchell and Thompson. In The Tonight Show's reincarnation, Fallon plays an employee of the burger joint while Black Thought (of The Roots, Fallon's house band) joins in for a loving rendition of the classic Mitchell anthem "We're All Dudes."
The occasion for the reunion was a Tonight Show appearance by Mitchell to promote his new sitcom, Game Shakers. Thompson, meanwhile, is a cast member on Saturday Night Live, which he joined in 2003. Though the two are both closer to 40 than 30, it's nice to know they can still recite the "Good Burger" mantra and squirt mustard at customers like it's 1997.
Watch the full reunion below.