Kenan Thompson Says Kanye West Held 'SNL' Cast 'Hostage' During Pro-Trump Rant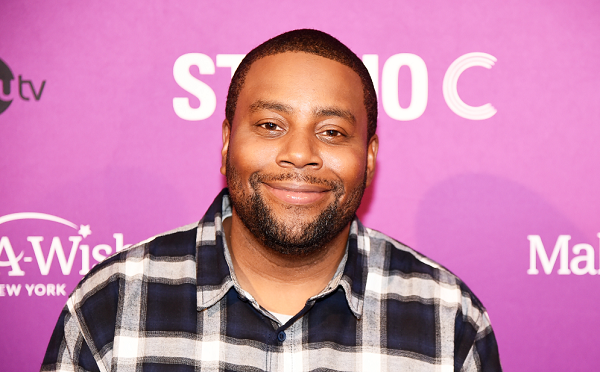 Kenan Thompson was one of the lucky Saturday Night Live cast members not to be summoned back on stage during Kanye West's pro-President Donald Trump rant Saturday, but that's because the award-winning comedian wanted to "watch the circus unfold" from his backstage digs.
The SNL veteran appeared on Late Night with Seth Meyers and joked his castmates were held captive on stage at the end of the show while West delivered an impassioned speech supporting Trump. "He voiced his opinion very loudly," Thompson recalled on Monday. "We're all entitled to our opinions. I don't know if that's the moment, necessarily, to hold people hostage like that, but hey," Thompson continued.
The 40-year-old wasn't in many scenes during the Season 44 premiere, so after giving the opening monologue Thompson said he was able to sneak away and tune in to the rest of the show from behind-the-scenes. Since he was out of West's sight he missed being called back up to the stage along with the rest of his SNL cast. Thompson said he knew something outlandish was going to unravel once West called the cast and crew up following his performance.
"As soon as he said, 'Hey, join me up on stage, everybody,' I was like, 'Oh, there goes the little cheese in the mousetrap; it's going down,'" Thompson said. "I felt so bad for those guys because it's hard to stand there and not be able to debate somebody who's going so far against your personal opinion."
West was lambasted by several of his Hollywood peers and folks on social media after a clip of the rapper wearing a Make America Great Again hat, criticizing the 13th amendment and suggesting Trump wasn't a racist surfaced on the internet shortly after SNL ended.
Despite the backlash West received, Thompson said the cast and crew were dedicated to making him feel comfortable while he was on set—just as they would with any other host or performers.
"We're fair. We're in a service business. We try to cater to the host, make sure they have a good show and what not. And, you know, when musical guest come in and they're a little bit crazy, maybe they're a little bit crazy. We let them have that, but we don't judge. We're not there to judge," Thompson said.