Kendrick Lamar Accused of Setting Up White Woman to Sing N-word Onstage for Publicity Stunt
Kendrick Lamar has been accused of staging a publicity stunt after he called out a white fan onstage during his Alabama gig for repeatedly singing the N-word.
On Sunday, the rapper invited a concertgoer to join him onstage at the Hangout Festival in Gulf Shores to rap his 2012 hit "m.A.A.d city." After the white fan, who was identified as Delaney, sung the N-word several times, Lamar stopped the song and scolded her for singing the full lyrics.
Following the scene, fans have taken to Twitter to question the authenticity of the incident, with some accusing the rapper of orchestrating a publicity stunt.
"@kendricklamar set that girl up for publicity and as a stunt. For everyone who claims their favorite rapper is real not mainstream, this was as set up and fake as it gets all for attention," one user wrote.
Another added: "@kendricklamar pulled the biggest set up ever. Brought a fan up on stage to sing Maadcity and then flipped when she said the N word. Smh. He knew what he was doing. Ruined her life all over social media. She's gonna have to live with the video of people being mad forever."
"Come on @kendricklamar, you can't set up a white fan and then destroy her like that. At least tell her beforehand to replace the word with "ninja" or something," wrote another.
A video of the incident, which was posted to social media, has gone viral. In the footage, Lamar can be seen inviting Delaney onto the stage to sing the two-part song, which features repeated use of the N-word.
Lamar did not tell Delaney to skip the N-word. "I swear, I got you," Delaney said in the clip, assuring Lamar that she knew all the lyrics.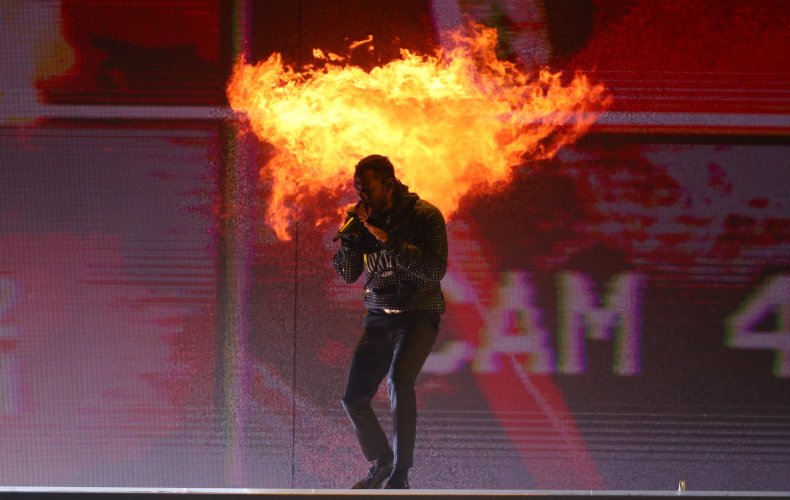 During their performance, Lamar stopped the song when the audience started booing. "Wait, wait, wait, wait, wait, no, no, wait," he said, before telling her that she has to "bleep one single word."
Delaney apologized and explained that she was "used to singing it like you wrote it."
Despite the audience's outrage, Lamar allowed Delaney to perform the song with him again, this time she skipped the N-word.
Lamar's representatives did not respond to Newsweek's request for comment.