Kendrick Lamar's Praise Of 'Natural' Beauty Sparked More Misogyny Between Women Than His 'Humble' Lyrics Did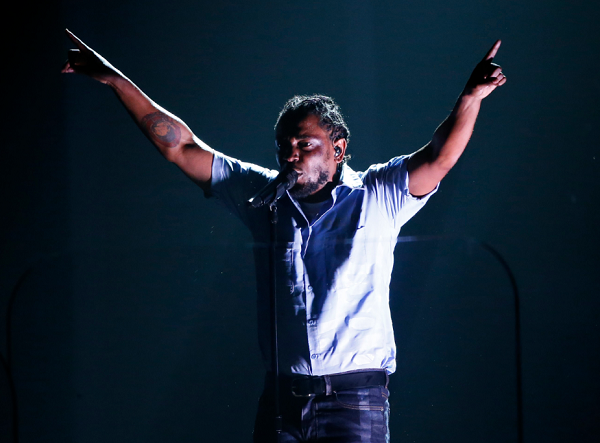 When Kendrick Lamar released his latest album "Damn." Friday, he was met with both the typical adoring fans who had been anxiously awaiting his return and the same old arguments from critics comparing him to other rappers of his era such as Drake, Big Sean and J. Cole. No different than most Lamar releases, admirers of his music were enthralled by his menacing lyrics, hard beats and hypnotizing melodies, and they were quick to express their love of the new album on social media, crowning him with titles like the "greatest of all time" and the "people's rapper."
The response to the album overall was a far cry different than the attention Lamar received when "Humble," the first single and video off the album, dropped just a fews weeks earlier.
While many fans seemed to enjoy the head-banging beat and catchy chorus on the song, some of the track's lyrics, along with certain scenes in the video, infuriated a spawn of listeners who accused Lamar of the same misstep of many of his rap predecessors: misogyny.
In the song, Lamar raps, "I'm so f**kin' sick and tired of the Photoshop/Show me somethin' natural like afro on Richard Pryor/Show me somethin' natural like ass with some stretch marks," while commanding his opponents to "sit down" and "be humble" during the chorus.
It was Lamar's insinuated praise of women with natural curls and flawed figures that caused a tirade of angry accusations of sexism and degradation. His apparent uplifting of the "natural" woman—a term usually used to classify women of color who aren't regularly seen wearing makeup or hair extensions and haven't went under the knife to enhance or change their body— was frowned upon and deemed an attempt to bash females who succumbed to Photoshop-filtered beauty, saturated with makeup, hair extensions and enhanced lips, breasts and butts.
He isn't the only rapper to express his desire for a woman who identifies as natural, though. Common, Mos Def, Talib Kwali, Nas, Andre 3000 and J. Cole are just a few rappers who also have dropped bars honoring the natural beauty of a woman. Even Drake, the rapper who fans often like to size Lamar up against, has sang that girls in "sweat pants, hair tied, chilling with no makeup on" are the prettiest.
But when Lamar, whose socially conscious lyrics have been praised for targeting controversial issues such as systematic racism, classism and police brutality, suggested his heteronormative beauty standards of bare faces, cellulite and hair straight from the scalp on "Humble," the 29-year-old was instantaneously regarded as a misogynist. Only making matters worse, the model featured in the "natural girl" role in "Humble," is multicultural, which only seemed to piss black female viewers off even more.
Misogyny—as defined by Merriam-Webster— simply means a hatred of women, and although Lamar hadn't necessarily expressed hate toward women who don't rock Richard Pryor-like afros and stretch marks, he appeared to pit one group against the other, which was apparently more than enough to spark hatred amongst women.
The model, Carter Kim, who played the role of Lamar's natural girl in "Humble" experienced this new wave of misogyny personally almost immediately after the video dropped.
The actress and model, who is of African-American, French and Korean descent, told Newsweek she woke up to hate-fueled messages the morning after "Humble" was released, from comments about her looking "super worn out" and accusations of her hair being a "Brazilian body wave frontal" (weave) instead of naturally her own to people straight up telling her that she wasn't a black woman.
What was most surprising about the hurtful and mean responses Kim received was that they were from women—some of whom were the same ones berating Kendrick for his lyrics.
"[I was] looking at these feminist pages and black empowerment blogs that were completely slandering me," Kim said via a phone call. "They said things like, 'Oh it's easy for anybody to wear weave and take off her makeup. Oh she's not really black,' and then people [sending messages] telling me I'm not black. I kept hearing that. I'm not black, and hearing that repetitively, that part hurt me the most."
When Kim was finally told about her role in the video—which she said she didn't learn about until right before filming—she didn't think that the concept would be received so negatively.
"I didn't think it was going to be a problem at all. I thought it was just going to be a really dope visual. I didn't really think there would be controversy at all. I thought it was such a cool idea," she said, adding that she didn't believe that Lamar or director Dave Meyers had malicious intent when they came up with the video.
"I think it's upsetting because I don't think those were [Lamar's] intentions to degrade anybody that does wear a weave or does wear a pound of makeup," she said. "I think it was him more so just trying to remember where you came from. No one was born with a weave. No one with a pound of makeup. So it's nice and it's refreshing to see your skin and your natural hair and to just appreciate yourself as a whole, bare, with nothing."
If anything, Kim was more confused by the way women were so offended by Lamar's lyrics and her embodiment of that but didn't seem to have any problem with the harsh lyrics rapped against women in other hit songs.
It wasn't as if Lamar had reduced women to female dogs like a countless number of rappers had done in their songs like, for example, Dr. Dre's 1992 "B***hes Ain't S**t," or Jay Z and Kayne's 2011 collaboration "That's My B***h." Lamar wasn't overly sexualizing women and promoting promiscuity as Future had encouraged in 2016's DS2 track "Freak Hoe," nor had he referred to women as pieces of property that could be easily passed off to his friends like Snoop Dogg suggested in his 1993 hit "Ain't No Fun (If the Homies Can't Have None)."
"Don't get me wrong I love trap music. I think it's fun. But it's crazy how a song like [Migos'] 'Bad and Boojee" can come out and people not say anything and super vibe with it, and the lyrics are 'my bitch is bad and boogee.' No one says anything about something like that," Kim said. "But when someone says I just want a natural girl, without a weave without makeup and just her as herself, it gets attacked. I don't understand that."
"I think that sometimes we women get so caught up in vanity, and now that social media is so popular and that such a saturated part of social media is vanity... sometimes we get a little lost. It is fun. It's fun to wear makeup. It's fun to wear weave. It's fun to wear wigs. And we sometimes forget how beautiful we are just as us. And I think that was just [Lamar] throwing a refresher out there like, 'Ladies remember that you're still beautiful without all of that, and we still appreciate you walking around without all of that.'"
No doubt there's undertones in the song and the visuals that don't exemplify the empowerment of all women—there aren't very many rap songs that actually do. Since the art form first broke out in the late 1970s, women, their hips, lips, butts, breasts and overall appearance have been a consistent topic for rappers. And more often than not, subject matter related to females in rap music almost always dictates the way a woman should appeal to and please a man.
Whether they are voicing their detest of "beanpole dames in the magazine" like Sir Mix A Lot did in his 1992 hit "Baby Got Back" or if they're "independent with the demeanor of an R&B singer" as T.I. suggested on 2010's "Fancy," rappers are always injecting aspects pertaining to women in a chauvinistic fashion.
Tupac, who Lamar has coined as one of his biggest inspirations, was regarded as one of the most socially conscious rappers of all time for the messages he preached on songs like "Brenda's Got a Baby," "White Manz World" and "Holler if Ya Hear Me." But he too was no stranger to misogyny, in one breath saying in 1993 that it was "time to heal our women, be real to our women," in the song "Keep Ya Head Up", and in the next, "'cause I only got one night in town, break out or be clowned," in the Digital Underground hit "I Get Around."
But what may be as equally infuriating as Lamar's apparent misogynistic glorification of natural beauty is the way in which some women interpreted the lyrics as means to tear down their female peers, similar to Kim's experience. Forcing men to look beyond themselves in music and use their platform to express the injustices women face in society regularly from colorism, unequal pay and sexual violence is challenging all on its own, and it's even harder to break the cycle of misogyny in music if women can't even play a part in lifting one another up whether a woman is white, black with straight or curly hair or not.
"It makes [women] look sad. It looks like we don't really have our shit together. It looks like we say one thing but do another within our own culture and gender, and it's unfortunate," she said. "Hopefully we can really come together and dwindle down the hate and see everybody as one."