Is 'Belfast' Based On A True Story? How Kenneth Branagh's Movie Was Inspired By Real Life
Sir Kenneth Branagh's new film Belfast means a lot to the director, namely because of the inspiration behind it.
The film follows Buddy (played by Jude Hill), a young boy navigating life with his family, Ma (Caitriona Balfe), Pa (Jamie Dornan), Granny (Dame Judi Dench) and Pop (Ciaran Hinds), in the Northern Irish capital during The Troubles in the 1960s.
Branagh had the story in his mind for five decades, and wrote the script as a way to revisit his own childhood and his experiences of the conflict between nationalists and unionists at the time.
The Much Ado About Nothing director spoke with Newsweek about the film, explaining the inspiration behind it.
The true story behind Belfast
"It was a sort of a necessary journey, I think," Branagh said of making the film, which he has previously described as the "most personal" one he's directed.
"It had been swirling around for the last 50 years, a sort of understanding that a certain kind of life that was so mapped out for me at the age of 9 where I absolutely understood who I was, this big extended family, this absolute secure knowledge of where you lived in the town, you were living in a city where you could never get lost, was suddenly utterly turned on its head.
"One left that very secure place and it became a much more insular, inward-looking family, and individual actually."
He added: "I guess I wanted to go back and shake hands with that 9-year-old boy and I wanted to try and understand the kind of thinking and feeling, and sacrifice my family made in us leaving Belfast, because I had come to understand by the end of last year's lockdown that it was really the most significantly influential event in my own personal life."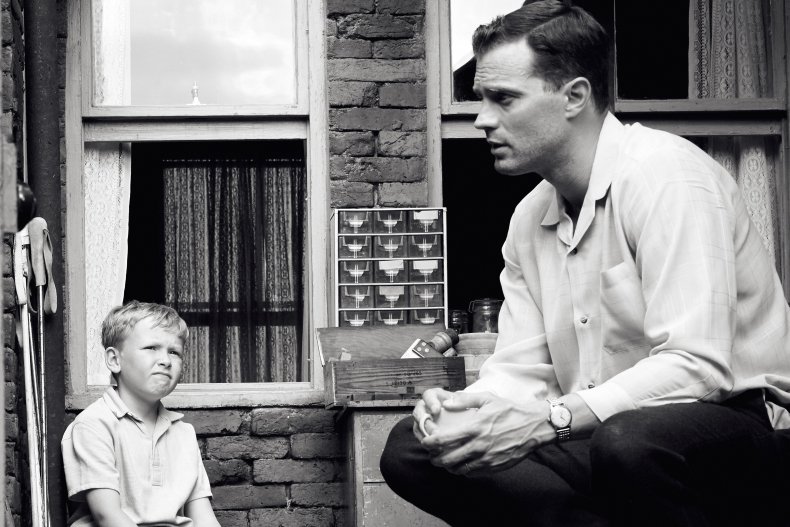 Why Belfast is not a biopic
Despite the film being largely inspired by his life, Belfast is not a straight biopic and Branagh said the reason for this was so the story had a more universal appeal.
He explained: "I think if it was to have value my sense was it needed to find all the ways in which it might connect with a larger audience, in that they might identify with some of the issues to do with family, and that's been a thrill to understand.
"For instance at the London Film Festival an Iranian filmmaker came up to me at the end and said that's my story, the same thing happened with a Nigerian filmmaker.
"[It was] not just filmmakers saying this, basically people who aren't from Belfast, who don't necessarily have an investment in Irishness, or don't have an idea who I am, were just responding to the story."
"I felt as though once you start calling people Pa and Ma, and you make your hero Buddy, the name of a sort of everyman friend, that he is there really offering a hand out to you to walk with him and understand these really difficult steps," he continued.
Branagh also added that he felt it would help viewers with "understanding how, when your life experiences accelerated by traumatic events, how do you navigate your proto-romance? Your love of football? Your life in the movies and in the mind? And also if the idea of religion and what it promises by way of an afterlife start to affect you then how you manage that."
"But, ultimately, I suppose it's about how you deal with loss, the loss of identity, the loss of family, loss of a city, loss of loved ones, and I think everybody has a connection to that in some process of their lives," the Thor director concluded.
Why Belfast is a comedy when it's about The Troubles
While Branagh's film deals with a serious subject like The Troubles it has a lot of humor to it, with Buddy and his family often adding comedic value to the plot.
This, the director explained, was deliberate because it reflected the way people who experienced The Troubles were able to keep focused on how they could best navigate the times they lived in.
"I think that comedy and tragedy in the history of Northern Ireland are very close together," Branagh said. "There's nothing trivial or funny about The Troubles but the way in which necessarily human life had to go on as best it could meant that, often, in very poignant ways that were also on the edge of tears as it were, laughter and tears had to be found wherever it could.
"They would be brief moments, but they would be vital and the important moments, the Irish ability to undercut even the most serious of things in order to make one more step forward in what could be a difficult experience of life was vital.
"So, it was always going to be part of the seasoning of any account of a working class life in that province."
Belfast is out in theaters now.