Kenny Omega Joins All Elite Wrestling, Teases Match with Chris Jericho
After months of speculation as to which promotion Kenny Omega would take his talents to, "The Cleaner" has chosen to join his friends at All Elite Wrestling.
Omega appeared at the Double or Nothing Ticket Announcement Party in Las Vegas. He revealed to the Vegas crowd that he didn't put pen to paper until Thursday morning. He is now a full-time member of the All Elite Wrestling roster.
He apologized for making the fans wait, but the legality of contracts didn't allow him to make the announcement sooner.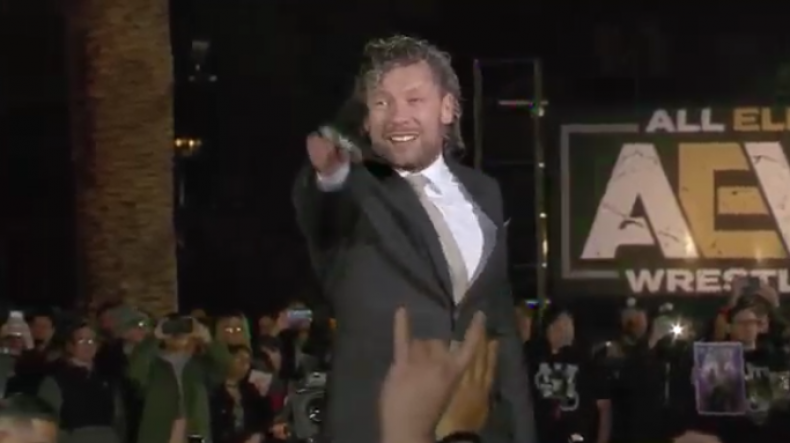 Omega says at All In in 2018 he felt the crowd understood what "changing the world" meant and he wants to have that feeling all the time. And instead of explaining what "change the world" means, he and All Elite Wrestling can show it.
The former NJPW champion was interrupted by Chris Jericho, who announced his signing to AEW in January. The two former NJPW rivals have a stare down and then get into a scrum.
Omega told Tokyo Sports that he was leaving New Japan Pro Wrestling following his loss at Wrestle Kingdom 13, and that signing with either the WWE or AEW was a possibility.
"If I go to WWE, the fans there will be pleased, and the fans there will be pleased if I go to AEW," Omega said. "I want to be in a place where Kenny is going to be happy."
Dave Meltzer of the Wrestling Observer reported back in early January that the WWE made a "fantastic" offer to Omega before his match at Wrestle Kingdom 13 against Hiroshi Tanahashi.
Meltzer would follow-up his report with another stating that Omega turned down WWE's offer and was joining his friends at AEW.
Fans of All Elite Wrestling know Omega was one of the founding members of the Being the Elite series on YouTube. In the weeks following the announcement of AEW, Omega's storyline in that universe revolved around his impending free agency and the decision he would have to make.
The Double or Nothing AEW show will take place May 25 at the MGM Grand Garden Arena in Las Vegas.
Are you excited for Omega to join AEW? Who do you want him to wrestle first? Let us know in the comments section below.