Kenny Omega Explains Why He's on Impact Wrestling, Teases AEW Dynamite Appearance
Kenny Omega taking his newly won AEW World Championship to Impact Wrestling is the biggest story in wrestling and now that the latest episode of Impact has aired, we now know why he's there.
Josh Matthews, the play-by-play commentator for Impact Wrestling, held an interview with both Omega and Impact EVP Don Callis.
The first order of business was to switch the name plates on the AEW World Championship. Callis wanted to do this on Impact Wrestling and swapped Jon Moxley's name out with Kenny Omega's.
Kenny offers Matthews the name plate because he was friends with Ambrose--Moxley's name in WWE--and references Matthews' time on the first season of WWE's reality competition show, Tough Enough.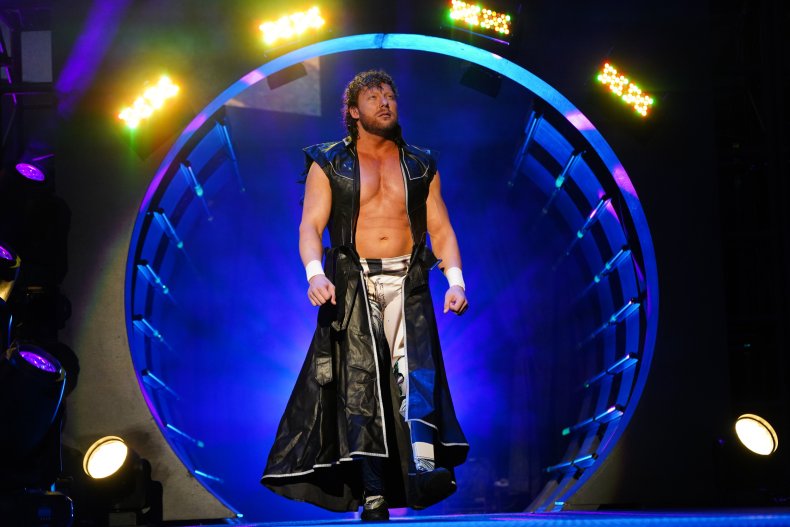 Matthews, trying to get the interview back on track, asks Callis how long he had this planned. Callis replies with a verbal right hook, saying this was planned 27 years ago when he was training to be a professional wrestler in Canada.
The Golden Sheik, Omega's uncle, trained Callis and since he met Kenny as a kid he decided he would take care of him. He calls himself Kenny Omega's "invisible hand" and makes it clear that there was no coincidence that Callis was the color commentator for New Japan Pro Wrestling when Omega won the IWGP Heavyweight Championship.
Callis says he booked the Chris Jericho and Kenny Omega match in NJPW, Jericho's first program after leaving WWE, which was the match that inspired AEW President Tony Khan to create All Elite Wrestling.
Matthews then asks Omega if he feels his title win was tarnished by how it ended. Omega says he doesn't because Callis is his father figure and since Moxley put his hands on him, he had to do whatever it takes to get back at him.
Omega says that AEW needs him to be their champion and is on the list of greatest matches in Mexico, Japan, the UK and just about anywhere. He then says he's at Impact because now that he has the rarest prize--the AEW World Championship--he may want to try and get other titles too.
Callis and Omega end the interview by teasing an appearance on AEW Dynamite on Wednesday, December 9.
The interview segment wasn't the only mention of AEW on Tuesday's show. Tony Khan and Tony Schiavone appeared on Impact in the form of a commercial to promote this week's AEW Dynamite, and Rich Swann, the Impact World Champion, had his own run-in of sorts with Kenny Omega.
When the champion was trying to leave the arena, Swann was stopped by security. The guard told Swann that Kenny Omega doesn't want anyone in the parking lot, where his bus was located, unless they were on the list. Are we going to get a meeting of the two champions? We'll just have to wait and see how this relationship plays out.
What did you think of Kenny Omega's appearance on Impact? What do you think the champion will do or say on AEW Dynamite this week? Let us know in the comments section.