Kenny Rogers' Sidekick in 'The Gambler' Reminisces About Garden Gnomes and a Kodiak Bear
The legacy of Kenny Rogers is inextricably tied to his hit song, "The Gambler," which was so popular it was turned into five TV movies and mini-series, westerns that starred Rogers as poker expert Brady Hawkes, and his comedic sidekick, Billy Montana.
Bruce Boxleitner, who played the role of Billy Montana, spoke with Newsweek on Saturday while reminiscing about Rogers, who died a night earlier at age 81.
"I'd finish a season with The Scarecrow and Mrs. King and run off and do the next Gambler," Boxleitner said in the interview.
Boxleitner continued to elaborate about Rogers on that movie set.
"Just before Kenny was doing the first Gambler in 1980, he was broke and starting over. After a bitter breakup with his rock band, "Coward of the County" was at the top of the charts and he was very excited," recalls Boxleitner. "On the set, we'd sit on these big wooden barrels and play cards. He knew every game and every trick in the book. Playing cards with Kenny was insane."
One of Boxleitner's fondest memories of the country superstar, though, comes from the second iteration, The Gambler: The Adventure Continues in 1983.
"One scene had Kenny and I falling into this trail after I had been sneaking up on him, and there's this gigantic bear that I've teed off, so there's this chase. We're in this huge meadow and Kenny and I get as close to this Kodiak bear as we dare, then they roll cameras," Boxleitner recalls.
"Bears can move pretty fast, and I'm 31 and a jogger, and Kenny is about 20-years older, and we're wearing cowboy boots that are made for stirrups, not for sprinting. But Kenny ran so fast that he left me in the shot all alone," Boxleitner said. "I couldn't keep up with him. He ran all the way into his trailer and on the way he hit the director so hard that he tore his wristwatch off. And we were supposed to have dialogue with each other while we we're running, so we had to do the scene over and over because Kenny was too fast."
The adventure was just getting started.
"In the next scene, we come onto this road where Linda Evans—we always had the greatest kick-ass ladies in these shows—is driving this wagon and we jump in with her," says Boxleitner. "The bear gets on the back of the wagon with his two paws and huge head with his hind-quarters on the ground. That head with its mouth open, I swear to God, I almost fainted. He's roaring away, and the director yells, 'look our way like you're really scared.' My eyes were bigger than saucers already. There was no acting. We played big heroes, but we ran like chickens."
Boxleitner said Rogers was far more intense than people realized, and that he needed to be the best at everything he tried. He played tennis with professionals, took up photography and published a coffee table book of his work. "I'm proud to be in it, right between Frank Sinatra and Elizabeth Taylor."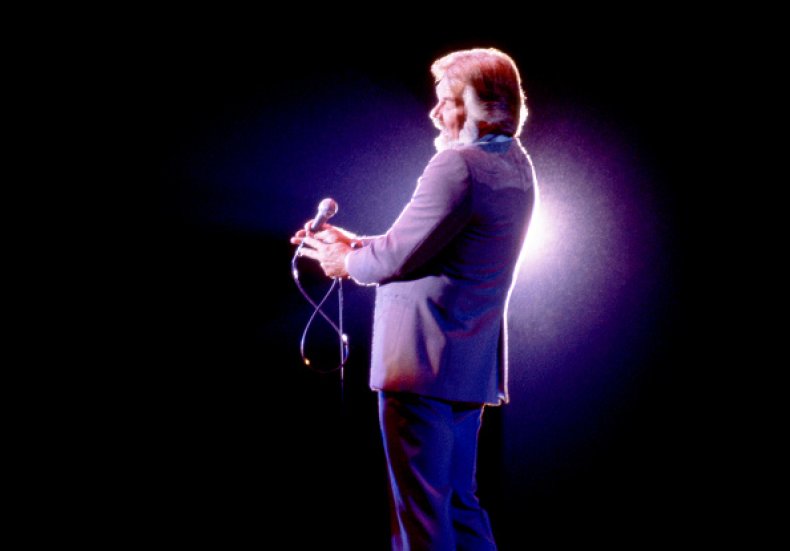 Boxleitner called Rogers a "mentor," along with James Arness, whom he starred with in the TV version of How the West Was Won.
"James and Kenny taught me how to star in a TV series, because so many stars don't behave well. They've got a sense of power about themselves. Not Kenny. He never pulled any crap. He wanted to work hard, have fun, and set an example. He always wanted to do more than his stunt double, and he was a hell of a horseback rider. He was the real deal. He was a great cowboy," Boxleitner said.
Rogers and Boxleitner eventually had a falling out, but the younger actor says his more-famous colleague was so classy that he made sure to make amends when he needed a friend the most.
"I couldn't do the fourth Gambler. It was all politics and purely a business thing, and it soured the relationship with the entire team. I did a movie during that time with John Goodman about Babe Ruth," Boxleitner recalls. "But when No 5 comes along, and my career is going nowhere and I'm recently divorced and really down in the dumps, that's when I get a call. It's not from casting, not my agent, it's Kenny. And I knew he wasn't happy about the earlier situation."
Boxleitner says that during that phone call, Rogers insisted on bringing the Billy Montana character back, even if only for a couple of scenes.
"Suddenly, I'm being picked up at the airport in Vegas, and it's Kenny behind the wheel, and we go shopping for lawn chairs and garden gnomes," says Boxleitner. "People are looking at Kenny with that hair and voice, and they're like, 'oh my God, it's The Gambler!'
"We watched the Super Bowl, had chili and took his jet to Texas. We did my comical scenes at the set where John Wayne shot The Alamo, then I flew the jet back the very next night. That's Kenny. He wanted to make sure everything was okay between us."
In the last scene of the original Gambler, the characters played by Boxleitner and Rogers are walking down an old-west street. "He's hobbling with a cane because Brady Hawkes had an old Civil War wound. I told him right then, 'I hope this thing is so successful that one day they'll make 'The Old Gamblers,' and I'll have the cane and you'll be in a wheelchair'. I think our relationship was heading in that direction."
Boxleitner added: "I've done a lot of series in my career, The Gambler was my favorite. When Kenny called, I answered and said: Where and when? People say John Wayne played John Wayne. Well, Kenny was like that. He wanted to play the best damn Kenny Rogers, and that's what he did."