Most Kenosha Arrests of People From Outside City As Police Deal With Weapons, Burglary and Drugs
Kenosha Police have released information on the number and type of arrests made during the period since Jacob Blake was shot. The majority arrested were people from outside the city, with some taken into custody on weapons, drugs, curfew or burglary charges.
Of the 175 people arrested between August 24 and August 30, 12:30 p.m., 102 were people from 44 different cities outside Kenosha, Wisconsin, Kenosha Police said.
Protests have taken place every day since the shooting of Blake by Kenosha Police on August 23. Officer Rusten Sheskey shot Blake seven times in the back at close range as Blake tried to enter a vehicle. Inside the vehicle were Blake's three children. He is now in hospital, paralyzed from the waist down.
Demonstrators have walked, chanted, held banners and come out to honor the victim and in solidarity with the Black Lives Matter movement.
While some parts of the protests turned violent, many of the arrests, 69 of the 175 total, were for violations of curfew.
Thirty-four people were arrested for curfew violations plus additional charges including "carrying concealed weapons, burglary, and possession of controlled substances," said the City of Kenosha Police Department in a media release.
More than 20 firearms were seized during the protests and three vehicles were towed in relation to criminal activities.
"We are currently calculating damage estimates to businesses. Kenosha Police will continue to share information when it becomes available," read the statement.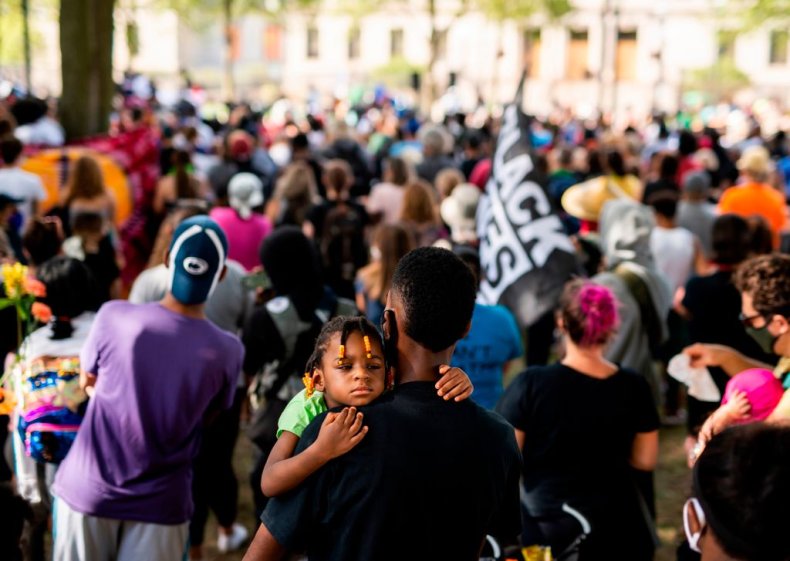 President Donald Trump has planned to travel to Kenosha on Tuesday to meet with law enforcement and "survey damage from recent riots," said White House spokesman Judd Deere.
At the Republican National Convention Trump said, "We can never allow mob rule," and he condemned the "rioting, looting, arson and violence we have seen in Democrat-run cities," citing Kenosha, Minneapolis, Portland, Chicago and New Orleans among others.
More than 1,000 National Guard soldiers were deployed from Arizona, Michigan and Alabama to Wisconsin last week to tackle potential unrest.
Jacob Blake Sr., the father of the victim, gave a speech in Kenosha during the protests. "Good people of this city understand. If we tear it up we have nothing," he said to hundreds in the crowd. "Stop it. Show them for one night we don't have to tear up nothing."
On Friday, CNN reported that 29-year-old shooting victim Blake was handcuffed to his hospital bed.
"This is an insult to injury," uncle of the victim, Justin Blake, told CNN. "He is paralyzed and can't walk and they have him cuffed to the bed. Why?"
Blake Sr. held a mock court in front of protesters last week: "I'm tired of looking at cameras and seeing bright black and brown people suffer. We're going to hold court today on systematic racism. Guilty!"