Kenosha County Sheriff Accuses Biden Campaign of Paying to 'Keep the Rioters Going'
The sheriff of Kenosha County, Wisconsin, said Tuesday it was "disheartening" that anyone would pay to "keep the rioters going" by donating bail money for arrested protesters.
Sheriff David Beth appeared on Fox and Friends to discuss his recent endorsement of President Donald Trump. During the interview, host Brian Kilmeade asked Beth if his decision to endorse Trump over Democratic nominee Joe Biden was affected by reports that some of Biden's campaign staff members "put up money to bail out rioters who were jailed for their actions."
Kilmeade's reference appeared to be to a Reuters report earlier this year that said at least 13 members of Biden's campaign staff donated money to the Minnesota Freedom Fund (MFF), a bail fund that uses donations to pay the cash bail of demonstrators who cannot afford to pay it themselves.
In June, Biden's running mate, California Senator Kamala Harris, encouraged her Twitter followers to donate to the MFF to help individuals who were arrested during the protests that began in Minneapolis after the death of George Floyd, a Black man who died May 25 while in police custody.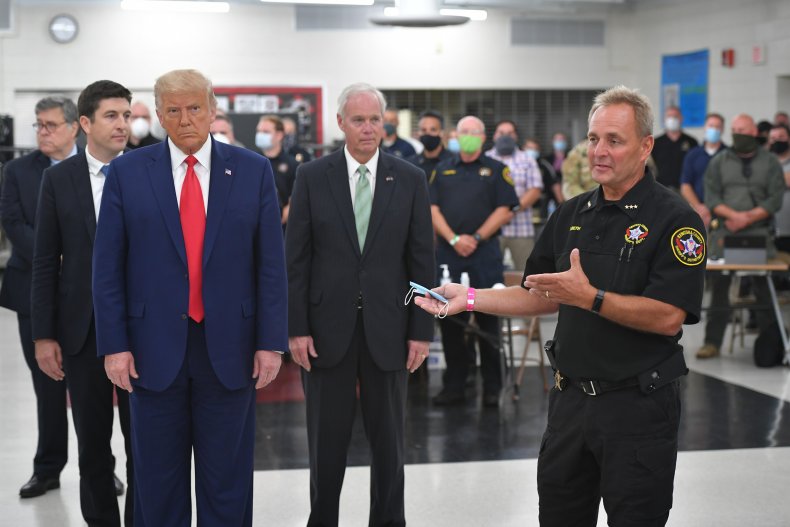 Beth responded to Kilmeade's question by addressing the protests that began in the city of Kenosha in late August after Jacob Blake, a 29-year-old Black man, was shot by in the back police. While Beth said most protest efforts were peaceful, he added that "agitators" also traveled into the county to cause damage within the community.
"We had people from outside Kenosha come here, agitators coming in, and actually burn and loot and did damage here. We had some local people do it too," Beth said. "To think that other people would pay to keep the protesters—I shouldn't say that. To keep the rioters going here, that's kind of disheartening that anyone would do that."
Beth repeatedly drew comparisons during the interview between the presidential candidates' visit to Kenosha in the wake of the Blake protests. While Beth praised Trump's swift offer to both provide federal assistance and meet with Beth and other law enforcement leaders, the sheriff said he did not receive similar messages from Biden's campaign.
"I wasn't invited to meet with Joe Biden," Beth said. "Trump right away got a phone call out to us and said, 'We want to meet. We want to see what else you need and what other resources can we help you with there in Kenosha.' And we were extremely grateful for what he put out to Kenosha."
Trump's trip to Kenosha on September 1 included a visit to areas that were badly damaged during the protests and a roundtable discussion with law enforcement officers. Later that week, Biden also made a trip to Kenosha, during which he visited Blake's family.
In his official endorsement of Trump published in USA Today last week, Beth said Trump "was with us when we needed him." Beth noted in his article that 38 other sheriffs in Wisconsin were also endorsing Trump. "President Trump is backing the blue and we are proud to back him," Beth wrote.
While Trump has repeatedly declared himself the "law and order" president during the past few months of protests, Biden introduced a criminal justice reform plan at the end of July, a strategy that his campaign website said would include eliminating cash bail. "Cash bail is the modern-day debtor's prison," according to Biden's plan. "The cash bail system incarcerates people who are presumed innocent."
Newsweek reached out to Biden's campaign for comment but did not receive a response in time for publication.