Kenosha GOP Chair Says 80 Percent of People in Area Support What Kyle Rittenhouse Did
The chair of the Kenosha County Republican Party said Tuesday that about 80 percent of the people she has spoken with support the actions that alleged shooter Kyle Rittenhouse has been accused of taking during a protest in Kenosha, Wisconsin, last week.
Chairwoman Erin Decker discussed Rittenhouse and President Donald Trump's anticipated visit to Kenosha during an interview with Fox & Friends on Tuesday morning.
"It looks like it was self-defense, and, talking to people around the area, I would say about 80 percent of the people support what Kyle did," Decker said.
The remaining 20 percent of Kenoshans are "probably the people that can't stand Donald Trump and can't stand anything conservative or Republican, so they're just going to attack anything that resembles that," she said.
Lori Hawkins, the chair of the Kenosha County Democratic Party, later told Newsweek that the responses she's received in the wake of Decker's comments about Rittenhouse indicate a majority of Kenoshans do not support him and are instead "horrified" by his alleged actions.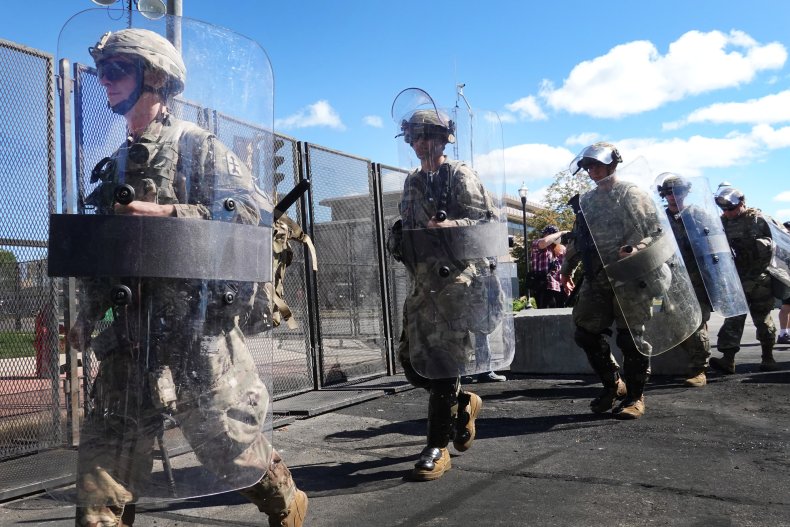 Rittenhouse, a 17-year-old from Illinois, was arrested on August 26 after allegedly shooting three people during a protest in Kenosha the night before. Two of the people he allegedly shot died and the third person was taken to a hospital with serious but non-life-threatening injuries, according to the Kenosha Police Department. Rittenhouse was charged with first-degree intentional homicide on August 28.
The shooting occurred on the third night of protests that began in response to the shooting of Jacob Blake, a 29-year-old Black man whom Kenosha police said was shot in the back seven times by an officer responding to a domestic incident call. Blake's family's lawyer, Ben Crump, said last week that Blake was paralyzed from the waist down as a result of the shooting, which is currently under investigation.
Trump was expected to visit Kenosha on Tuesday to survey areas within the city that were damaged during the last several days of protests. Though Wisconsin Governor Tony Evers and Kenosha Mayor John Antaramian both voiced concerns about the timing of Trump's visit, Decker said she believes those who support Rittenhouse also support the president and the decisions he has made about Kenosha thus far.
"I believe the same people that support Donald Trump are happy that he came into the city—or sent troops into the city—and that includes Republicans, independents and Democrats," Decker said. "I believe they're the same people that support Kyle Rittenhouse."
Decker said her biggest hope for Trump's visit is that the president will provide resources to business and property owners affected by the recent protests. "After the devastation of the riots and arson that happened in Kenosha, we can use all the help we can get," Decker said. "That's what I'm hoping for, is that Trump comes and lends a helping hand."
In a statement shared with Newsweek on Wednesday, Hawkins pointed out Decker's role on the county's board of supervisors—Decker represents District 22—and said Decker has expressed doubt in the past about the existence of systemic racism.
Decker "has recently said publicly that she does not believe systemic racism exists," Hawkins told Newsweek. "With that mindset, it is no wonder that she is more focused on the angle she brought to 'Fox and Friends' Tuesday rather than the real issues at hand. The focus should be on the police shooting of Jacob Blake seven times in the back and the demand for a fair and transparent investigation, the vigilante murders of Anthony Huber and Joseph Rosenbaum, and the destruction in our community. She has ignored the many peaceful protests, community events, and forums for discussion within our community that have taken place, because they do not serve her narrative.
"From the response I've seen in the wake of Ms. Decker's wild and irresponsible statements, the majority of people in Kenosha are horrified that a vigilante murdered two people and injured a third, and then was able to simply walk away. If it wasn't evident before, it is now that our community, and communities across the nation, have deep issues that need immediate attention. It is the expectation of these communities that the wheels of change must be in motion to ensure that all citizens are both protected and held accountable equally under the law.
"Joe Biden and Kamala Harris have forcefully condemned police brutality and have called for actions to end systemic racism, while also speaking out against violence and destruction. Make no mistake, the unrest and violence we have been seeing in our nation is happening in Donald Trump's America, because he is fanning the flames of hate and fear. Joe Biden and Kamala Harris will bring empathy, strength, experience, and hope to restore our communities. For that reason, it is crucial that the message to VOTE is front and center. Make sure you are registered, and make sure you vote. That is the first step on the road to change and healing," Hawkins said.
Updated 9/02 at 2:19 p.m. ET: This article has been updated to include a response from Kenosha County Democratic Party Chair Lori Hawkins.