President Donald Trump has said federal agents have quelled tensions in Kenosha, and suggested that their deployment could also ease unrest in Portland.
The Wisconsin city became the latest flashpoint in protests over police brutality and racism following the police shooting of Jacob Blake in front of his three children on Sunday, with widespread looting and arson taking place.
While an initial offer of federal help was rejected, Democratic governor Tony Evers accepted the assistance following the shooting deaths of two protesters. Kyle Rittenhouse, 17, has been charged with their murders.
Around 1,000 National Guard and 200 federal law enforcement personnel were deployed following an appeal from the state's Democratic Governor Tony Evers, the White House said.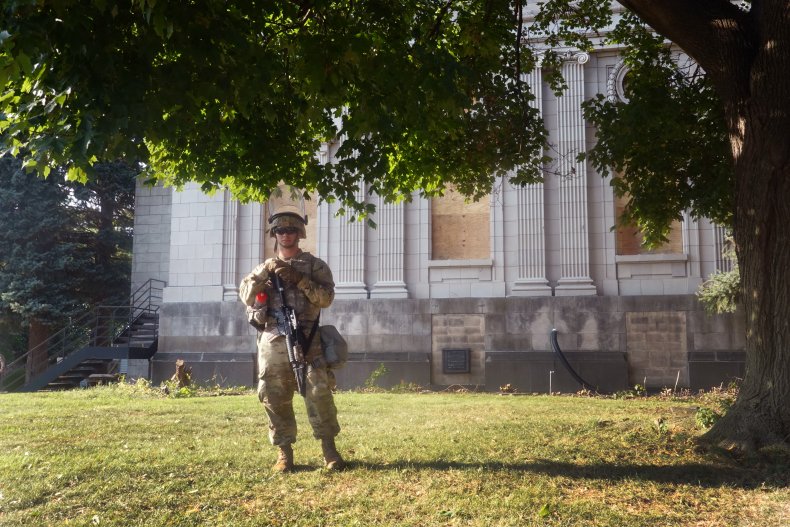 On Friday, Trump said that federal assistance could also ease tension in Oregon's biggest city, which has seen three months of protests following the death of George Floyd.
Trump tweeted: "Since the National Guard moved into Kenosha, Wisconsin, two days ago, there has been NO FURTHER VIOLENCE, not even a small problem. When legally asked to help by local authorities, the Federal Government will act and quickly succeed. Are you listening Portland?"
Trump has repeatedly shown his disdain for the protesters in Portland and has made repeated requests to the city's mayor Ted Wheeler and Oregon Governor Kate Brown send in the National Guard.
He followed this up on Saturday with the tweet: "Kenosha has been very quiet for the third night in a row or, since the National Guard has shown up. That's the way it works, it's all very simple.
"Portland, with a very ungifted mayor, should request help from the Federal Government. If lives are endangered, we're going in!"
A 7 p.m. curfew has been put in place in Kenosha's which will remain in effect until Sunday. City of Kenosha police chief Dan Miskinis said it had been a busy week for law enforcement, with around 50 people arrested, although things had started to get quieter, Fox 11 reported.
On Friday afternoon, around 150 people marched through Kenosha and attended a vigil for Blake near the courthouse where skirmishes had taken place earlier in the week with police, according to Reuters.
Meanwhile the lawyer representing Rittenhouse has said that video footage would vindicate the 17-year-old who is charged with killing two protesters and wounding another.
"Kyle Rittenhouse acted in self-defense. Murder charges are factually Unrest has eased in the Wisconsin city after violence broke out following the police shooting of Jacob Blake.unsupportable. An egregious miscarriage of justice is occurring with respect to this 17-year old boy," Wood said on Twitter.