Kenosha Mayor Confident City Has Enough Resources to Manage Trump's Visit and 'Keep People Safe'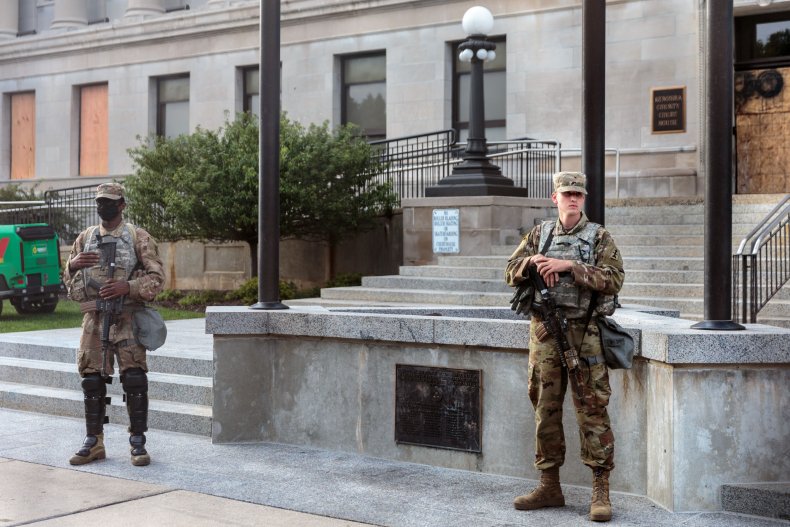 Kenosha officials say they are prepared for President Donald Trump's visit on Tuesday amid concerns that his presence will only add more fuel to the fire.
"With the local, regional and national law enforcement support currently in our city, I'm confident we have sufficient resources and aid to manage the president's visit tomorrow and keep people safe," Mayor John Antaramian said in a statement on Monday.
Kenosha became an epicenter for unrest and violent protests following the police shooting of Jacob Blake, a 29-year-old Black father, on August 23. Two people were shot and killed on the third night of protests. Illinois teen Kyle Rittenhouse has been arrested and charged with homicide in connection with the shooting.
The city appeared to be turning a corner after several nights of peaceful demonstrations, Antaramian previously told Newsweek. Now, some local leaders fear that Trump's visit to the city will only hinder the healing process. Others have accused the president of using the city as a prop for his "law and order" campaign strategy.
Governor Tony Evers, a Democrat, sent a letter to the White House over the weekend urging the president to reconsider his scheduled visit to Kenosha. Evers wrote that he was concerned Trump's presence "will only delay our work to overcome division and move forward together."
Antaramian echoed that view on Monday, saying that the "timing on this we felt was not good. We did make a request for him to do it at a different time."
Nonetheless, officials have said they are well-prepared to accommodate Trump while also keeping the public safe. The Kenosha Police Department announced Monday it was working with local, state and federal agencies, as well as the Secret Service, to manage Trump's visit.
They also highlighted that there are 1,500 National Guard members currently deployed to help the city.
Police Chief Daniel Miskinis, who is facing calls to resign, said in a statement released yesterday that "Kenosha has hosted presidential visits in the past and we stand ready and prepared for President Trump's visit tomorrow."
According to his published schedule, Trump will survey businesses and property affected by the riots. He is also expected to visit an emergency operations center and host a roundtable on community safety. He has no plans to meet with Blake, who has been left paralyzed from the waist down due to the shooting, or his family.
When asked during a news conference Monday if his presence could exacerbate tension in Kenosha, Trump countered that it will "increase enthusiasm and it could increase love and respect for our country, and that's why I am going, because they did a fantastic job."