Kenosha Mayor Vows to Work Toward Healing 'Racial Divide' and Promote 'Equal Justice' Following Protests
The mayor of Kenosha, Wisconsin has promised to work with residents toward healing the "racial divide" in his city and to promote "equal justice," after weeks of protests and unrest in the wake of the shooting of 29-year-old Jacob Blake.
"Our hearts go out to the victims of the violence and to the homeowners and businesses that have been traumatized and jeopardized by the destruction. I join the people of Kenosha in working to heal our racial divide and rebuild as a stronger community," Mayor John Antarmian, a Democrat, said in a video and written message published by Kenosha News.
Antarmian shared a message of unity, highlighting how members of the community have come together amid the unrest to address concerns about inequality.
"Kenosha has an opportunity to chart a better course and create a city with new mandates for equal justice for people of all races and creeds. We need to give our young people a reason to believe that they can have a bright future in our city, one in which they can grow up to become our next generation of leaders," the mayor said.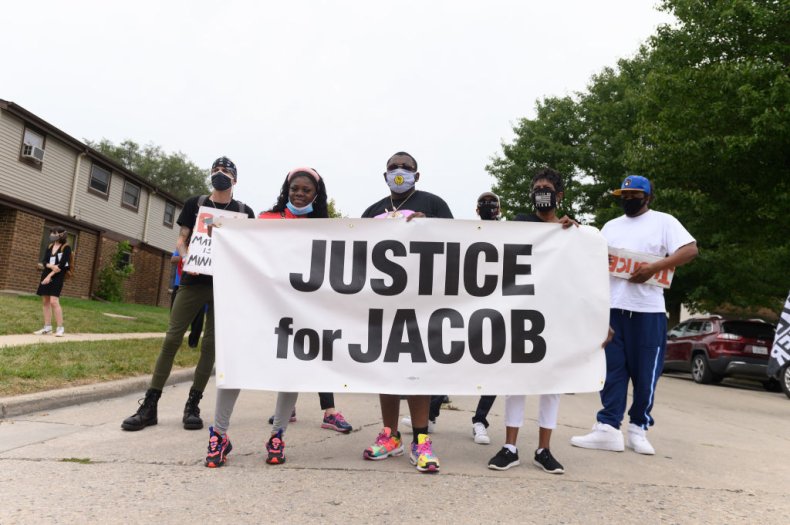 Newsweek reached out to the city of Kenosha for further comment, but did not receive a response by the time of publication.
Blake, a Black man, was shot seven times in the back by a police officer in Kenosha on August 23. The shooting, which was captured on video by an onlooker and took place right outside Blake's vehicle as his children sat in the backseat. Blake had reportedly been attempting to defuse a fight when police arrived on the scene.
As Black Lives Matter and anti-racism demonstrations had already spread across the country following the death of George Floyd in police custody at the end of May, protests sprung up rapidly in the Midwestern city. Some turned to rioting, causing millions in damages to local businesses.
Far-right counter-demonstrators also came to the city carrying guns, claiming they were there to protect the city. One of those outside demonstrators, 17-year-old Kyle Rittenhouse of Illinois, has been arrested and charged with allegedly shooting and killing two Kenosha County men amid the protests on August 25. Rittenhouse's social media revealed that he was a supporter of President Donald Trump and a strong advocate for police.
Blake, who remains hospitalized and has been paralyzed, spoke from his hospital bed in a video posted to Twitter on Saturday by his attorney Ben Crump. The injured man stressed the preciousness of life.
"Every 24 hours, it's ... pain. It hurts to breathe, it hurts to sleep, it hurts to move from side to side, it hurts to eat. Please, I'm telling you, change your lives out there. We can stick together, make some money, make everything easier for our people out here, man, because there's so much time that has been wasted," he said.