The officers involved in shooting Jacob Blake were reportedly not wearing body cameras.
Blake, 29, is fighting for his life after being shot in the back by police in Kenosha, Wisconsin on Sunday evening.
The incident was captured in a video that showed Blake walking around the front of a vehicle parked on the street as three officers point their weapons at him.
One of the officers is seen grabbing the back of Blake's shirt and apparently opening fire at close range. Seven shots ring out, but it is not clear if they were all fired by the same officer.
That video is widely circulating on social media, but the shooting will not have been captured on body cameras because none of the department's officers have been fitted with them, according to local media reports.
The Kenosha News reported earlier this year that both the Kenosha Police Department and the Kenosha County Sheriff's Department have yet to equip its officers with body cameras.
Kenosha County Board Supervisor Zach Rodriguez told CBS 58 that Blake's shooting shows how crucial it is for the city's police officers to have body cameras.
"What happened here tonight highlights that we need body cameras for not just our sheriff's deputies, but our city police department as well," Rodriguez told the station. He has been contacted for additional comment.
The main reason Kenosha Police officers haven't got body cameras yet is due to cost, according to The Kenosha News.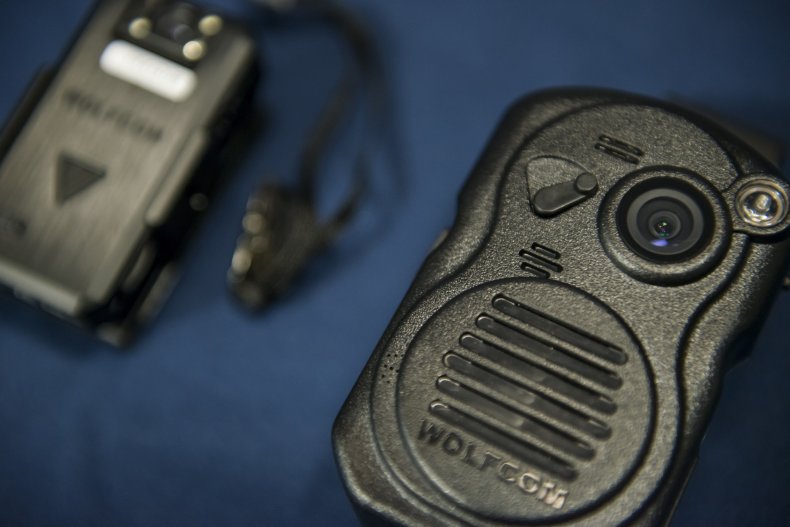 Former city alderman Kevin Mathewson passed a resolution for all Kenosha Police officers to wear body cameras in 2017. But city officials only recently budgeted $200,000 in the 2022 Capital Improvement Plan to get them.
Alderman Anthony Kennedy told Newsweek that officials made the decision to invest funds in firefighters and EMTs instead of body cameras.
"When we as a Council last undertook the issue of body cameras, there were gaps in state law," he said. "It was the opinion of some the Common Council that purchase and implementation of body cameras was the not the most judicious course of action.
"Having a finite amount of funds, we made an investment in our firefighting/EMT program. Subsequently, state law has been updated and in turn there has been renewed discussions among us Council members. Unfortunately current events have a way of putting a magnifying glass on past decisions."
Alderman Rocco LaMacchia, who co-sponsored the resolution, has been contacted for comment. Kenosha Mayor John Antaramian and Kenosha Police Chief Dan Miskinis, who both supported the resolution, have also been contacted for comment.
According to The Kenosha News, only around 60 of Wisconsin's 500 law enforcement departments have body cameras. They include police in Pleasant Prairie, which borders Kenosha, who have been using body cameras for several years.
But Wisconsin state senator Bob Wirch, a Democrat, recently called for the state to fund body cameras for all county and municipal law enforcement officers in Wisconsin.
In June, Wirch said the police killings of George Floyd in Minneapolis, Minnesota and Breonna Taylor in Louisville, Kentucky "reinforce the need for universal body camera usage."
"Body cameras provide protection for both the public and the law enforcement officers who use them and are an important investigative tool when an incident occurs," Wirch told The Journal Times.
"I believe this is a common-sense issue that can achieve bipartisan support. Let's not wait for the next tragedy." Wirch has been contacted for additional comment.
Blake's shooting set off protests in Kenosha on Sunday night, with protesters marching in the streets and facing off against police in riot gear. The unrest prompted Kenosha County to declare a state of emergency and enact a curfew until 7 a.m. on Monday.
The Kenosha Police Department have released few details about what led up to the shooting, but said officers had responded to a "domestic incident" in the 2800 block of 40th Street at around 5.10 p.m. on Sunday.
According to The Kenosha News, several witnesses said Blake had tried to break up a fight between two men outside a home on 40th Street before police attempted to use a Taser on him. Blake, who was unarmed, was then shot in the back, the witnesses said
In a news release, police said officers "provided immediate medical aid to the person," who was shot. Police did not identify Blake, but said he was transported to Froedtert Hospital in Milwaukee and is in a serious condition.
They said all the officers involved have been placed on administrative leave.
Police said the Wisconsin Department of Justice's Division of Criminal Investigation (DCI), is investigating the shooting with the assistance of the Wisconsin State Patrol and Kenosha County Sheriff's Office.
The DCI will turn over its investigate reports to a prosecutor following a "complete and thorough" investigation. The prosecutor will then review the report and determine whether or not charges should be filed.
The Wisconsin Department of Justice has been contacted for comment.
This article has been updated with comments from Anthony Kennedy.