Kenosha Protesters Accuse City of Having Different Laws for Protesting Police Brutality and Supporting Police
Four protesters in Kenosha, Wisconsin, are suing the city for violating their First Amendment rights by enacting a curfew, a policy they say didn't apply to people who were out vocalizing their support for law enforcement.
The Kenosha County Sheriff's Department implemented a curfew after protests erupted over the officer-involved shooting of Jacob Blake, a Black man who remains paralyzed in the hospital. In the nine days following the shooting, officers arrested 150 protesters for violating the curfew but not "a single pro-police demonstrator," according to a lawsuit filed on behalf of the protesters.
"In Kenosha, there are two sets of laws—one that applies to those who protest police brutality and racism and another for those who support the police," the lawsuit states.
Protesters questioned the validity of the curfew and said in the lawsuit that law enforcement put it in place as a means to "silence the voices of those who peacefully demonstrate."
Attorney Sam Hall, who is representing Kenosha County and the sheriff's department, called the lawsuit "entirely without merit." Contrary to allegations they infringed on First Amendment rights of protesters, Hall said the sheriff's department worked "tirelessly" to restore order while protecting "the rights of all citizens throughout the process."
The lawsuit, filed in federal court on Friday, acknowledged that the protests included some "destructive activity," but argued against a narrative that it was widespread, saying the incidents were "remote when compared to the hundreds of otherwise peaceful protesters."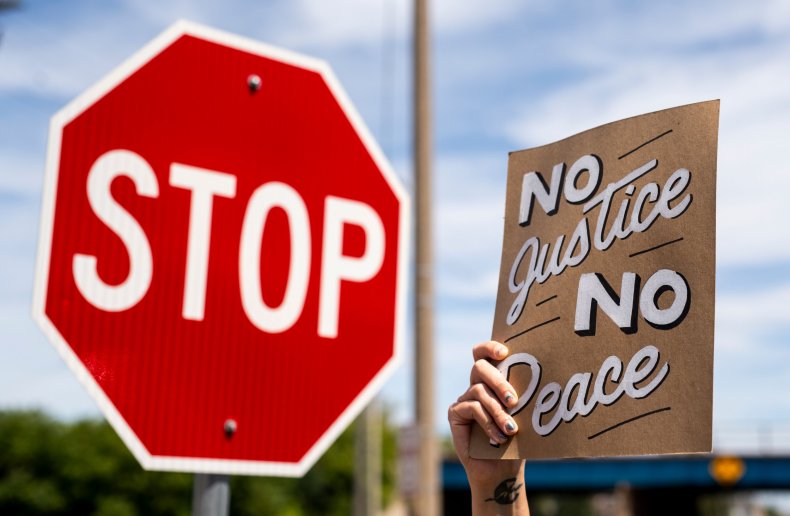 As has been the case in cities across the country, peaceful protests turned violent in Kenosha, where some set cars on fire and looted local businesses. Governor Tony Evers deployed the National Guard to "help protect critical infrastructure and assist in maintaining public safety and the ability of individuals to peacefully protest in Kenosha County."
President Donald Trump, who asserted himself as a "law and order" president, posted on Twitter that had he not insisted on the National Guard being activated, "there would be no Kenosha right now." During a visit to the city on Tuesday, he said it's been "ravaged by anti-police and anti-American riots," and praised Kenosha County Sheriff David Beth for doing an "incredible job."
Danica Gagliano-Deltgen, Oscar Walton, Adelana Akindes and Victor Garcia, four protesters bringing the class-action lawsuit, attended protests and were arrested for violating curfew. When Akindes was arrested, she had to lie on the ground as officers handcuffed her, she told the Associated Press.
"They wanted to scare us," Akindes told the AP. "They wanted to make an example of us."
Moving forward, they fear the curfew will target those opposing police brutality, thereby chilling "a reasonable person from continuing to engage in constitutionally protected activity."
Along with potentially dissuading people from protesting in the future, the lawsuit alleges officers violated protesters' First Amendment rights by arresting them "on the basis of their expression." They're asking for a temporary restraining order against the curfew and for the judge to issue an order finding the curfew unconstitutional. Hall said he will be seeking an immediate dismissal of the suit.
This article has been updated to include comment from Sam Hall, the attorney for Kenosha County and the Kenosha Sheriff's Department.
Kenosha Protesters Accuse City of Having Different Laws for Protesting Police Brutality and Supporting Police | U.S.