Kenosha Shooter to Stay in Illinois Juvenile Jail Before Extradition to Wisconsin, Where He'd Be Tried as an Adult
The Kenosha, Wisconsin, shooter, 17-year-old Kyle Rittenhouse, will remain at a juvenile facility in Vernon Hills, Illinois, as he awaits his extradition hearing.
Authorities are planning to return him to Wisconsin, where the teen would be tried as an adult. Under Wisconsin law, anyone 17 or older is treated as an adult in the criminal justice system.
Rittenhouse faces five felony charges, including first-degree intentional homicide and first-degree reckless homicide. He is also facing a misdemeanor charge for possession of a dangerous weapon by a minor. Open carry of guns is legal in Wisconsin for adults over 18.
The teen was expected to appear in court Friday morning but was not at the live-streamed hearing. Instead, his attorney and assistant public defender Jennifer Snyder asked the judge to delay the hearing for 30 days, which the judge granted. Rittenhouse is scheduled to appear in court on September 25.
Lee Filas, the communications director for the Lake County State's Attorney Office, told Newsweek Rittenhouse requested the delay so he could retain a private attorney.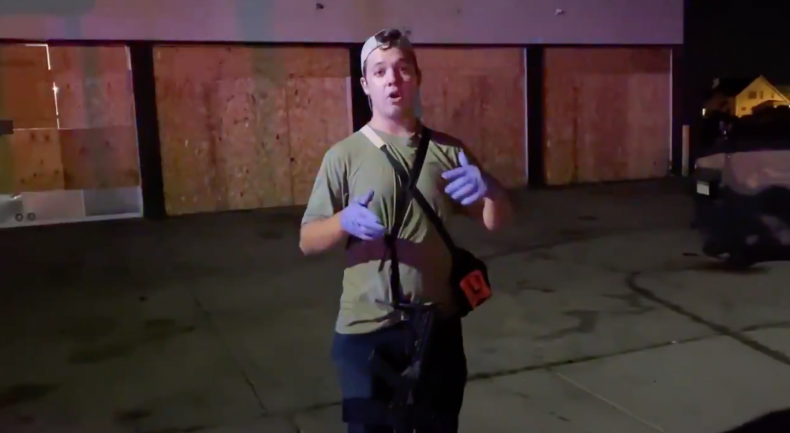 Rittenhouse allegedly shot two people to death and injured a third with a semi-automatic rifle during Tuesday night protests in Kenosha over the police shooting of Jacob Blake, a 29-year-old Black man.
The teen will face a mandatory life sentence if convicted of first-degree intentional homicide. He was arrested in his hometown of Antioch, Illinois, on Wednesday. Rittenhouse drove about 15 miles to Kenosha and has said he went there to protect businesses from protesters.
According to the criminal complaint, 35-year-old Joseph Rosenbaum threw a plastic bag at Rittenhouse before attempting to disarm him. The medical examiner found that Rosenbaum was fatally shot in the groin and the back.
Rittenhouse then ran down the street and was chased by several people who said he had just shot someone. After he tripped and fell to the ground, protesters attempted to take the weapon away from him. While this was happening, 26-year-old Anthony Huber was fatally shot in the chest, and 26-year-old Gaige Grosskreutz was shot in the left arm. Grosskreutz is recovering in a Milwaukee hospital.
On Thursday, one of Rittenhouse's attorneys, Lin Wood, said the teen acted in self-defense.
Richie McGinniss, The Daily Caller's chief video director, interviewed Rittenhouse on the evening of shooting. In a video posted to Twitter, McGinniss is heard asking the teen why he was armed.
Rittenhouse replied, "So people are getting injured, and our job is to protect this business. Part of my job is to also help people. If there's somebody hurt, I'm running into harm's way. That's why I have my rifle, because I can protect myself, obviously."